Do you remember the 1990 Stanley Cup run? Do you remember the thrill of your team being in the race, then the playoffs, then the final four? Do you remember the day in September 1989 Grant Fuhr wandered into the Oilers dressing room complaining of a stomach ache? That Randy Gregg examined him right then and there? That Fuhr would have an emergency appendectomy? Did you know Fuhr had a shoulder injury right at the end of the regular season? And furthur, did you know Billy Ranford was so bad in the first game of the playoffs the Winnipeg Jets behind Dale Hawerchuk had a right to expect to win the opening round series?
Finally, did you know, that during the Stanley Cup Final, owner Peter Pockling (his team up 2-0) was quoted by Sports Illustrated saying "I know that this is almost sacrilegious to say but if you look at the depth we are going to have in the next three years, we're going to have an awful lot of talent. And the talent will be broad-based rather than on the shoulders of four or five people"?
Do fans believe the Edmonton Oilers are in it? Toronto fans believe the Maple Leafs can win it all, let alone in it. I sometimes wonder about Oilers fans. Part of the fan base seems more comfortable with the team on the downbeat. It's like bad news is comfort food. That isn't healthy. Could the Oilers win the Stanley Cup and disappoint a major portion of the fan base? I think this might be true.
This much I know: There are going to be many twists and turns between this day and the raising of the Stanley. Pace yourself. Enjoy the ride.
THE ATHLETIC!
I'm proud to be writing for The Athletic, and pleased to be part of a great team with Daniel Nugent-Bowman and Jonathan Willis. Here is our recent work.
OILERS AFTER 25 GAMES
Oilers in 2015-16: 8-15-2, 18 points; goal differential -14
Oilers in 2016-17: 13-10-2, 28 points; goal differential +7
Oilers in 2017-18: 10-13-2, 22 points; goal differential -13
Oilers in 2018-19: 12-11-2, 26 points; goal differential -5
Oilers in 2019-20: 15-7-3, 33 points; goal differential +13

Oilers in 2020-21: 14-10-0, 28 points; goal differential +6
This season has been hanging around the 2016-17 campaign for much of the last month, and if a hot Cam Talbot was on the roster we could begin to imply the possibility of the same kind of run. Alas, this year's team doesn't have the obvious formula (McDavid scores, Talbot saves, Sekera and a few kids keep the blue competitive) but the records are the same. Is there a post-season series victory within reach of the current group?
WHAT TO EXPECT IN MARCH
At home to: Toronto, Toronto, Calgary (Expected: 1-1-1) (Actual 0-1-0)
At home to: Ottawa, Ottawa, Ottawa (Expected: 2-1-0) (Actual 0-0-0)
On the road to: Vancouver, Calgary, Calgary (Expected: 2-1-0) (Actual 0-0-0)
At home to Winnipeg, Winnipeg (Expected: 1-1-0) (Actual 0-0-0)
On the road to: Montreal, Montreal, Montreal (Expected 2-1-0) (Actual 0-0-0)
On the road to: Toronto, Toronto (Expected 1-1-0) (Actual 0-0-0)
Overall expected result: 9-6-1, 19 points in 16 games

Current results: 0-1-0, 0 points in one game
I see the Toronto and Winnipeg games as being the best tests this month. It's a tough schedule due to number of games. My predictions for this month are not unreasonable, the Oilers should be able to cover the bet. That in mind, a result tonight, even a Bettman, is important.
OILERS 2020-21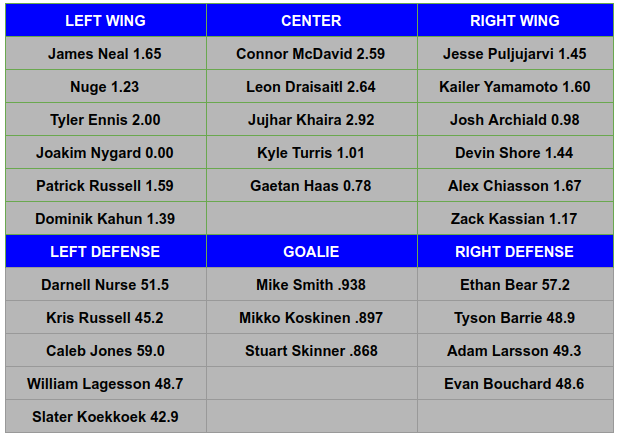 This is five on five scoring per 60 (forwards); Puck IQ DFF% for all levels of competition five on five and overall save percentage.
Alex Chiasson is suspended from playing in tonight's game, Zack Kassian is out and Dominik Kahun was unavailable at practice yesterday. The Oilers will see at least one new face in the lineup among forwards tonight, I ran these numbers using the lines and pairings at practice.
The big news is that Nuge is back with Draisaitl and Yamamoto, or at least we saw that at practice yesterday. Neal moved up yesterday but Kahun's availability may have contributed. I think the Oilers need to add a scoring LW at the deadline, that's one of the items I focus on in today's article for The Athletic (link above).
Tonight's game? I don't know that the Oilers will win, but there should be four lines and three pairings working hard. May need Mike Smith to put on his Superman cape again.
LOWDOWN WITH LOWETIDE
We crack the mic at 10 this morning, TSN1260. Bruce McCurdy from the Cult of Hockey at the Edmonton Journal pops in at 10:20 and Joe Osborne from OddsShark will talk about spikes from teams who fire their coach mid-season and if the Raptors are a good bet despite one dozen players and coaches being unavailable tonight against the Pistons. 10-1260 text, @Lowetide on twitter. See you on the radio!