The Oilers and Flames first met in the playoffs during April of 1983, with Edmonton winning the Smythe Division Finals four games to one. Mark Messier led the series with 8 goals, Wayne Gretzky had 14 points, and Paul Reinhart scored six for the Flames. Andy Moog played all but 11:24 (Grant Fuhr) as the Oilers were on a collision course with the first Stanley Cup Final in team history.
Offer is $1 a month, so take advantage by clicking on the link!
THE ATHLETIC!
I'm proud to be writing for The Athletic, and pleased to be part of a great team with Daniel Nugent-Bowman and Jonathan Willis. Here is our recent work.
OILERS AFTER 32 GAMES
Oilers in 2015-16: 14-16-2, 30 points; goal differential -9

Oilers in 2016-17: 15-12-5, 35 points; goal differential +4

Oilers in 2017-18: 13-17-2, 28 points; goal differential -10

Oilers in 2018-19: 17-12-3, 37 points; goal differential +1

Oilers in 2019-20: 18-10-4, 40 points; goal differential +5

Oilers in 2020-21: 18-13-0, 36 points; goal differential +11
Don't panic! I kid. This Oilers team has put in a lot of hard work to get into a good spot for the second half and the stretch run. Part of that includes a little better than a .500 record in March. Currently the team has delivered .500 top dead center.
WHAT TO EXPECT IN MARCH
At home to: Toronto, Toronto, Calgary (Expected: 1-1-1)

(Actual 1-2-0)

At home to: Ottawa, Ottawa, Ottawa (Expected: 2-1-0)

(Actual 3-0-0)

On the road to: Vancouver, Calgary, Calgary (Expected: 2-1-0)

(Actual 0-2-0)

At home to Winnipeg, Winnipeg (Expected: 1-1-0) (Actual 0-0-0)
On the road to: Montreal, Montreal, Montreal (Expected 2-1-0) (Actual 0-0-0)
On the road to: Toronto, Toronto (Expected 1-1-0) (Actual 0-0-0)
Overall expected result: 9-6-1, 19 points in 16 games

Current results: 4-4-0, 8 points in eight games
Oilers lead the Flames by five points but Calgary has two games in hand, plus Edmonton's schedule is Edgar Allan Poe madness through the end of the month. This isn't a must win, but there is some worry.
OILERS VERSUS FLAMES, PLAYOFF EDITION
The 1983 series was the first, but not the last or the most memorable.
Oilers won the 1984 Division Final but it took seven games. Gretzky, Messier, Jari Kurri, Glenn Anderson and Paul Coffey (plus Pat Hughes) scored at a point-per-game or better to lead the offense, while Grant Fuhr playing all but 56 minutes (Andy Moog). This team won the first Stanley for the Oilers.
The Flames won the Smythe Division Final in 1986, on the famous own goal in Game 7. Perry Berezan was credited with the winning goal at 5:24 of the third period, meaning Edmonton had 14:36 to tie the game. No one ever talks about that fact.
The two teams met again in 1988, Edmonton rolling over Calgary 4-0 with Jari Kurri leading the way offensively and Grant Fuhr playing every minute of the series in goal. In 1991, Edmonton won the Division Semi-Final in seven games on an overtime goal by Esa Tikkanen. SN keeps playing the Fleury goal from that series, but Tikkanen's goal was the killer.
OILERS 2020-21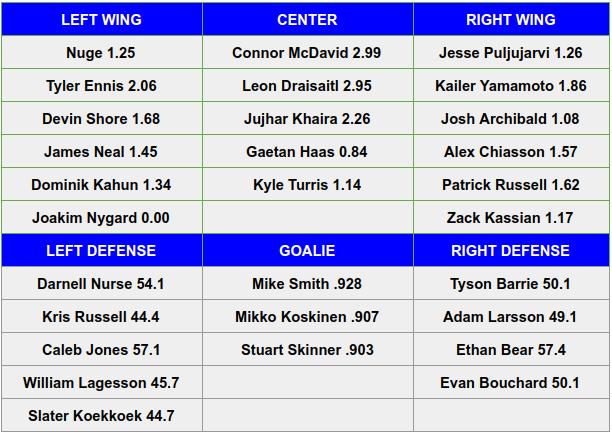 This is five on five points-60 (forwards), five on five expected goals (defense), five on five save percentage (goalies).
Tippett may have Kassian back tonight, and might be tempted to run the big man on the top line. I'd stay the course with the two youngsters (Yamamoto, Puljujarvi) on the skill lines, Kassian could shore up one of the depth lines.
Another thing to look for tonight: Evan Bouchard possibly drawing in for the injured Tyson Barrie, and someone (Shore?) sliding in to the No. 3 center spot to replace Jujhar Khaira if he is unready.
LOWDOWN WITH LOWETIDE
At 10 this morning, TSN 1260, we have a busy show as we tee-up the BOA game tonight. Bruce McCurdy from The Cult of Hockey at the Edmonton Journal will talk about the importance of tonight's tilt and we'll spend some time discussing Edmonton's young blue and how their seasons are progressing. Joe Osborne from OddsShark will talk March Madness, NBA and the bounce teams get when firing coaches (will it apply to the Sabres)? 10-1260 text, @Lowetide on twitter. Talk soon!