The Oilers won in Calgary on Wednesday night, as the team's best players had their cannons pointed in the right direction. It was an important win for the team and the Canadian division standings, as you'll see in a moment. No rest for the Oilers, who play the high-flying Winnipeg Jets in Edmonton tonight.
THE ATHLETIC!
I'm proud to be writing for The Athletic, and pleased to be part of a great team with Daniel Nugent-Bowman and Jonathan Willis. Here is our recent work.
OILERS AFTER 33 GAMES
Oilers in 2015: 14-17-2, 30 points; goal differential -13
Oilers in 2016: 16-12-5, 37 points; goal differential +4
Oilers in 2017: 14-17-2, 30 points; goal differential -9
Oilers in 2018: 18-12-3, 39 points; goal differential +4
Oilers in 2019: 18-11-4, 40 points; goal differential +2

Oilers in 2020-21: 19-13-0, 38 points; goal differential +15
This year's model of the McDavid Oilers could be the first to win 20 in the first 33 games of the season. That's a fantastic rate. Entering this evening, the Oilers 32-game pace should have them arrive at season's end with a 67-point campaign and 33 wins. That's a playoff team.
WHAT TO EXPECT FROM MARCH
At home to: Toronto, Toronto, Calgary (Expected: 1-1-1)

(Actual 1-2-0)

At home to: Ottawa, Ottawa, Ottawa (Expected: 2-1-0)

(Actual 3-0-0)

On the road to: Vancouver, Calgary, Calgary (Expected: 2-1-0)

(Actual 1-2-0)

At home to Winnipeg, Winnipeg (Expected: 1-1-0) (Actual 0-0-0)
On the road to: Montreal, Montreal, Montreal (Expected 2-1-0) (Actual 0-0-0)
On the road to: Toronto, Toronto (Expected 1-1-0) (Actual 0-0-0)
Overall expected result: 9-6-1, 19 points in 16 games

Current results: 5-4-0, 10 points in nine games
After the Calgary win, the club is just shy of my predicted pace and the 5-4-0 record is close to my projected 5-3-1 start to March. These Winnipeg games are going to be difficult, although the Jets played and traveled last night, too.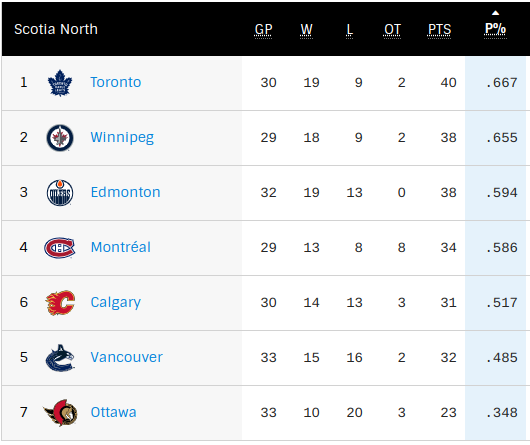 Edmonton is in third place by winning percentage and by points (tied for second) and that's close to my prediction (full second, behind Toronto) before the season began. The team's record against the Flames (4-2-0) is much, but not all, of the gap between the two teams.
LINES, LAST NIGHT
Kahun-Draisaitl-Yamamoto

played 11:51, going 5-8 shots, 1-0 goals, 2-2 HDSC and 8-11 Corsi five on five. Kahun had a goal, two shots and a HDSC. He's too small to win battles but he's always working at it. He has five goals in 26 games. Draisaitl had three assists (two on the power play) and won 56 percent of his faceoffs, plus a takeaway. He also took seven (the most) defensive zone faceoffs. His pass to Kahun is the stuff of legends. Yamamoto had a HDSC and went to the tough areas despite getting run over just for fun. If Holland makes a deal at the deadline, it will be to bring in size on LW for one of the top lines.

Chiasson-Shore-Archibald

played 11:09, going 4-8 shots, 0-1 goals and 4-15 Corsi five on five. Chiasson scored a fine goal on the power play, he now has six in 24 games. Shore filled in well for Khaira, won 62 percent of his faceoffs (70 percent at five on five) and had one good look offensively. He played a clean 1:40 on the PK. Archibald played 2:21 on the PK (also no goals against) and was quiet offensively. He sure hits a lot, credited with three but I think the French judge wasn't paying attention.

Ennis-Haas-Kassian

played 9:49, going 5-4 shots, 1-0 goals, 2-2 HDSC and 8-8 Corsi five on five. This line was refreshing. Ennis had three shots and two HDSC's, he is worth way more than his contract. Haas had a nice assist, won seven of 10 in the dot, and used his terrific speed to his advantage. Nice game. Kassian scored a terrific power goal, driving to the net and sending a backhand past Markstrom. That's when the broadcasters started talking about it not being Markstrom's night, but have another look at that play. Kassian has skill.

Nuge-McDavid-Puljujarvi

played 9:39, 7-5 shots, 2-1 goals, 1-2 HDSC and 10-7 Corsi five on five. Nuge scored an early goal on a terrific McDavid feed (Lucic sending a lovely pass to the captain), plus an assist and a HDSC. That goal was badly needed. McDavid went 1-2-3 boxcars, both assists at even strength and the goal on the power play. He was brilliant but had his minutes cut when the game got out of hand, Tippett possibly having an eye to load management and the Jets tonight. Jesse Puljujarvi had major impact on two goals. His power-play marker was a brilliant tip on a Barrie point shot and involved JP saving the puck to the point a split second for a Flames player would have gobbled it up. On the assist, he got the puck to 97 when he had clean air in front of him, the result being Nurse's goal just seconds later. This line had a tremendous night, all three men scoring.
PAIRINGS AND GOALIE
Lagesson-Larsson

played 16:58, going 4-9 shots, 0-1 goals, and 6-17 Corsi five on five. Played mostly with the Shore line and against the Tkachuk-Lindholm-Dube line, which I think would be an extreme advantage for Calgary but resulted in only the Backlund late third-period goal. I wonder if both coaches wanted this matchup. Lagesson took 7 hits, but kept on ticking.

Nurse-Barrie

played 14:28, going 8-12 shots, 3-1 goals, 1-5 HDSC and 9-15 Corsi five on five. That's a weird line, three goals on one HDSC and 9 Corsi events. Played 8:25 with the McDavid line and over four minutes with Draisaitl's trio. Played 8 minutes against Lucic-Backlund-Mangiapane. We know Sutter is going to run Backlund against great opposition, interesting to see how long Lucic remains there. Nurse went 1-1-2, has nine goals now (all even strength) and leads NHL defensemen in that category.

Russell-Bear

played 13:28, going 9-3 shots, 1-0 goals, 4-2 HDSC and 13-9 Corsi five on five. Bear needs to play more. Were deployed mostly with the Haas line and against Gaudreau-Monahan-Ritchie who lost the shot battle 4-3 to Russell and Bear. Both defensemen had strong games, Russell's hard work defensively was all over this game. His power-play minute won't be remembered. Bear is feeling it now, you can see him sliding back in a timely manner and looking before sending an outlet pass. If I were a GM of another team, I'd inquire about Bear. You won't get him this time next year.

Mike Smith

is absolutely playing great hockey. He stopped 30 of 33, .909 and could have had a better set of numbers but this Oilers team started to wander.
OILERS 2020-21 ROSTER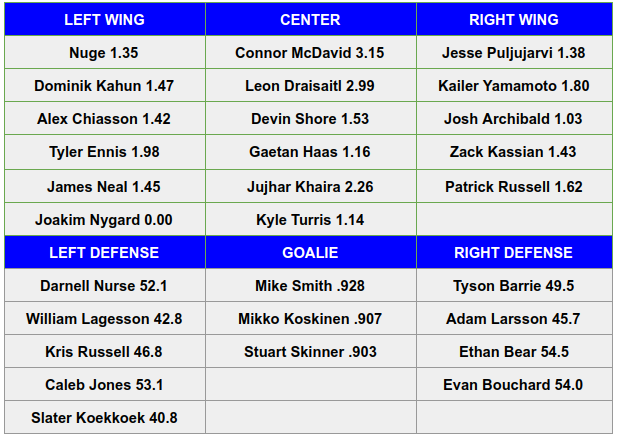 This is five on five pts-60 (forwards), Corsi five on five (defense) and five on five save percentage (goaltenders).
A lot of men got healthy in a hurry last night, including both of McDavid's linemates and young Kahun. Gaetan Haas is coming on now, he's going to be a strong contributor if he can hit 1.50 pts-60 at five on five.
Ethan Bear's Corsi leads the team, no surprise there. Bouchard isn't playing but that Corsi number tells you he is ready.
LOWDOWN WITH LOWETIDE
At 10 this morning, we'll review last night's game and look forward to tonight, TSN1260. Five questions at 10:20, we'll talk March Madness with John Price at 10:40. At 11, Frank Seravalli will discuss the expanded trade deadline board and I'll ask him how active Ken Holland will be in improving the Oilers. Plus your chance to qualify in the $10,000 Fan Cave! 10-1260 text, @Lowetide on twitter. See you on the radio!