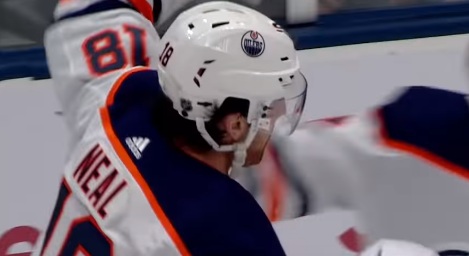 So, years ago, when my wife was pregnant with our first child, we started shopping for a house. Interest rates were low enough for a broadcaster to afford a house (this is historically rare, like Halley's comet or found money) and we began the process of identifying our first house.
My father had passed over a year earlier, so a friend of mine's husband took me under his wing and guided me through what can be an overwhelming experience. We found our house about three weeks after starting to look, but the one we chose had issues. The roof was in need of shingles, the wiring to the garage wasn't code, the slope of the land away from the house poor.
THE ATHLETIC
I'm proud to be writing for The Athletic, and pleased to be part of a great team with Daniel Nugent-Bowman and Jonathan Willis. Here is our recent work.
OILERS AFTER 48 GAMES
Oilers in 2015-16: 19-24-5, 43 points; goal differential -25
Oilers in 2016-17: 25-15-8, 58 points; goal differential +7
Oilers in 2017-18: 21-24-3, 45 points; goal differential -26
Oilers in 2018-19: 23-22-3, 49 points; goal differential -10
Oilers in 2019-20: 25-18-5, 55 points; goal differential -3

Oilers in 2020-21: 29-17-2, 60 points; goal differential +18
This year's team is the class of the group by wins, points and goal differential. I don't know what the playoffs hold, but this is a team easy to believe in compared to its predecessors. Holland and Tippett will have detractors but are correctly ignoring the past and pushing for the future. It's actually heartening to have a GM who picks up a veteran defenseman at the deadline and then the coach uses him.
WHAT TO EXPECT IN APRIL
At home to: Calgary (Expected: 1-0-0) 

(Actual 1-0-0)

On the road to: Montreal, Ottawa, Ottawa, Calgary (Expected: 3-1-0)

 (Actual 2-1-1)

On the road to: Winnipeg (Expected 0-1-0)

 (Actual 1-0-0)

At home to: Montreal, Montreal (Expected 1-1-0) 

(Actual 1-1-0)

On the road to: Winnipeg, Winnipeg (Expected 1-1-0) 

(Actual 2-0-0)

At home to: Calgary (Expected 1-0-0) 

(Actual 0-1-0)

Expected April record: 7-4-0, 14 points in 11 games
Actual April record: 7-3-1, 15 points in 11 games
When I ran my numbers at the beginning of the month, it looked a little too sunny and I considered backing it off to one fewer win. As it turns out it was another quality match. One more month, and eight more games to go.
THE REST OF THE STORY
So back to the house. It was a 1960 house, and anything over 30 has some things to deal with and that's a fact. So, I met with my friend and my house inspector (get a house inspector) and they gave me a price that I should counter with as an offer. My realtor didn't like my friend (or the house inspector) and talked me in to a more generous offer.
At that point, my friend (we'll call him Fred) said "You've got this now, I'm going to let you go." I was in a bit of shock, he'd been a big help. He basically said that he had been trying to shelter me from the mistakes he made as a first time home owner but had come to realize that people needed to experience it for themselves.
I bought the house, fixed the wiring to the garage, the roof, the slope of the land and put in a new kitchen for my wife. When we sold the place, we got about 15 percent of the investments made by us in the deal.
Sometimes you have to learn all by your lonesome.
SCHEDULE LOSS
When it was explained to me the first time, I didn't buy it. Then I would look at back to back games as schedule losses too and that's not necessarily correct either (the flight from Winnipeg to Edmonton isn't that long).
Finally, I understood. I read and spoke to a few people yesterday who didn't believe it was a thing but for me last night was a perfect example of a schedule loss.
I think the coach did a couple of things (Smith, Russell) to address it but the die was cast. I don't have the numbers for you today, wrote the April report card for The Athletic deep into the night (it will be up later today or tomorrow) and there's some good things in there.
LOWDOWN WITH LOWETIDE
At 10 this morning, we break down the Oilers-Flames and at 10:20 talk with Steve Lansky from Inside the Truck podcast about Edmonton's playoff path. At 11, Matt Iwanyk discusses the NFL draft and the Oilers magic number. 10-1260 text, @Lowetide on twitter. See you on the radio!