It's customary for a team to lose focus after clinching a playoff spot but this year's Oilers have been able to continue playing well after the fact. Part of the reason is no doubt Connor McDavid's push for 100 points but there are other chores as well.
One of them: Adam Larsson and his new partner Dmitry Kulikov. Statistically, it is an early success. Visually, it looks structured but there have been comedic moments plunked in to keep interest levels up. Can this pairing play the tough minutes?
THE ATHLETIC!
I'm proud to be writing for The Athletic, and pleased to be part of a great team with Daniel Nugent-Bowman and Jonathan Willis. Here is our recent work.
OILERS AFTER 52 GAMES
Oilers in 2015-16: 21-26-5, 47 points; goal differential -19
Oilers in 2016-17: 28-16-8, 64 points; goal differential +13
Oilers in 2017-18: 23-25-4, 50 points; goal differential -24
Oilers in 2018-19: 23-24-5, 51 points; goal differential -15
Oilers in 2019-20: 28-18-6, 62 points; goal differential +6

Oilers in 2020-21: 32-17-2, 66 points; goal differential +23
Pulling the Bettman, the records by year are: 21-31; 28-24; 23-29; 23-29; 28-24 and 32-19. This may or may not be the best Oilers team in the group, but the wins have made it more enjoyable to watch.
WHAT TO EXPECT IN MAY
At home to: Calgary (Expected: 1-0-0)

(Actual 1-0-0)

On the road to: Vancouver, Vancouver (Expected: 1-1-0)

(Actual 2-0-0)

At home to: Vancouver, Vancouver (Expected 1-0-1)

(Actual 0-0-0)

On the road to: Montreal, Montreal (Expected 0-1-1) (Actual 0-0-0)
At home to: Vancouver (Expected 1-0-0) (Actual 0-0-0)
Expected May record: 4-2-2, 10 points in 8 games
Actual May record: 3-0-0, 6 points in 3 games
At this point I'm not sure the Oilers will lose against the Canucks despite all the games scheduled. Montreal is a different matter. I'll be interested in seeing the lineup against the Habs and do wonder if the coach approaches those Montreal games differently if third place is still being contested.
OILERS SKILL FORWARDS
Those McDavid boxcars are historic, people will refer to them for a long time. Did you know that Bobby Orr posted 102 assists in 1970-71? If you're a sports fan, some numbers, the special ones, stay. Wayne Gretzky, 92 goals in 1981-82. McDavid's 100 in 56 may become a foundation piece in the legend and lore of 97, if he gets there.
PROJECTED OILERS 2021-22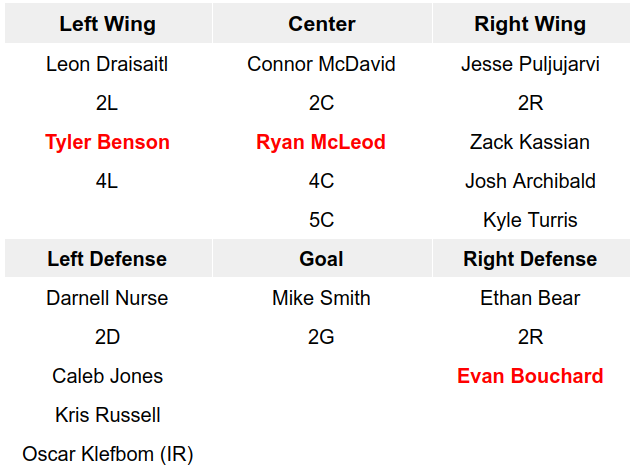 This has Mikko Koskinen dealt, James Neal bought out and William Lagesson in Seattle (I protected Jones) and a stunning amount of cap space ($27 million) in order to acquire a complete overhaul of the No. 2 line and second pairing. Not all acquisitions will be via free agency and there should be several returning UFA's aside from Mike Smith. There was some retention on the Koskinen deal, but it was a good place for him, he'll get to run free in a meadow every day. Next stop: Free agency.
PROJECTED CONDORS 2021-22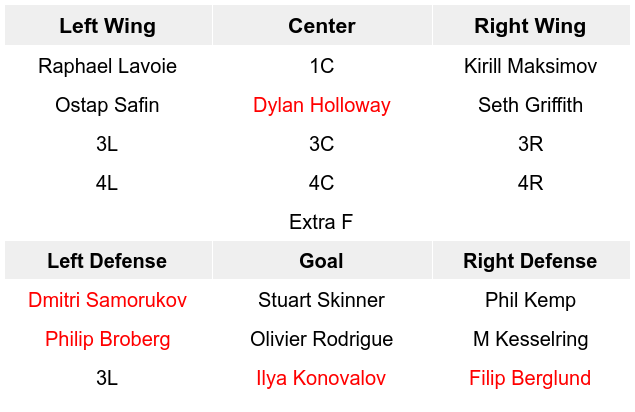 The Condors are back to being similar to the 2017-18 team, strong on young blue (Bear, Jones) and a little low on forwards who we can project into the NHL at this time. Holloway may not spend the entire year in Bakersfield (hell he might make the Oilers) and I do believe Lavoie has the skill to play in the NHL soon. Coach Jay Woodcroft had good things to say about Ostap Safin last night, he's recovered and then some over the season.
LOWDOWN WITH LOWETIDE
At 10 this morning we hit the ground running on TSN1260 Edmonton. Andrew Stoeten will talk Toronto Blue Jays and their 8th inning explosion last night. At 11, Frank Seravalli from TSN will discuss Oilers in the playoffs and the circus at Madison Square Garden. 10-1260 text, @Lowetide on twitter. See you soon!