Yesterday I wrote the following: "Holland needs a third-line center and a scoring winger. He isn't done. Right?" and a few hours later the Edmonton Oilers had a sniper. What's more, the secondary pieces of the trade are completely reasonable and Holland dealt away a monstrosity of a contract plus helped the coming expansion draft list. Oilers fans, after years of experiencing acid reflux after trades, weren't quite sure what to do as we headed to press.
THE ATHLETIC!
The Athletic Edmonton features a fabulous cluster of stories (some linked below, some on the site). Great perspective from a ridiculous group of writers and analysts. Proud to be part of the group, here's an incredible Offer!
PROJECTED FORWARDS ROSTER 2019-20

The roster has far more clarity now than yesterday. Neal should be the fourth best offensive forward on the roster in 2019-20, and should easily lead the team in total shots. What is reasonable? I can tell you that my RE estimate (before allowing for deployment) is 68, 16-15-31. Intuitively, that seems low, but last season was a major elevator shaft. Now, about that No. 3 center.
HOLLAND'S BIGGEST TRADE SINCE..
This is a big trade for Holland, likely the biggest summer trade involving players on each side since the Dominik Hasek trade in June 2001 (it cost Detroit Vyacheslav Kozlov and a first).
CAP SITUATION
Edmonton now has 23 players at a total cost (all in) of $79,066,999 according to CapFriendly. That leaves $2.4 million in room, with Holland stating he likes to have $1.5 million in walking around money and another $1 million for the Smith bonus. Meaning the team is done. I wondered if they could grab Riley Sheahan but he'd have to come in around $1 million.
50-MAN LIST (50)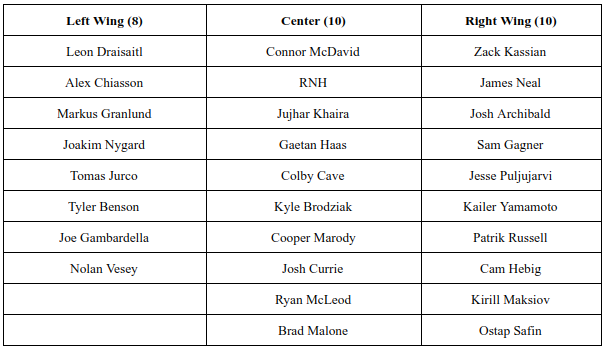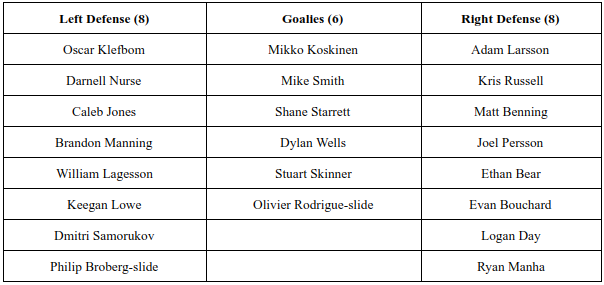 There are two slides (Broberg and goalie Rodrigue) plus Jesse Puljujarvi remains unsigned. Edmonton could add a player but I think it would be a JP trade at this point. Sam Bennett and Joel Eriksson Ek have been discussed over recent weeks as options, but at this point money's too tight to mention.
THE TRUTH
Offloading the Milan Lucic contract isn't a small thing, in actual fact it is THE thing in this trade. If one fell swoop (underused phrase these days) Ken Holland bought freedom for his future Oilers teams. There are still issues, and the price on freedom came at a cost, but getting out from under the Lucic contract is a major part of this summer's business.
Trades: 1 (Lucic for Neal)
Buyouts: 1 (Sekera)
Draft picks trades: 1 (conditional)
Free agents signed: 7 (Logan Day, Joakim Nygard, Alex Chiasson, Markus Granlund, Mike Smith, Tomas Jurco, Josh Archibald)
Roster players extended: (5) Joe Gambardella, Brad Malone, Shane Starrett, Patrick Russell, Jujhar Khaira
Exiting the system, goodbye: (12) Braden Christoffer, Colin Larkin, Tobias Rieder, Ty Rattie, Anthony Stolarz, Alex Petrovic, Ryan Stanton, Robin Norell, Mitch Callahan, Tyler Vesel, Al Montoya, Kevin Gravel.
We'll chat about Holland's summer in the coming days, but for me yesterday's trade is a massive positive. In fact, the only move this summer that rivals it (imo) was the hiring of Dave Tippett as coach. Freedom! That Lucic contract was a giant hockey albatross, making this a brand new day.