Peter Chiarelli botched the McDavid cluster pretty good and that's for sure. However, I learned something important from Earl and Dorrel a long time ago: There's more than one way to build a winner.
THE ATHLETIC!
The Athletic Edmonton features a fabulous cluster of stories (some linked below, some on the site). Great perspective from a ridiculous group of writers and analysts. Proud to be part of the group, here's an incredible Offer!
THE MCDAVID CLUSTER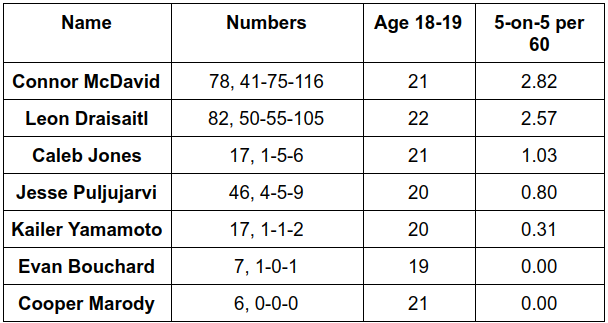 I pay attention to clusters, because a balanced team will get a lot from the inexpensive kids, the prime group and the aged veterans. McDavid's cluster is the goods, but needs more than two primary contributors. Here are the numbers over the years for the McDavid cluster:
2015-16: 301 games, 46-90-136 .452
2016-17: 236 games, 65-131-196 .831
2017-18: 334 games, 85-146-231 .692
2018-19: 253 games, 98-141-239 .945
This is a fabulous cluster, but less than optimal. Jesse Puljujarvi isn't part of the group at the anticipated level, while Kailer Yamamoto was rushed and is now an injury worry. Still, an enormous contribution in 2018-19. Oilers scored 229 goals, this cluster 98 goals. The veteran and elder clusters did not deliver.
Anticipated surges and additions to the cluster: Tyler Benson, Cooper Marody, Caleb Jones, Kailer Yamamoto, Ethan Bear. It's an impressive group, but several need to impact in the coming season. Evan Bouchard is going to blow the RH side of the defense out of the water, the only question is when.
THE PRIME CLUSTER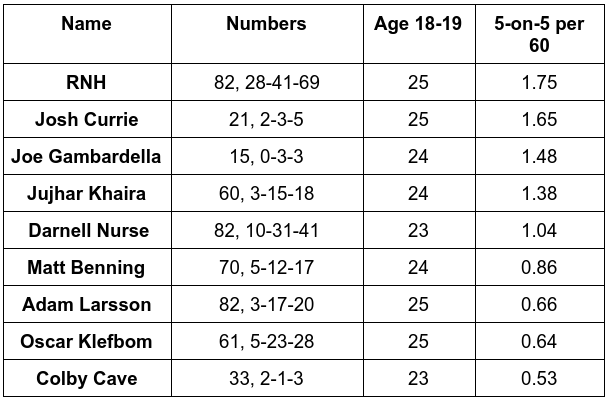 Some big pieces here, including Nuge and all three heart and soul defensemen. If Khaira and Benning and one or two more could take that next step, the team would benefit a great deal.
2015-16: 584 games, 85-131-216 .370
2016-17: 507 games, 72-123-195 .385
2017-18: 651 games, 95-130-225 .346
2018-19: 687 games, 70-169-239 .348
A power outage since Hall and Eberle were sent away, I think Holland will try to re-sign Nuge, Klefbom and Larsson when the contracts retire. Nurse? Man, that Trouba contract is going to hurt negotiations. A two-year stutter offensively for this cluster, and this year Nuge delivered solid production.
Anticipated surges and additions to the cluster: Khaira and Benning could flourish under Tippett. William Lagesson can defend, Edmonton needs a replacement for Russell and possibly Larsson in the coming days. I think Joel Persson has a clear shot at an NHL job. Shane Starrett is a name to remember. Logan Day is a distant (and possibly unanswered) bell.
THE VETERAN CLUSTER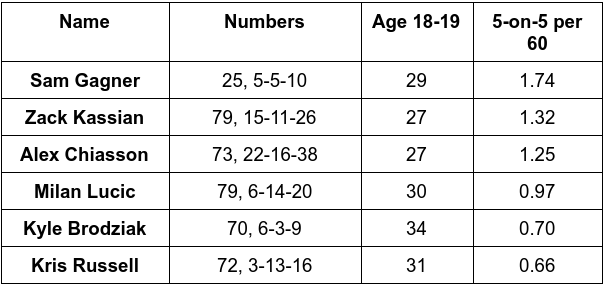 Holland's veterans traditionally shoulder a great deal of the load, I'll look forward to stronger numbers one year from now.
2015-16: 611 games, 68-190-258 .422
2016-17: 560 games, 65-148-213 .380
2017-18: 439 games, 43-104-147 .335
2018-19: 542 games, 61-73-134 .247
This is Holland's playground, the greybeards. Among the additions to this group are pretty much every player the new general manager acquired.
Anticipated surges and additions to the cluster: Mikko Koskinen is a candidate to step forward with better usage, Mike Smith has a prominent roster spot and a history of insane streaks. James Neal has the potential to be the biggest addition of summer, while Markus Granlund needs to be the most consistent. I like the Josh Archibald bet, although it means happy trails to JP. Joakim Nygard, Tomas Jurco, Gaetan Haas could all have an impact. I like Gambardella's chances. Josh Currie is easy to pass over, but has a great deal of utility (including being RH).
I think we'll see a change in roster construction over the coming two or three years, the roster will get older, faster and more experienced. I'm very much hoping Holland won't do what every general manager since Kevin Lowe has done: Trade away players in their mid-to-late 20's even though there are many years of quality ahead. I don't think Holland can afford all three of Nuge, Larsson and Nurse but he needs to grab Nuge and one blue imo. All three if he can make it work.
LOWDOWN WITH LOWETIDE
At 10 this morning, it's going to be a wild show. TSN1260, we'll have Derek Van Diest on at 10:20 to talk about the Milan Lucic experience and what James Neal can bring. Jason Gregor pops by at 11 to discuss Ken Holland's first summer as Oilers general manager. 10-1260 text, @Lowetide on twitter. See you on the radio!