We know, based on his history, that Dave Tippett is going to shuffle lines and pairings. He's going to find chemistry, ride that nag till it drops, then shuffle again. We'll all bitch and moan and recall MacT running broken-hand Mike York as the point man on a five-on-three, and various other impossible sins done to the roster by veteran coaches. It is the way of an Oilers fan.
THE ATHLETIC!
The Athletic Edmonton features a fabulous cluster of stories (some linked below, some on the site). Great perspective from a ridiculous group of writers and analysts. Proud to be part of the group, here's an incredible Offer!
OILERS 2018-19 EVEN STRENGTH SCORING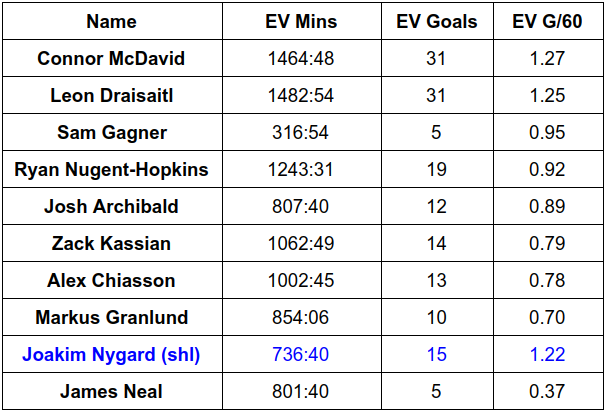 Identifying the six best options slows down after three and explodes after four, so I think it's reasonable to assume we'll see a major shuffle this winter. I like Sam Gagner on the No. 4 line, but Tippett ran him with Martin Erat for 435 minutes, Tobias Rieder 336 minutes, Lauri Korpikoski 257 minutes and Martin Hanzal for 210 minutes. There's skill in there.
I think we'll see Draisaitl-McDavid-Kassian and Neal-Nuge-Chiasson. I would like to see Neal-McDavid-Kassian, Granlund-Nuge-Archibald, Benson-Draisaitl-Chiasson and Nygard-Khaira-Gagner. I think you could get goals from all four of those lines.
DERICK BRASSARD
I don't think the Oilers are going to sign another free agent. However, Derick Brassard remains available, and if his price is right, maybe he'll be an Oiler. He scored .61 goals per 60 at five-on-five a year ago and won 50.7 percent of his faceoffs.