We all have our favorites, I can give you a list from any era. Young players get drafted (or signed as minor free agents) and begin to matriculate toward the NHL. Sometimes it takes forever, Fernando Pisani was like that in the 1990's, four years college and 2.5 AHL before arriving fully formed. Sometimes they arrive basically NHL-ready, like Shawn Horcoff, who had an idea about how to play in the world's best league a little over two years after he was drafted. I loved Horcoff's game that first training camp, but there were many others who impressed and never made the grade.
Sometimes they don't make it, no matter how much you cheer for them. I was convinced NHL careers awaited Raimo Summanen, Selmar Odelein, Jani Rita, Marc Pouliot and Slava Trukhno. I was also convinced of Jujhar Khaira doing the same. I'm starting to wonder.
THE ATHLETIC!
The Athletic Edmonton features a fabulous cluster of stories (some linked below, some on the site). Great perspective from a ridiculous group of writers and analysts. Proud to be part of The Athletic, there is a Puck Drop Special offer here.
OILERS IN OCTOBER
Oilers in October 2015: 3-7-0, six points; goal differential -7
Oilers in October 2016: 7-2-1, 15 points; goal differential +9
Oilers in October 2017: 3-6-1, seven points; goal differential -11
Oilers in October 2018: 6-3-1, 13 points; goal differential -1
Oilers in October 2019: 7-2-1, 15 points, goal differential +7
This remains a great start, but the road trip took a little shine off the team's record. Oilers fans shouldn't be bitching and moaning about the first 10 games. In fact, this is a wildly successful start to the year. Fact.
WHAT TO EXPECT IN OCTOBER
At home to: Vancouver, Los Angeles (Expected: 1-1-0) (Actual 2-0-0)
On the road to: NYI, NJD, NYR, CHI (Expected 2-1-1) Actual (3-1-0)
At home to: Philadelphia, Detroit (Expected 1-1-0) (Actual 2-0-0)
On the road to: Winnipeg, Minnesota (Expected 1-1-0) (Actual 0-1-1)
At home to: Washington, Florida (Expected 1-1-0)
On the road to: Detroit, Columbus (Expected 1-1-0)
Overall expected result: 7-6-1, 15 points in 14 games
Current results: 7-2-1, 15 points after 10 games
The logical thing to do is to go back to the preseason and reset the expectations. I had this as an 88-point team, meaning it was reasonable to expect 11 points after 10 games. So, one way to look at things is this: Edmonton has collected four more points than I expected. It's also true that my projection for the month (15 points in 14 games) has been achieved, but not surpassed. Important to get some points from these final four games in October.
There's very little to discuss from last night's game, it was a group effort. NST has the details, I have some observations.
The HDSC's went to Markus Granlund, Brandon Manning and Patrick Russell. Of Course. Patrick Russell was 9-15 five-on-five Corsi, but 5-1 shots in the discipline.
Connor McDavid played 9:19 with James Neal, Edmonton going 4-1 shots in those minutes. I would like to see that duo again.
Ethan Bear played 10:45 with Darnell Nurse, the pairing did well. Their Corsi was 9-8 and the duo wasn't scored on. Tippett moved Bear to Klefbom's unit for 8:52, but the duo went 4-12 (again no GA).
Mike Smith stopped 27 of 30, .900. His five-on-five number (22 of 24, .917) was solid, but the goal on the PK was a killer. I expect we'll see the Finn on Friday.
OILERS 2019-20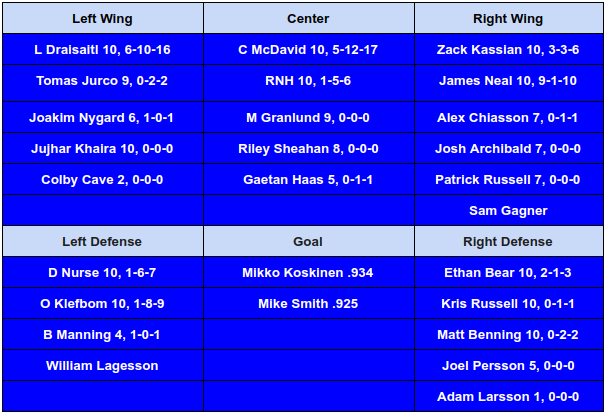 We're 10 games in, so projecting end of season totals is easy and fun (although not to be taken seriously). The defensemen are on pace for 40 goals this season, that's 10 more than one year ago (my projections are here).
McDavid's wingers scored (in all situations) 72 goals with McDavid a year ago, added to his 41 the good ship 97 posted a total of 113 goals in 2018-19. I projected 114 for this season (here).
So far this season, McDavid has scored five goals, his wingers have scored 15 (seriously) with the captain on the ice. That's 20, times 80 is 160. The McDavid line isn't the problem.
The No. 2 line, which is Nuge and James Neal plus some randoms, is coming along nicely.
It's the bottom six, and the group who populate the third and fourth line are burning daylight.
JUJHAR KHAIRA
This blog has tracked the big man from Prince George to Houghton, Michigan to Everett, Washington to Oklahoma City to Bakersfield and finally to Edmonton. I've never really been able to mark him offensively, Khaira has had seasons of goal-scoring success (including 11 goals in 2017-18, his first full NHL season).
He doesn't shoot enough, Khaira has been around one shot per game for his entire NHL career. He has a career nine percent shooting percentage in parts of five NHL seasons, but the 11-goal campaign perhaps skewed his totals. He won't survive in the NHL if he can't post offense. Khaira is at 163 NHL games, I suspect he'll reach a crossroads in the next few months if he can't impact the game offensively.
2019-20 CONDORS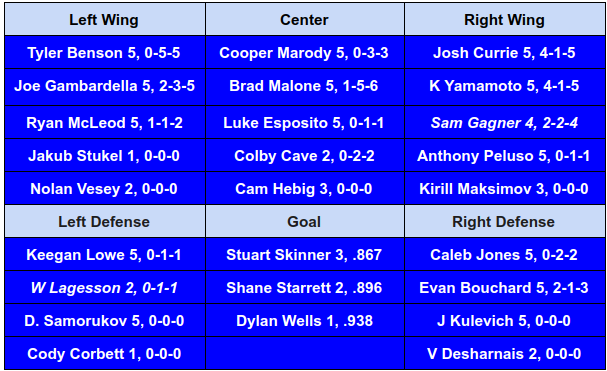 Condors play Ontario Reign tonight, the Bakersfied side misses William Lagesson based on recent viewings. Caleb Jones and Keegan Lowe will play big minutes, Dmitri Samorukov and Evan Bouchard will be thrust into more prominent roles.
Lagesson and Gagner are in Edmonton now, I imagine both men will get a chance to play (unless Persson is ready to return) in October. Holland said the prospects are on the farm until around Christmas, I wonder if Benson or Yamamoto get a look sooner. If not, it might be Gambardella or Currie.
LOWDOWN WITH LOWETIDE
At 10 this morning, TSN1260, we have a wide range of topics in a week where sports is rewarding its customer base in a big way. Bruce McCurdy from the Cult of Hockey at the Edmonton Journal will give us his views on last night's loss, and possible lineup tweaks. Jared Diamond from the Wall Street Journal will discuss the World Series and a Game 1 win for the Washington Nationals. Kris Abbott from OddsShark will talk WS prop bets, NFL weekend games and top NHL payoffs this season. 10-1260 text, @Lowetide on twitter. See you on the radio!