I remember the 1974 expansion draft like it was yesterday. The Washington Capitals drafted the best goalie available (Ron Low) and then tried to grab as many young players as possible (Yvon Labre, Denis Dupere, Mike Bloom, Gord Smith, Dave Kryskow). The NHL wasn't giving up anything, and the WHA would raid the Capitals and Kansas City Scouts after the draft, but they did their best. Washington would win 8 games that first season. Eight games.
The first game between the Capitals and Oilers took place five years later, in late October 1979. Bill Flett would score his third goal of the season, he would get two more before his career came to a close one month later. Ironically, his final goal would come in late November in a win over the Capitals in Landover, Maryland. Bill Flett, from Ron Chipperfield and Mark Messier. He died July 1999, in Edmonton. Helene Elliott wrote an article for the Los Angeles Times.
THE ATHLETIC!
The Athletic Edmonton features a fabulous cluster of stories (some linked below, some on the site). Great perspective from a ridiculous group of writers and analysts. Proud to be part of The Athletic, there is a Puck Drop Special offer here.
OILERS IN OCTOBER
Oilers in October 2015: 4-7-0, eight points; goal differential -6
Oilers in October 2016: 7-3-1, 15 points; goal differential +7
Oilers in October 2017: 3-7-1, seven points; goal differential -12
Oilers in October 2018: 6-4-1, 13 points; goal differential -2
Oilers in October 2019: 7-2-1, 15 points, goal differential +7
The key to making playoffs is to shorten those losing streaks and lengthen the good times. Even a Bettman point tonight would help the Oilers edge closer to the goal. I expect we'll see a far better effort, but the opponent is also more formidable.
WHAT TO EXPECT FROM OCTOBER
At home to: Vancouver, Los Angeles (Expected: 1-1-0) (Actual 2-0-0)
On the road to: NYI, NJD, NYR, CHI (Expected 2-1-1) Actual (3-1-0)
At home to: Philadelphia, Detroit (Expected 1-1-0) (Actual 2-0-0)
On the road to: Winnipeg, Minnesota (Expected 1-1-0) (Actual 0-1-1)
At home to: Washington, Florida (Expected 1-1-0)
On the road to: Detroit, Columbus (Expected 1-1-0)
Overall expected result: 7-6-1, 15 points in 14 games
Current results: 7-2-1, 15 points after 10 games
Washington has four forwards over 2.00 per 60 at five-on-five (Alex Ovechkin, Lars Eller, Garnet Hathaway and TJ Oshie) plus a couple more hovering (Evgeny Kuznetsov, Nic Dowd). They're a weird team in that the possession numbers are all over 50 percent, but they're 21-23 goal differential after 11 games. In 10 games, Edmonton has a possession number of 46.9 but an 18-17 goal differential (this is all five-on-five).
OILERS 2019-20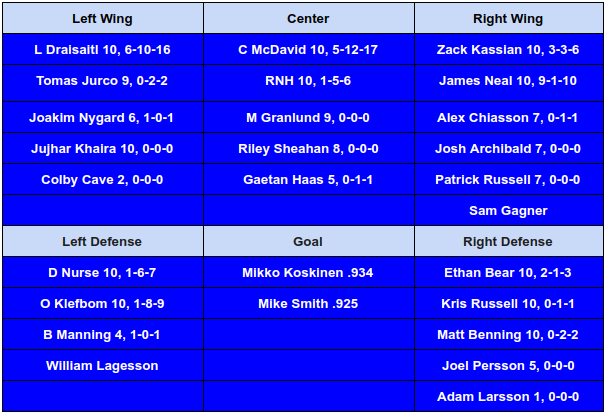 I would like to see Lagesson inserted into the lineup, but Manning is playing well and it seems unlikely. Joel Persson should be getting close; they said 7-10 days on October 16, that puts us in the window now. For those who really really want to know, here are the lines and pairings after the Tippett shuffle on Tuesday night:
James Neal-Connor McDavid-Patrick Russell
Nuge-Leon Draisaitl-Josh Archibald
Tomas Jurco-Markus Granlund-Alex Chiasson
Jujhar Khaira-Riley Sheahan-Zack Kassian
Oscar Klefbom-Ethan Bear
Darnell Nurse-Kris Russell
Brandon Manning-Matt Benning
If the lack of goals bleeds into this game (say it's 2-0 Washington after two) expect MacT level spin cycles on the lines and pairings. I am generally not in favor of it.
CONDORS 2019-20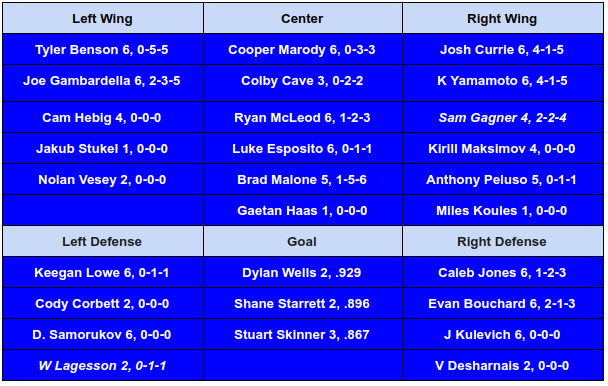 Kailer Yamamoto is moving past some prominent prospects from a year ago (Cooper Marody, Tyler Benson) in terms of recall buzz. I would encourage you to pay attention, absorb, and then disregard. If the Condors reach 25 games and Yamamoto is setting the woods on fire, then a recall is possible. That said, there's a long way to go. Bakersfield plays a lot in the coming days, we'll spend extra time there over the next two weeks. There's basically nothing you can take from the boxcars and performances early in the season and bank it, beyond health good (Yamamoto) and bad (Starrett).
LOWDOWN WITH LOWETIDE
At 10 this morning, TSN1260, we have a cool show with lots of great chatter. Jason Rogers from NBC Sports Washington and Japers Rink will pop in at 10:20, while Frank Seravalli from TSN joins the party a little later on to talk Oilers funk and John Carlson. 10-1260 text, @Lowetide on twitter. Talk soon!