In yesterday's GDT I wrote "the key to making playoffs is to shorten those losing streaks and lengthen the good times. Even a Bettman point tonight would help the Oilers edge closer to the goal" and they grabbed a Bettman plus a hard earned extra counter to stay atop the Pacific Division. And maybe this Oilers team earned a little of your faith along the way.
THE ATHLETIC!
The Athletic Edmonton features a fabulous cluster of stories (some linked below, some on the site). Great perspective from a ridiculous group of writers and analysts. Proud to be part of The Athletic, there is a Puck Drop Special offer here.
OILERS IN OCTOBER
Oilers in October 2015: 4-7-0, eight points; goal differential -6
Oilers in October 2016: 7-3-1, 15 points; goal differential +7
Oilers in October 2017: 3-7-1, seven points; goal differential -12
Oilers in October 2018: 6-4-1, 13 points; goal differential -2
Oilers in October 2019: 8-2-1, 17 points, goal differential +8
This is, statistically, the best Oilers team of the McDavid era this morning. On pace for a strong 100+ point season and several career seasons.
WHAT TO EXPECT FROM OCTOBER
At home to: Vancouver, Los Angeles (Expected: 1-1-0) (Actual 2-0-0)
On the road to: NYI, NJD, NYR, CHI (Expected 2-1-1) Actual (3-1-0)
At home to: Philadelphia, Detroit (Expected 1-1-0) (Actual 2-0-0)
On the road to: Winnipeg, Minnesota (Expected 1-1-0) (Actual 0-1-1)
At home to: Washington, Florida (Expected 1-1-0) (Actual 1-0-0)
On the road to: Detroit, Columbus (Expected 1-1-0)
Overall expected result: 7-6-1, 15 points in 14 games
Current results: 8-2-1, 17 points after 11 games
The Oilers had some dull moments in the Winnipeg game, were dull as dishwater in Minnesota, and took a little time to find the range in this game. I read and heard a lot of hyperbole this week about this Oilers team and its ability to post a win. Last night's performance versus the Capitals was impressive. All numbers five-on-five and NST.
LINE 1 Leon Draisaitl-Connor McDavid-Zack Kassian played 20:10, going 29-18 Corsi, 18-10 shots, 2-0 goals and 9-3 HDSC. An absolute force of nature, especially in the third period.
Leon Draisaitl went 1-1-2 (2-1-3 overall) and delivered four shots, three HDSC, drew a penalty. Connor McDavid scored 0-1-1 (1-2-3 overall), 3 shots and HDSC, plus 15-6 in the circle. He was airborne for most of the third period. Zack Kassian had a pair of assists, three shots and three HDSC. Folks, this trio has 47 points in 11 games.
LINE 2 Alex Chiasson-Nuge-James Neal played 11:04, going 18-12 Corsi, 7-7 shots, 0-2 goals and 3-1 HDSC. Unlucky to have missed on scoring as a line.
Alex Chiasson had a solid game, some good looks and passed the puck well. Grabbed an assist with the extra man, had his best game of the year. Nuge had two shots and some promising looks but couldn't cash. James Neal had an assist (extra man), two shots and a HDSC. The line played better than the 0-2 goals suggests.
LINE 3 Jujhar Khaira-Riley Sheahan-Josh Archibald played 4:52, going 2-3 Corsi, 2-2 shots and no goals or any danger.
Jujhar Khaira was charged with two giveaways, Riley Sheahan won one of four faceoffs, Josh Archibald had a shot and a blocked shot. All three men PK'd, Archibald was MIA on the Ovechkin power-play goal.
LINE 4 Sam Gagner-Markus Granlund-Patrick Russell played 4:21, going 5-2 Corsi 3-0 shots and 2-0 HDSC.
Sam Gagner was a solid addition to this line and gave it an offensive boost. No goals, but three shots and plenty of offensive zone time. Two HDSC's, created a rebound and some havoc. Markus Granlund took a penalty, and didn't play a shift on Benning's penalty. Strange. Does a coach take a PK man out of the rotation in the game before he healthy scratches said player? Maybe it's a message about PKers taking penalties. Patrick Russell didn't have much success.
OILERS 2019-20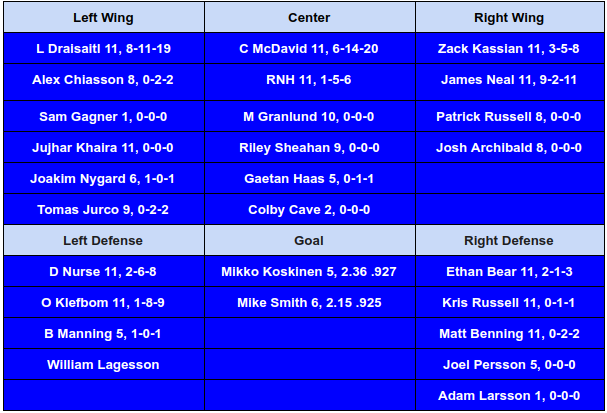 PAIRING ONE Darnell Nurse and Ethan Bear played 19:16, going 24-21 Corsi, 16-8 shots, 1-2 goals and 8-1 HDSC. Pairing went 13-14 (1-1) in 10:55 against Alex Ovchkin's line.
Darnell Nurse had a goal, four shots and several chances, along with a giveaway. He joins the rush a lot. Ethan Bear made possibly six supreme passes and was unlucky to miss out on an assist. Two shots, giveaway, blocked shot. He joins the rush less than Nurse.
PAIRING TWO Oscar Klefbom and Kris Russell played 10:57, going 12-9 Corsi, 5-6 shots, no goals and 1-3 HDSC. Klefbom played 6:43 with Matt Benning, going 7-4 Corsi, 3-2 shots, 1-0 goals and 1-0 HDSC.
Oscar Klefbom had three shots and a giveaway, he logged almost 26 minutes and went 4-7 Corsi in 6:07 against Ovechkin. Kris Russell had a good night save that moment when he and others forgot Ovechkin during the power play.
PAIRING THREE Brandon Manning and Matt Benning played 6:33 together, going 10-2 Corsi, 6-0 shots, no goals and 3-0 HDSC. Benning moved up to the Klefbom pairing for a time and was effective. In that time, Manning played 2:28 with Russell, going 3-3 Corsi, 1-3 shots and 2-0 HDSC.
Brandon Manning had two shots and has now played five games this season. He has played well. Matt Benning is a fine NHL defenseman, he got a little push from Dave Tippett last night. Perhaps we'll see it again.
GOALIE Mikko Koskinen stopped 25 of 28, .893. It wasn't his best game but he stopped all three HDSC against him. Zero blame on either Ovechkin goal, his .927 SP ranks him No. 8 among goalies with five or more appearances. His EV SP (.941) ranks him No. 4 among goalies with five or more appearances.
What's happening at five on five?
One of the things we are doing this season is drilling down on McDavid on/off, and as things are rolling out what's happening with Nuge on/off. Here are Edmonton's centers and their GF/GA on at five-on-five. I have done my best to clean up the bleeding, Edmonton's actual differential is 20-19 GF-GA at five-on-five.
Connor McDavid 13-6 (+7)
Ryan Nugent-Hopkins 6-4 (+2)
Riley Sheahan 0-5 (-5)
Markus Granlund 0-1 (-1)
Gaetan Haas 1-2 (-1)
Colby Cave 0-2 (-2)
Granlund didn't play center until a few games in, so I'm using only the last several games. Low event. The Sheahan line is the major drag, I think we can agree he's playing too far up in the lineup and his wingers haven't been up to the challenge. Among the disappointments of this season, both Jujhar Khaira and Josh Archibald are high on the list.
ETHAN BEAR
The young defenseman leads all NHL rookies in time on ice and is opening eyes with his calm feet and expert passing. Music!
RAMROD
Connor McDavid is the human highlight, and last night, third period, every shift seemed to be hammer on a drum. I've been watching hockey since the 1960's, and McDavid is shock and awe on skates. There are no words to describe him, just make sure you don't get caught slack-jawed because it makes a poor photo.
LOWDOWN WITH LOWETIDE
A busy Friday morning as tear up the blacktop on the way to the weekend. TSN1260, beginning at 10, Steve Lansky will talk Oilers and the World Series. Jeff Krushell will also pop in to talk about the World Series and Matt Iwanyk will chat Oilers, Eskimos and his new role as judge and jury on the Hot Takes court. 10-1260 text, @Lowetide on twitter. 90 minutes!