This is a game the Oilers should win, but strange things happen when teams are desperate. The Minnesota Wild enter the game with a 2-6-0 record and are 18-32 goal differential. Oilers fans can relate, but Edmonton needs to hammer a weak team like the Wild if the team is to make the playoffs.
THE ATHLETIC!
The Athletic Edmonton features a fabulous cluster of stories (some linked below, some on the site). Great perspective from a ridiculous group of writers and analysts. Proud to be part of The Athletic, there is a Puck Drop Special offer here.
OILERS IN OCTOBER
Oilers in October 2015: 3-7-0, six points; goal differential -7
Oilers in October 2016: 7-2-1, 15 points; goal differential +9
Oilers in October 2017: 3-6-1, seven points; goal differential -11
Oilers in October 2018: 6-3-1, 13 points; goal differential -1
Oilers in October 2019: 7-1-1, 15 points, goal differential +10
The current Oilers are the best McDavid Oilers based on record, but need a win to stay ahead of the 2016-17 playoff group. Notice the 2018 team pushing now, that club would continue to push until the Klefbom-Russell injury in the same game a year ago.
WHAT TO EXPECT IN OCTOBER
At home to: Vancouver, Los Angeles (Expected: 1-1-0) (Actual 2-0-0)
On the road to: NYI, NJD, NYR, CHI (Expected 2-1-1) Actual (3-1-0)
At home to: Philadelphia, Detroit (Expected 1-1-0) (Actual 2-0-0)
On the road to: Winnipeg, Minnesota (Expected 1-1-0) (Actual 0-0-1)
At home to: Washington, Florida (Expected 1-1-0)
On the road to: Detroit, Columbus (Expected 1-1-0)
Overall expected result: 7-6-1, 15 points in 14 games
Current results: 7-1-1, 15 points after 9 games
I'm torn about this game. It should be a win, but the Oilers are 7-1-1 and the Wild are 2-6-0. One team is going to bring a great effort, the other is playing for its professional life. NHL players who are on losing teams often see their NHL careers end. Ask the 2009-10 Oilers.
OILERS 2019-20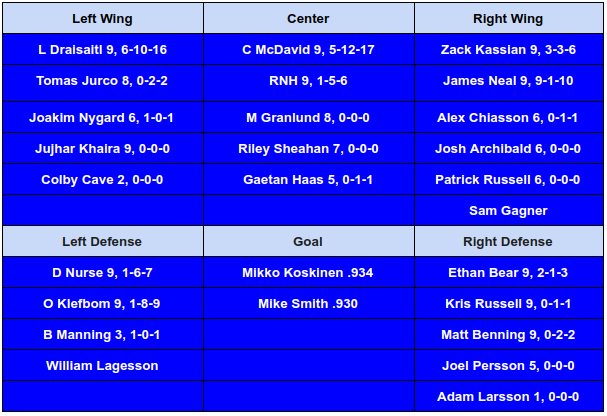 My article for The Athletic today (here) has some interesting details about Ethan Bear's handling (courtesy Puck IQ) and I wonder what kind of transition to the NHL we might see from William Lagesson. You know, last year Lagesson and Caleb Jones had the better season (I had all three men inside the top dozen Oilers prospects in the summer) and it's possible Lagesson will quickly adjust ala Bear.
Jones' speed and Bear's passing ability are top quality skills, and give each man an advantage when it comes to making the NHL grade. Bear is playing successfully in the NHL this season, and Jones had a nice run last year. In fact, if you break out his minutes with and without Adam Larsson (meaning the elite minutes) you get an interesting comparison to Bear:
Jones-Larsson
133 minutes, 43.4 Corsi for, 5-11 goals for
Kevin Gravel-Jones:
66 minutes, 55.5 Corsi for, 2-2 goals for
Jones-Matt Benning:
39 minutes, 57.3 Corsi for, 3-3 goals for
Playing depth minutes in 2018-19, Jones was well above 50 percent in possession. The Larsson minutes were too much, but that's a helluva leap. Interesting to look at that line compared to Bear's current run with Nurse via Puck IQ and the 'elite' category.
Lagesson doesn't have Jones' speed and does not have Bear's passing acumen. However, his 24 even-strength points led Condors blue a year ago, and his five-on-five goal differential (48-37) also impressed. I hope he plays this evening, and gets 20-25 games during 2019-20.
UPDATES ON BROBERG AND BOUCHARD
Corey Pronman has a piece out on prospects across the globe, with an emphasis on those who have impressed. There is Oilers content.
SAM GAGNER
Gagner's recall is recognition of a need for third-line scoring, and I expect we'll see the veteran at some point this week. I've been thinking about who he might replace in the lineup, and my guess is Patrick Russell on the fourth line. My idea has Markus Granlund and Gagner sharing faceoffs (each taking his strong side) and Tomas Jurco hanging out on LW. We might see it tonight.
LOWDOWN WITH LOWETIDE
A busy Tuesday morning on the show, beginning at 10 this morning on TSN1260. We'll be joined by prospect insider Simon Boisvert at 10:20, we'll chat Lagesson's potential and early returns on Bear. Andrew Peard and Corey Graham will pop in to talk Oil Kings at 11, and Sean Woodley from TSN1150 and RaptorsHQ will talk Raptors as the NBA season begins. 10-1260 text, @Lowetide on twitter.