Mike Smith was splendid in Winnipeg on Sunday night, the Oilers backchecked like demons (Nuge in OT was a clinic), Ethan Bear is authoring an impressive story, there were just five giveaways by the Oilers, the team won the possession game and Edmonton grabbed a point on the road as they head to Minnesota. Lots of good, a little worry, but for me those things are the big takeaway from YWG.
THE ATHLETIC!
The Athletic Edmonton features a fabulous cluster of stories (some linked below, some on the site). Great perspective from a ridiculous group of writers and analysts. Proud to be part of The Athletic, there is a Puck Drop Special offer here.
OILERS IN OCTOBER
Oilers in October 2015: 3-6-0, goal differential -6
Oilers in October 2016: 7-2-0, goal differential +10
Oilers in October 2017: 3-5-1, goal differential -8
Oilers in October 2018: 4-3-1, goal differential -4
Oilers in October 2019: 7-1-1, goal differential +10
No downbeat verbal here, I thought the Oilers played well enough to win and you could argue one of the gunners should have cashed. No matter, there's no hole to dig out from, this team is not burning daylight and I won't be mentioning the Donner party in October.
WHAT TO EXPECT FROM OCTOBER
At home to: Vancouver, Los Angeles (Expected: 1-1-0) (Actual 2-0-0)
On the road to: NYI, NJD, NYR, CHI (Expected 2-1-1) Actual (3-1-0)
At home to: Philadelphia, Detroit (Expected 1-1-0) (Actual 2-0-0)
On the road to: Winnipeg, Minnesota (Expected 1-1-0) (Actual 0-0-1)
At home to: Washington, Florida (Expected 1-1-0)
On the road to: Detroit, Columbus (Expected 1-1-0)
Overall expected result: 7-6-1, 15 points in 14 games
Current results: 7-1-1, 15 points after 9 games
The Oilers have collected 15 points, the total number I projected for the entire month! There are five games left. What is a reasonable record over those five games? I would suggest it best to stay the course, to avoid adding up possible wins in Minnesota, at home to Florida, on the road to Detroit. It's nice to think about 10 wins, but there's miles to go.
OILERS 2019-20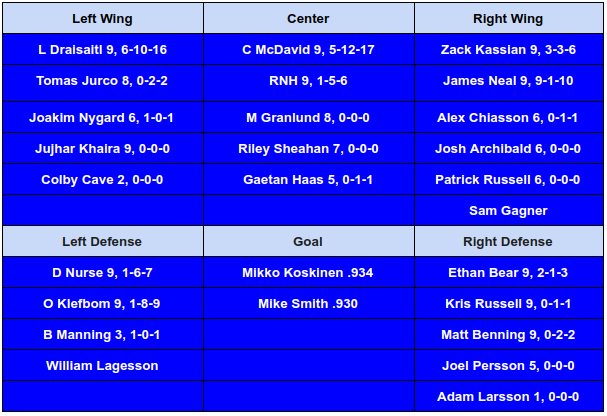 Oilers have been impressive offensively for most of the month, so a shutout isn't going to harm the boxcars. On the other hand, check out the save percentages on the goaltenders. Holy smokes! Sakes alive! All numbers below five-on-five, via NST.
LINE 1 Leon Draisaitl-Connor McDavid-Zack Kassian played 14:49, going 11-8 Corsi, 8-3 shots, no goals and 0-1 HDSC.
Leon Draisaitl had a shot on goal, a giveaway, went 1-6 in the dot, looked a little tired to my eye, and never did send one of those patented feather passes to McDavid (despite several chances) on a two-on-one. You'll hear a lot about effort today, for me the big man didn't have a full tank. Those PK minutes need to be shed. The no-look backhand 80 feet pass to 97 is other worldly and we should never pretend it's common. Connor McDavid had three shots, a couple of looks, two or three stunning passes, but the Jets did a nice job against him. He went 8-11 Corsi against Morrissey, and 4-9 against Lowry and his line. That's some good hockey by the Jets. Zack Kassian drew two penalties and was a solid goalmouth presence. He played well, almost getting shots away from the high slot twice, but dashed both times by good checking.
LINE 2 Alex Chiasson-Nuge-James Neal played 11:28, going 8-6 Corsi, 3-1 shots, no goals and 1-1 HDSC.
Alex Chiasson had the line's best chance to score, and showed he can play a responsible game. He and Neal look like they can be good on the cycle together. Nuge's best moment came in OT after a turnover, he hauled ass back and lifted the stick of the thief who wronged him 100 feet before. I thought RNH had a terrific game. James Neal had some looks but nothing rhymed (rare on any night this season). He is not a one dimensional player, but that hammer would have been welcome last night.
LINE 3 Jujhar Khaira-Riley Sheahan-Josh Archibald played 7:28, going 4-6 Corsi, 2-1 shots, no goals and no HDSC.
Jujhar Khaira was disappointing again. He needs to get to the puck, handle the puck, make good things happen. But he's hesitant and gets run over by the rush. It's a concern. If he hadn't taken an unnecessary penalty, the scoresheet would have nothing to show for his night's work. Big PK minutes, that's keeping him in the lineup. Riley Sheahan had a shot, went 2-1 on the dot, passed and transported the puck well. Also a PK staple. Josh Archibald was more noticeable on this line but he's still not around the puck enough to make a difference.
LINE 4 Tomas Jurco-Markus Granlund-Patrick Russell played 7:28 and went 13-1 Corsi! It was a terrific night. 8-0 shots, no goals and 3-0 HDSC. Splendid game by this trio.
Tomas Jurco continues to play an intelligent game, he's playing well enough to get another shot at No. 2 LW should the job come available. Markus Granlund had a great scoring chance, went 3-3 on the dot and played over 2 minutes on the PK. Patrick Russell is a fourth line cheat code, four shots, two HDSC and wise decisions everywhere.
PAIRING ONE Darnell Nurse and Ethan Bear played 18:43 together, going 15-12 Corsi and 9-2 shots. They were 0-2 on the HDSC despite 8:34 with McDavid. Some wobble, but went 6-3 against the Scheifele line. 7 offensive and three defensive faceoffs.
Darnell Nurse skated miles, and he had to what with the George Jetsons as the opposition. He doesn't seem to get much credit with a fairly vocal portion of the fanbase, but he was quality defending last night. Ethan Bear's passing is becoming a big part of Edmonton's game when he's on the ice. So much accomplished with a simple pass. Bear is also moving in on PK duty, playing 3:43 at the discipline. Had a dandy chance to score.
PAIRING TWO Oscar Klefbom and Kris Russell played 14:04 together, going 11-10 Corsi, 7-3 shots, no goals and 3-1 HDSC. Five offensive and two defensive faceoffs.
Oscar Klefbom had six shot attempts (in all disciplines) and three shotblocks. He is Edmonton's best defenseman. Kris Russell had a giveaway, a takeaway and two blocked shots, plus he did some good things on the PK. He is a bend but not break defenseman, and that's what he did last night.
PAIRING THREE Brandon Manning and Matt Benning played 7:48, going 4-4 Corsi, 2-3 shots and 1-0 HDSC.
Brandon Manning was effective, save for a giveaway and 1:25 with Kris Russell (0-3 Corsi). Matt Benning had a shot on goal, blocked one, and used his mobility to handle dozens of sorties. Oilers should use him more. Bear has taken his PK minutes.
GOALIE Mike Smith was beyond outstanding. Stopped 23 of 23, including six (NST number) that were high danger. I'm writing about this today at The Athletic, but the goaltending is stout. Stout!
LOWDOWN WITH LOWETIDE
At 10 this morning, TSN1260, we start the clock on a working week with a terrific guest list. Murat Ates from The Athletic will pop in to talk about the game last night and matchups he noticed. Jason Gregor will give his opinion on this October run by the Oilers and what it might mean for the rest of the season. 10-1260 text, @Lowetide on twitter.