The Oilers and Winnipeg Jets played four times in 1979-80, the first season for both teams in the world's finest hockey league. Winnipeg won the first two, and the teams played to a draw in the final game. The third contest, played February 1, 1980, had everything: a hat-trick by Wayne Gretzky, a goalie start by a man named Jim Corsi, a big game by Stan Weir, an Oilers EV, SH and PK goal in the span of 2:33 in the first period, a fight involving Dave Semenko and Jimmy Mann, and a goal by a Jets forward (Willy Lindstrom) who would one day play for the Oilers. Madness. Beautiful madness.
THE ATHLETIC!
The Athletic Edmonton features a fabulous cluster of stories (some linked below, some on the site). Great perspective from a ridiculous group of writers and analysts. Proud to be part of The Athletic, there is a Puck Drop Special offer here.
OILERS IN OCTOBER
Oilers in October 2015: 3-6-0, goal differential -6
Oilers in October 2016: 7-2-0, goal differential +10
Oilers in October 2017: 3-5-1, goal differential -8
Oilers in October 2018: 4-3-1, goal differential -4
Oilers in October 2019: 7-1-0, goal differential +10
Imagine a better start than 2016! It's damned near impossible, and yet here we are. This year's Jets are a truly strange brew. The team's record is 4-5-0 and Winnipeg has lost three in a row. They'll be desperate.
WHAT TO EXPECT IN OCTOBER
At home to: Vancouver, Los Angeles (Expected: 1-1-0) (Actual 2-0-0)
On the road to: NYI, NJD, NYR, CHI (Expected 2-1-1) Actual (3-1-0)
At home to: Philadelphia, Detroit (Expected 1-1-0) (Actual 2-0-0)
On the road to: Winnipeg, Minnesota (Expected 1-1-0)
At home to: Washington, Florida (Expected 1-1-0)
On the road to: Detroit, Columbus (Expected 1-1-0)
Overall expected result: 7-6-1, 15 points in 14 games
Current results: 7-1-0, 14 points after 8 games
A win tonight and the Oilers exceed my projections with five games to go. There's regression coming, we all know it. That said, this has been a tremendous run to start the season.
OILERS 2019-20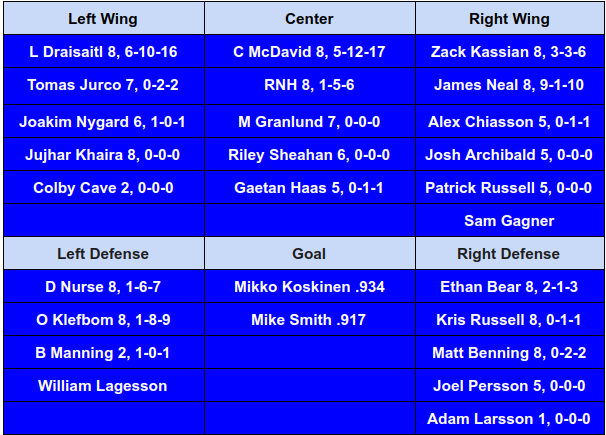 I will be tracking "total players deployed" this season, as I believe Edmonton is on the verge of breaking the franchise record. If Ken Holland's verbal matches his transactions, we'll be seeing some of the kids after Christmas, and the deadline should also see a shuffle.
Currently, the number of Oilers who have dressed and played this season stands at 25, with William Lagesson and Sam Gagner possibly playing on this road trip. That would mean 27 players by Halloween night. A fun thing to follow.
CONDORS
Bakersfield was sloppy in the first period, recovered, and then gave up a late goal to lose last night against Stockton. Jay Woodcroft can't be pleased, but then again his roster shuffled mightily in the 24 hours before the game (Lagesson, Gagner up, signing of Cody Corbett). There's a mid-week game to come and I expect the roster players will be hungry for a win. Colby Cave destroyed Martin Pospisol in a fight that would have earned him instant recall 25 years ago.
BOUCHARD
Evan Bouchard turns 20 today, he'll celebrate by visiting 50+ dwellings to preview his future. In all seriousness, he's a mature looking 20, and he will eventually become a big part of the Edmonton defense. Don't be fooled by mistakes in Bakersfield, the AHL is a different league and there's better structure in the NHL. What Bouchard needs to work on are things like quick reaction, recognizing danger and handling dump ins effectively. He isn't going to stop chaos, but recognizing danger before it happens (and driving that danger to the outside) are things he needs to improve.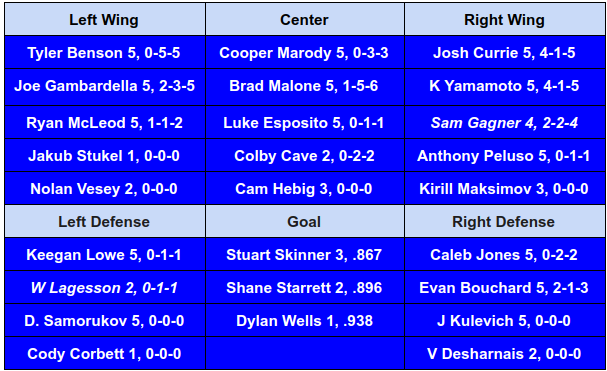 SAM GAGNER
Samwise is back. I wrote about him at The Athletic last night (link above) and do believe he'll have an impact if he gets playing time. Dave Tippett shortens his bench during important times in the game, so Gagner will have to make hay during the game states where a goal is required. Tippett's attention to the game score is refreshing. If he needs a goal, his deployment is wildly different than his shutdown forces.
LAGESSON
As such, I'll be interested to see, should Lagesson play, how much trust the coach has in him. Lagesson's defensive play is excellent, I think (not alone in this but the belief isn't universal either) that the young Swede has a chance to be an integral part of the Oilers future.