Ethan Bear emerged from a large group of hopefuls to win an NHL job this fall, and he's building on that with each passing game. Who knows what tomorrow brings, but the young defenseman is helping the Oilers in a big way as a rookie. Big minutes, smart plays, quick recovery from rookie mistakes. Music!
THE ATHLETIC!
The Athletic Edmonton features a fabulous cluster of stories (some linked below, some on the site). Great perspective from a ridiculous group of writers and analysts. Proud to be part of The Athletic, there is a Puck Drop Special offer here.
OILERS IN OCTOBER
Oilers in October 2015: 3-5-0, goal differential -5
Oilers in October 2016: 7-1-0, goal differential +12
Oilers in October 2017: 2-5-1, goal differential -9
Oilers in October 2018: 3-3-1, goal differential -7
Oilers in October 2019: 7-1-0, goal differential +10
Incredible. In the five seasons of McDavid, we've seen two Dr. Jekyll's and three Mr. Hyde's. Thank God and Greyhound the good doctor appears to be in the house this year. I've been mulling how much credit to give Dave Tippett these days, he has implemented more structure and the special teams are epic at this time. What a start.
WHAT TO EXPECT FROM OCTOBER
At home to: Vancouver, Los Angeles (Expected: 1-1-0) (Actual 2-0-0)
On the road to: NYI, NJD, NYR, CHI (Expected 2-1-1) Actual (3-1-0)
At home to: Philadelphia, Detroit (Expected 1-1-0) (Actual 2-0-0)
On the road to: Winnipeg, Minnesota (Expected 1-1-0)
At home to: Washington, Florida (Expected 1-1-0)
On the road to: Detroit, Columbus (Expected 1-1-0)
Overall expected result: 7-6-1, 15 points in 14 games
Current results: 7-1-0, 14 points after 8 games
I don't think anyone can reasonably suggest this was predictable. Entering the season, my thoughts in projected the team was based on 88 points (my predicted overall total). Right now, in order to get to 88 points, Edmonton needs to finish 33-33-8. This team could make the playoffs, completely possible. Neal. Smith. Sheahan. Bear. Some of this has to be coaching folks.
LINE 1 Leon Draisaitl-Connor McDavid-Zack Kassian played 15:37 (all numbers five-on-five unless noted) and went 19-15 Corsi. Slow first period but recovered and had a good night, 12-11 shots, 1-0 goals and 5-1 HDSC.
Leon Draisaitl had an assist, shot, HDSC, takeaway and was solid in the dot. He was hauling ass on the backcheck all night long. A stunning player. He had several great looks at the other end but on this night couldn't cash. Feel sorry for Sunday. Connor McDavid had three shots, three HDSC's, he could have scored two or three (EN goal was there and so close) and was absolutely flying. Zack Kassian had a shot, HDSC, several bone jarring hits and skated miles. Effective line.
LINE 2 Alex Chiasson-Nuge-James Neal played 14:13, going 19-12 Corsi, 10-3 shots, 1-0 goals and 6-0 HDSC. This line was fantastic.
Alex Chiasson is emerging as the obvious choice for No. 2 LW on this roster. Assist, three shots and three HDSC. Nuge was most noticeable on the power play but worked effectively at evens. In one instance (late in the game) his line was trapped but Nuge kept his head and helped negotiate the rapids. James Neal found the puck and shot it in the net in a heartbeat. Mad skill. He is also a good forechecker with an effective stick. Watching a player on the town team is such a different experience than the same player spending his career on the road club. I'm glad Neal landed in Edmonton, he's a fun player to watch.
LINE 3 Jujhar Khaira-Riley Sheahan-Patrick Russell played 9:25, going 8-9 Corsi, 4-5 shots, no goals and 0-1 HDSC.
Jujhar Khaira played well, drawing a penalty with hard work along the wall, and he made some nice quick passes. Riley Sheahan had a HDSC, a giveaway and was 50 percent on 12 faceoffs. Patrick Russell rang iron early and missed an empty net late, in between he made several strong plays.
LINE 4 Tomas Jurco-Gaetan Haas-Josh Archibald played 5:16, going 6-3 Corsi, 4-1 shots, no goals and 1-1 HDSC. I liked this line, although they didn't play much.
Tomas Jurco had a fine game, one shot, one HDSC and three takeaways. He's an impressive player. Gaetan Haas won three of five faceoffs, and was knocked off the puck several times. Josh Archibald didn't get a lot done at five-on-five.
OILERS 2019-20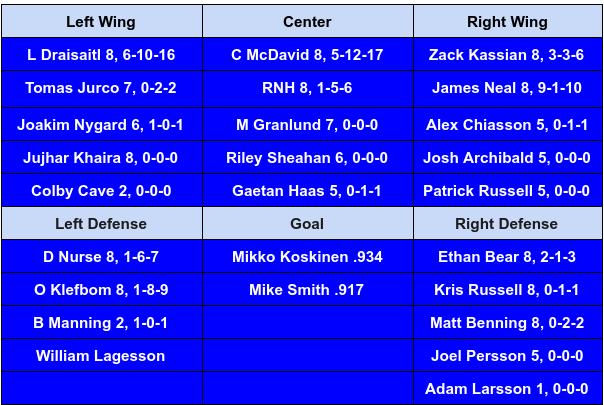 PAIRING ONE Darnell Nurse-Ethan Bear played 17:43, going 22-18 Corsi, 13-11 shots, 2-1 goals and 4-1 HDSC. Spent 7:31 with McDavid's line, 5:46 with Nuge, scoring a goal with each line. The GA came during 4:33 with Sheahan's line.
Darnell Nurse had two assists, five shots and several good looks. He skated miles defensively and made some good outlet passes. Nurse was on the ice for the GA and did have a chance to clear (as did Bear) but on the whole was effective in transporting, passing and defending. Ethan Bear had an even better game, scoring the game winning goal and making a bunch of fine passes. Made a mental error behind the Edmonton net (got to the puck first, but didn't secure it in time) that eventually led to Detroit's goal. No matter, he's been a revelation.
PAIRING TWO Oscar Klefbom and Kris Russell played 18:37, going 23-17 Corsi, 15-8 shots, no goals and 8-2 HDSC. Went 8:25 (4-1 HDSC) and 4:51 (3-0 HDSC) with the Nuge.
Oscar Klefbom had three shots and four giveaways, and played in some chaos of his own creation. A rarity, I do think it speaks to the chemistry that exists with his partner. Where have you gone, Joel Persson? Kris Russell blocked the final shot of the game, had a shot and a HDSC. He got caught with Athanasiou behind him on an alley oop (ironic considering the McDavid goal coming from a Russell pass of similar type on Wednesday) and took a penalty. He played well..
PAIRING THREE Brandon Manning and Matt Benning played 12:19, going 6-9 Corsi, 3-3 shots, no goals and no HDSC. Matt Benning had two takeaways.
GOALIE Mikko Koskinen had a terrific game, stopping 25 of 26, .962. There were just two HDSC. Made an outrageous stick save on Anthony Mantha on a shot that was labeled for the far corner. All numbers NST.
CONDORS
Bakersfield plays Stockton tonight, William Lagesson was recalled yesterday and the organization (Condors) signed former Edmonton Oil Kings defenseman Cody Corbett. Here are the updated scoring numbers.