In all the excitement over Ethan Bear's early showing, it's easy to forget the buzz surrounding William Lagesson as we entered 2019 training camp. He can defend, move the puck, and his cap hit is about 25 percent of Kris Russell's cap number. Makes you think.
THE ATHLETIC!
The Athletic Edmonton features a fabulous cluster of stories (some linked below, some on the site). Great perspective from a ridiculous group of writers and analysts. Proud to be part of The Athletic, there is a Puck Drop Special offer here.
OILERS IN OCTOBER
Oilers in October 2015: 3-5-0, goal differential -5
Oilers in October 2016: 7-1-0, goal differential +12
Oilers in October 2017: 2-5-1, goal differential -9
Oilers in October 2018: 3-3-1, goal differential -7
Oilers in October 2019: 6-1-0, goal differential +9
The goal differential is strong, you just don't want to see how the sausage is made. This is a transition season and we're going to see some growing pains. The game against Philadelphia was as loose as Neil Young & Crazy Horse at the Fillmore. More than a victory, I'll be watching for a tighter game from Edmonton.
WHAT TO EXPECT IN OCTOBER
At home to: Vancouver, Los Angeles (Expected: 1-1-0) (Actual 2-0-0)
On the road to: NYI, NJD, NYR, CHI (Expected 2-1-1) Actual (3-1-0)
At home to: Philadelphia, Detroit (Expected 1-1-0) (Actual 1-0-0)
On the road to: Winnipeg, Minnesota (Expected 1-1-0)
At home to: Washington, Florida (Expected 1-1-0)
On the road to: Detroit, Columbus (Expected 1-1-0)
Overall expected result: 7-6-1, 15 points in 14 games
Current results: 6-1-0, 12 points after 7 games
The Red Wings played in Calgary last night, didn't look strong against the now surging Flames. For Edmonton, a strong effort is vital and you hope for a good result. I don't think the Oilers have experienced any real bad luck yet this season, beyond injury. If the Oilers win tonight, the team could go 0-5-1 and still match my projection.
LAGESSON RECALLED
The lesson of Ethan Bear is that we don't really know about these kids until they get here. Lagesson's scouting report suggests he has some shutdown ability, and he did lead Condors blue with 24 even-strength points a year ago. I hope we see him for 25 games in Edmonton this season, it's important to get a good long look at him.
PULJUJARVI TRADE CHATTER
Carolina apparently kicking tires on Jesse Puljujarvi (Edmonton) and Josh Ho-Sang (NY Islanders) recently, via TSN's Pierre Lebrun. Julien Gauthier is still a Hurricane, perhaps Carolina is making something more attractive available. I like Warren Foegele, but you're not trading him for Puljujarvi's potential future. Holland may feel a year in Europe will give the young man time to assess his situation. JP has no contract, so this is not a holdout. However, Edmonton does hold the hammer in terms of his NHL future. I hope this gets resolved.
2019-20 OILERS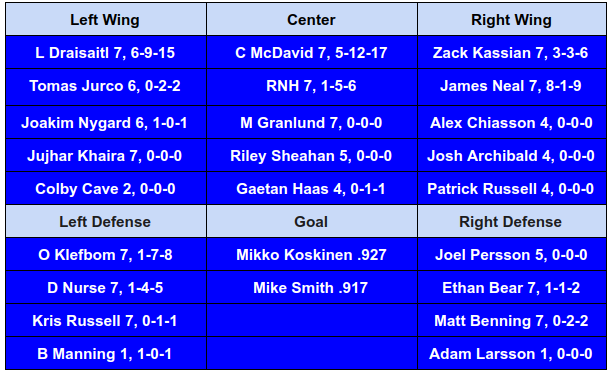 If Lagesson draws in tonight (for his first NHL game), that will mean the Oilers have deployed 26 players through eight games this year. As you may know, I believe the Oilers could break the franchise record for number of players deployed in a single regular season. Lagesson would be defenseman No. 9 on the campaign.
TONIGHT'S GAME
I suspect there is a reckoning on the way, this Oilers team isn't winning the Corsi or shot differential game (and that includes the McDavid line, read my article for The Athletic this morning). McDavid can outscore the Corgis, Leon's going to fill the net and you should be increasingly confident in the Nuge line. Still, the math is hammering like a bad headache:
Corsi for five-on-five: 45.28
Shots for five-on-five: 43.89
Goals for five-on-five: 53.33
Expected goals five-on-five: 43.74
Shooting percentage five-on-five: 12.03
Save percentage five-on-five: 91.76
PDO five-on-five: 103.8
All numbers NST. The only game Edmonton has owned more than 50 percent of the shot share came against the Rangers. The Oilers were outshot five-on-five 33-16 in the Philadelphia game. Larsson is hurt, Persson is hurt again, Kris Russell has moved to the second pair right side and the possession numbers have been screaming since opening night. This is Dave Tippett's challenge.
LOWDOWN WITH LOWETIDE
At 10 this morning, TSN1260, we get ready for the weekend and the big game against the Red Wings. Steve Lansky joins us from BigMouth Sports to talk MLB, Oilers start and CFL Live Mic. Matt Iwanyk pops by around 11 to chat about the Oilers start and a fantastic final few weeks in the CFL. 10-1260 text, @Lowetide twitter and we'll see you on the radio!