And we're back. The formula goes like this: McDavid runs over competition, goalie stops as many of the 50 shots headed his way as he can, and scene. It is not a strong option. We are seeing this Edmonton Oilers team slide back into some bad habits. Pucks are going in the opposition net, but the ice is tilted in the wrong direction. Edmonton's coach is not having it.
Dave Tippett's avail last night was stern and somber. Tippett: "You can't play like that and expect to be a playoff team." Music!
THE ATHLETIC!
The Athletic Edmonton features a fabulous cluster of stories (some linked below, some on the site). Great perspective from a ridiculous group of writers and analysts. Proud to be part of The Athletic, there is a Puck Drop Special offer here.
OILERS IN OCTOBER
Oilers in October 2015: 3-4-0, goal differential -2
Oilers in October 2016: 6-1-0, goal differential +10
Oilers in October 2017: 2-5-0, goal differential -8
Oilers in October 2018: 3-3-1, goal differential -7
Oilers in October 2019: 6-1-0, goal differential +9
It's uncanny how closely the 2016 experience matches this one. Encouraging, because that team made the playoffs. The team may have to make several trips to the goalie factory this season, though. There were moments last night where I was reminded of that period over Christmas a couple of years ago where the Oilers got outworked and outsmarted. Can't have that.
WHAT TO EXPECT FROM OCTOBER
At home to: Vancouver, Los Angeles (Expected: 1-1-0) (Actual 2-0-0)
On the road to: NYI, NJD, NYR, CHI (Expected 2-1-1) Actual (3-1-0)
At home to: Philadelphia, Detroit (Expected 1-1-0) (Actual 1-0-0)
On the road to: Winnipeg, Minnesota (Expected 1-1-0)
At home to: Washington, Florida (Expected 1-1-0)
On the road to: Detroit, Columbus (Expected 1-1-0)
Overall expected result: 7-6-1, 15 points in 14 games
Current results: 6-1-0, 12 points after 7 games
Edmonton could go 1-5-1 in the next seven games and match my prediction for October. These banked points are absolute gold, and it's fun when the team wins in regulation. Those blasted Bettmans are the life's blood of this crazy league. All Numbers below via NST.
LINE 1 Leon Draisaitl-Connor McDavid-Zack Kassian played 14:24, went 8-22 Corsi, 6-13 shots, 3-0 goals and 1-8 HDSC. That is the craziest damn stats line I've ever seen. All business up front, while a murder is taking place at the back.
Leon Draisaitl scored a goal at five-on-five, plus 1-1-2 on the power play. He played just 19:51, that should be considered a major victory. He spent 2:22 on the PK, need to shave that down. Connor McDavid's goal was incredible, his five points just the third time he's managed that total. What a talent. Zack Kassian tackled a man at the 10, picked up an assist and played well.
LINE 2 Alex Chiasson-Nuge-James Neal played 10:45, went 9-6 Corsi, 5-5 shots, 1-0 goals and 2-1 HDSC.
Alex Chiasson kept the puck moving in a good direction but didn't post any crooked numbers. Nuge went 1-1-2 (he actually scored a second goal but didn't get credit) and won five of nine faceoffs. James Neal picked up an assist (nice pass on the Bear goal) and played a fairly complete game.
LINE 3 Jujhar Khaira-Riley Sheahan-Patrick Russell played 10:45 together, going 6-9 Corsi, 2-7 shots, 0-1 goals and 1-4 HDSC.
Jujhar Khaira was on the PK rotation, that might be the only thing keeping him in the lineup. He was part of a couple of reasonable looks but honestly not much there there right now. Riley Sheahan had 3 TK, five minutes on the PK and won 12 of 22 on the dot. Patrick Russell had the line's only HDSC, took a penalty and looked comfortable on the line.
LINE 4 Tomas Jurco-Markus Granlund-Josh Archibald played 7:19, going 5-5 Corsi, 2-3 shots, no goals and 0-1 HDSC.
Tomas Jurco had one shot, I liked him with the puck on his stick and in battles. Like Khaira, he needs to move the needle more offensively. Markus Granlund took two penalties and was pedestrian the rest of the time. Josh Archibald will score one day, he keeps getting chances.
OILERS 2019-20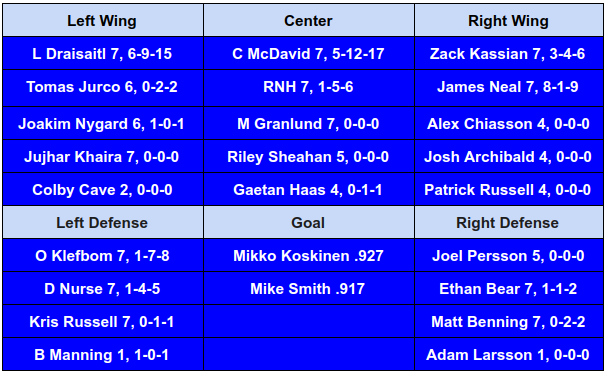 PAIRING ONE Darnell Nurse and Ethan Bear played 19:01, going 11-21 Corsi, 7-13 shots, 1-1 goals, 1-8 HDSC. Played 8:19 against Giroux-Couturier-Konecny, that line is a handful. Played 6:24 with Nuge, 5:28 with McDavid.
Darnell Nurse skated miles, was very physical, had one giveaway and took an unnecessary penalty. Ethan Bear scored a nice goal, some great passes and two giveaways. This pairing went 2-11 against the Couturier bunch, who are positively frightening. Duo was 9-10 against the other Flyers in Corsi, acceptable numbers considering the fact a rookie is onboard. Four offensive and seven defensive zone starts on faceoffs.
PAIRING TWO Oscar Klefbom and Kris Russell played 15:10, going 12-21 Corsi, 5-12 shots, 2-0 goals and 2-5 HDSC. Faceoff zone starts included four offensive and six defensive.
Oscar Klefbom had an assist, two shots and three giveaways (Edmonton had 25 on the night). Russell had a giveaway, the least likely assist in NHL history, two takeaways and eight blocked shots.
PAIRING THREE Brandon Manning and Matt Benning are a mind numbing combination of words for the same pairing. The only thing worse would be a Batt Manning-Mann Benning duo. Played 10:19 together, 7-5 Corsi, 4-4 shots, 1-0 goals and 1-0 HDSC.
Brandon Manning scored a nice goal, I was happy for him. Not his fault he got traded here, one hopes he can continue his career in Edmonton or elsewhere. Matt Benning had a couple of giveaways and a takeaway, he played well in a support role.
GOALIE Mikko Koskinen was outstanding, possibly his best game for the Oilers. Stopped 49 of 52, .942 and at five on five it was 32 of 33, .970. Koskinen won the game. Tippett said he should have been the first, second and third star.
INJURIES
Joel Persson and Joakim Nygard are both out with injury, concussion and ribs, respectively. Seven to 10 days for the blue, two to four weeks for the forward.
The best righty defender in Bakersfield is Evan Bouchard. Edmonton may think it too soon to bring him up and that might mean William Lagesson or Caleb Jones.
Nygard is a speed merchant who can forecheck. The fastest forward on the farm is Ryan McLeod, the team has several men who can forecheck.
LOWDOWN WITH LOWETIDE
A fun morning on the Lowdown, starts at 10, TSN1260. Frank Seravalli from TSN will pop in to talk Oilers, Zack Kassian and early season surprises. We're planning to head out to Bakersfield for a chat about the Condors and possible recalls, and will have plenty of NFL chat, too. 10-1260 text, @Lowetide on twitter. It's a fun show! Seriously.