Detroit came out flying last night, could have been 4-0 if that team had some skill. The Oilers were slow off the mark, sleepy in the middle and woke up late. Since the dawn of time, that's a bad damned recipe.
The first time the Oilers played Columbus, it was in Ohio and ended in a 4-2 win for the road team. Doug Weight had four assists, Ryan Smyth scored twice, Billy Guerin scored into an empty net 10 days before he would be traded to the Boston Bruins.
THE ATHLETIC!
The Athletic Edmonton features a fabulous cluster of stories (some linked below, some on the site). Great perspective from a ridiculous group of writers and analysts. Proud to be part of The Athletic, there is a Puck Drop Special offer here.
OILERS IN OCTOBER
Oilers in October 2015: 5-9-0, 10 points; goal differential -6
Oilers in October 2016: 9-4-1, 19 points; goal differential +7
Oilers in October 2017: 5-8-1, 11 points; goal differential -12
Oilers in October 2018: 8-5-1, 17 points; goal differential +1
Oilers in October 2019: 8-4-1, 17 points, goal differential +4
The Oilers are limping into Halloween but in all honesty this has been a smokin' month. In McDavid's fifth season, three of the point totals were playoff worthy. Even with a loss tonight, suspect fans, if they're being fair, have to be pleased with the first month of 2019-20.
WHAT TO EXPECT IN OCTOBER
At home to: Vancouver, Los Angeles (Expected: 1-1-0) (Actual 2-0-0)
On the road to: NYI, NJD, NYR, CHI (Expected 2-1-1) Actual (3-1-0)
At home to: Philadelphia, Detroit (Expected 1-1-0) (Actual 2-0-0)
On the road to: Winnipeg, Minnesota (Expected 1-1-0) (Actual 0-1-1)
At home to: Washington, Florida (Expected 1-1-0)(Actual 1-1-0)
On the road to: Detroit, Columbus (Expected 1-1-0) (Actual 0-1-0)
Overall expected result: 7-6-1, 15 points in 14 games
Current results: 8-4-1, 17 points after 13 games
Oilers beat my projection but the month was really two different chapters. The team started 7-1-0 before going 1-3-1 with tonight's game ending the October story. Fans wanted a better result but I don't think this team has the kind of ability that would make a 10-win October realistic—even if they'd delivered that kind of insane run. All numbers five-on-five unless indicated, via NST.
LINE 1 Leon Draisaitl-Connor McDavid-Zack Kassian played 15:06, going 7-18 Corsi (gack!), 6-9 shots, 1-0 goals and 1-4 HDSC. Scored a lovely goal.
Leon Draisaitl scored his 10th goal of the season, two shots, drew a penalty, some errant passes. Connor McDavid had an assist, shot, HDSC, and also drew a penalty. Zack Kassian had a shot, a HDSC and hit everything that moved. Line looked tired and chased the puck a lot, both 97 and 29 played over 26 minutes overall. How much they have in the tank for tonight is a concern.
LINE 2 Jujhar Khaira-Nuge-Sam Gagner played 10:51, going 16-3 Corsi (!!!), 12-2 shots (!!!), no goals and 4-1 HDSC (!!!). This is one experiment that worked very well.
Jujhar Khaira had three shots, three HDSC and two rebound attempts. It was his first good game of the season. Nuge had five shots, one HDSC and was solid in the dot. As well as he played, there were enough opportunities to expect him to cash. Maybe tonight. Sam Gagner had a fine evening, finding seams for his deft passes and creating chem on a makeshift line. As was the case with Khaira, his best game of the season.
LINE 3 Alex Chiasson-Gaetan Haas-James Neal played 7:55, going 6-2 Corsi, 3-2 shots, 0-1 goals and 0-1 HDSC.
Alex Chiasson didn't accomplish much five-on-five, the puck seemed to be jumping on him. I'm not down on this player, it's a long season and we'll see him in a better light. Gaetan Haas had one shot and won six of 12 in the dot, he has size and speed and might be a player. I don't think the Oilers have time to find out. James Neal made a terrible play that led to the second goal, passed to Chiasson in the defensive end and his partner never saw the pass. Two shots, penalty, not his best game but then again he was placed in a tough spot.
LINE 4 Tomas Jurco-Riley Sheahan-Patrick Russell played 5:18, going 1-5 Corsi, 0-2 shots, no goals and 1-0 HDSC.
Tomas Jurco had a shot on goal and a couple of looks, and his reach came in handy on a couple of loose pucks. Riley Sheahan didn't have much going on and was chasing the puck constantly. Patrick Russell had a shot on goal. The big winner? Markus Granlund.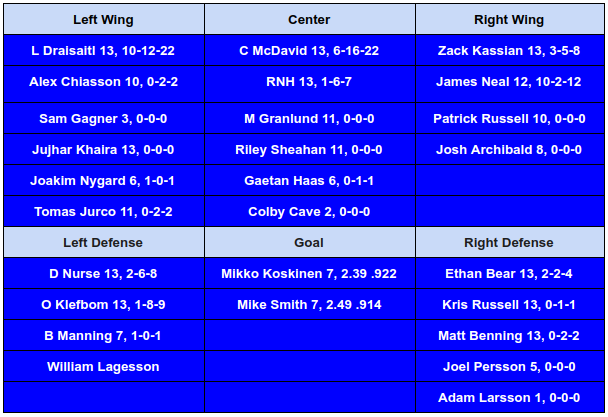 PAIRING ONE Darnell Nurse-Ethan Bear played 16:22, went 13-14 Corsi, 12-11 shots, 1-1 goals and 3-4 HDSC. Spent half of their icetime with McDavid on the ice. Pairing was 5-7 shots with, 7-4 without 97.
Darnell Nurse had two shots, drew a penalty and engaged physically. Ethan Bear made multiple effective passes, got walked badly two times (Larkin and AA), and took a penalty, had one shot and one HDSC.
PAIRING TWO Oscar Klefbom and Kris Russell played 13:55, going 7-16 Corsi, 4-7 shots, no goals and no HDSC. Pairing played 7:45 with McDavid, going 2-6 shots with 97 and 2-1 without. No idea what the hell was going on with 97, but he looked tired.
Oscar Klefbom seemed off in his passes and was chasing a lot, matching Kris Russell. One of the keys to Klefbom's success is using those calm feet to settle things down. Haven't seen it the last few games. Russell was soft on Larkin net front on the first goal.
PAIRING THREE Brandon Manning and Matt Benning played 7:52 together, 4-2 Corsi, 3-0 shots, no goals and 1-2 HDSC.
Manning had the only five-on-five giveaway (!!!) and a shot on goal. Matt Benning hammered Frans Nielsen at the blue line. Not much happened with these men on the ice.
GOALIE Mikko Koskinen stopped 20 of 21, .952 at five-on-five and 25 of 27, .926 overall. He gave this team a chance to win.
CONDORS
Bakersfield plays today, noon Edmonton time. I spoke to Ryan Holt on the Lowdown yesterday, Shane Starrett made the trip to San Jose (encouraging) but is unlikely to play. He was a key to success a year ago.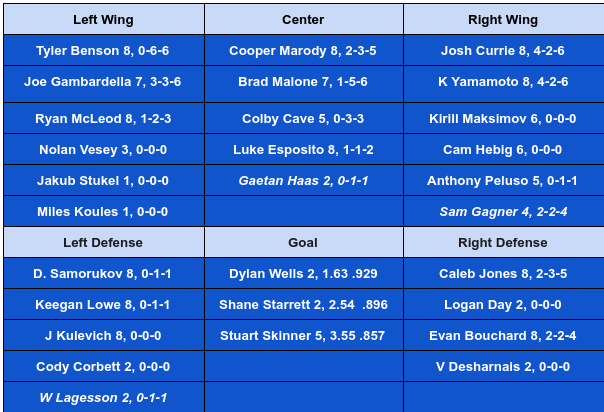 One of the craziest things about yesterday involved the idea of Kailer Yamamoto being recalled. It's fine to argue for and against, but let's at least agree on what the facts are before proceeding. I had several texts and dm's telling me "Yamamoto is 95th in AHL points" when in fact he is tied for No. 68. Neither is a recommendation for recall, but if you're going to argue a point, please get the facts right. When a player has six points and is listed at No. 95, have a look to see how many players he is tied with at the point total. It's important. Especially if you're arguing he should stay, because being correct on the stats makes your argument stronger. I think he should stay until at least game 20. Recall a player with at least one year of success at that level. Options include Joe Gambardella, Josh Currie, Tyler Benson and Cooper Marody. I expect the Oilers like Yamamoto's speed, and do believe there's a good chance he'll be recalled first. That's not the same as an endorsement, although I do believe in the player.
LOWDOWN WITH LOWETIDE
At 10 this morning, TSN1260, my friend Bruce McCurdy will know the phone will ring in 20 minutes. In a cruel twist of fate, the Oilers have lost with unusual frequency on the evening before his appearances. Today is another example. Bruce will bring fire at 10:20. Kris Abbott from OddsShark will pop in to talk World Series bets, NFL, Heisman, Tiger. 10-1260 text, @Lowetide on twitter. Talk soon!