All of a sudden, things are getting tight. Wins by Arizona and Vancouver on a supposedly quiet Monday night have the Oilers being tracked by five teams within two points of Edmonton's leading pace. On the first of back-to-back games, winning in Motown is vital.
On January 9, 1984, just 131 days before the team would win its first Stanley Cup, the Oilers beat the Detroit Red Wings 7-3. It was a game that included a famous name from the 1960's (Brad Park) and one who would play through 2006 (Steve Yzerman). Among the men who would get points that night were Wayne Gretzky, Mark Messier, Glenn Anderson, Paul Coffey, Grant Fuhr, Kevin Lowe, Charlie Huddy, Ken Linseman. Danny Gare took a penalty. There's a lot of history in every game, but that one was incredible.
THE ATHLETIC!
The Athletic Edmonton features a fabulous cluster of stories (some linked below, some on the site). Great perspective from a ridiculous group of writers and analysts. Proud to be part of The Athletic, there is a Puck Drop Special offer here.
New Lowetide: The current state of the Edmonton Oilers goaltending. (will link)
New Jonathan Willis: Should the Oilers trade for a veteran NHL defenceman?
Lowetide: Oilers first-round pick Philip Broberg increases his role; Condors' Caleb Jones looks NHL-ready
Daniel Nugent-Bowman: 'I don't think anyone's feeling comfortable': Oilers' Holland pleased but cautious amid early improvements.
Lowetide: Josh Archibald's injury and limited replacements available puts some pressure on Oilers
Daniel Nugent-Bowman: 4 reasons why the Oilers passed their first true test of the season
Lowetide: Ryan Nugent-Hopkins and James Neal are leading a quality Oilers second line
Lowetide: Assessing the early season progress of Oilers' defence and goaltending
Jonathan Willis: A rare success during Edmonton's long rebuild, why Oscar Klefbom is the model for finishing Oilers' blue line
Lowetide: Jesse Puljujarvi's impressive Liiga performance headlines Oilers prospects this week
Jonathan Willis: Can the Oilers afford to pursue Taylor Hall in free agency?
Corey Pronman: Oilers No. 9 farm system.
Lowetide: Oilers top 20 prospects summer 2019.
OILERS IN OCTOBER
Oilers in October 2015: 5-8-0, 10 points; goal differential -5
Oilers in October 2016: 9-3-1, 19 points; goal differential +8
Oilers in October 2017: 4-8-1, nine points; goal differential -13
Oilers in October 2018: 8-4-1, 17 points; goal differential +3
Oilers in October 2019: 8-3-1, 17 points, goal differential +5
A loss tonight and we'll bring last year's team into the conversation for the first time. A win, and we can still discuss the 2016 playoff club. At this point, the 2015 and 2017 horses are well back and nothing more than a curio. Loyal patrons hope they remain such.
WHAT TO EXPECT IN OCTOBER
At home to: Vancouver, Los Angeles (Expected: 1-1-0) (Actual 2-0-0)
On the road to: NYI, NJD, NYR, CHI (Expected 2-1-1) Actual (3-1-0)
At home to: Philadelphia, Detroit (Expected 1-1-0) (Actual 2-0-0)
On the road to: Winnipeg, Minnesota (Expected 1-1-0) (Actual 0-1-1)
At home to: Washington, Florida (Expected 1-1-0)(Actual 1-1-0)
On the road to: Detroit, Columbus (Expected 1-1-0)
Overall expected result: 7-6-1, 15 points in 14 games
Current results: 8-3-1, 17 points after 12 games
I have tonight as a win, and if the Oilers can do it this year's team will move four points past what was suggested as reasonable. In a six-month season, those four points are extreme value. In April, those four points could be the difference between making and missing the playoffs.
OILERS 2019-20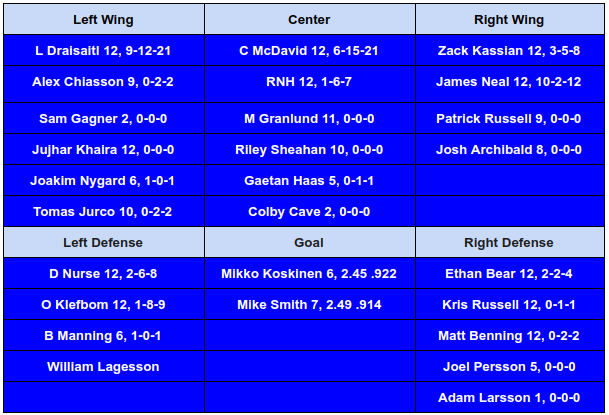 William Lagesson and Joel Persson could play tonight, but Brandon Manning is likely the strongest bet. Veteran coaches love veteran defensemen, it's always been thus. Bob and Dustin were tweeting this morning about Kailer Yamamoto as a recall option, now, today. Yamamoto is the best forward in Bakersfield and, despite his lack of size, is a demon on the forecheck. He'll no doubt land on a skill line eventually, but could add speed and aggressive forechecking on the No. 3 line. Recalling Yamamoto for offense alone, and putting him on a feature line, would in my opinion be too much to ask. As a third line forechecker? He can do that job, add speed and maybe chip in a goal or two. The problem? He would arrive on that third line while it is currently a train wreck. I'd be more open to putting him on the Nuge line with Neal, and moving Chiasson to Sheahan's crew. However, waiting for another 15 games is the correct call. Put him on a line that is playing well when he gets here.
LOWDOWN WITH LOWETIDE
A loweded (see what I did there?) show today (took me too many years to do it, though) on TSN1260, beginning at 10 this morning. Jonathan Willis from The Athletic will talk acquisitions and the wisdom of grabbing useful defensemen when available. Ryan Holt, Bakersfield Condors broadcaster will check in on the state of the team and what we'll see from Jay Woodcroft's crew tomorrow morning. Finally, Andrew Peard and Corey Graham stop in and talk all things Oil Kings. 10-1260 text, @Lowetide on twitter. Talk soon!