It was a strange month for the Edmonton Oilers and its fans. A stunning start that saw the team overcome the loss of its best (only?) shutdown defenseman, a start by Connor McDavid and Leon Draisaitl for the ages, and goaltending that delivered well beyond expectations. Now. Chapter two.
THE ATHLETIC!
The Athletic Edmonton features a fabulous cluster of stories (some linked below, some on the site). Great perspective from a ridiculous group of writers and analysts. Proud to be part of The Athletic, there is a Puck Drop Special offer here.
OILERS IN OCTOBER
Oilers in October 2015: 5-9-0, 10 points; goal differential -6
Oilers in October 2016: 9-4-1, 19 points; goal differential +7
Oilers in October 2017: 5-8-1, 11 points; goal differential -12
Oilers in October 2018: 8-5-1, 17 points; goal differential +1
Oilers in October 2019: 9-4-1, 19 points, goal differential +7
This team lands in a tie for the best since McDavid arrived, marching in lock step with 2015 and just ahead of last season. I think fans remain worried about a repeat of one year ago, but injuries (Klefbom and Russell in the same game) can't be anticipated and overreaction (Strome trade, McLellan firing, Manning and Petrovic) is unlikely. Enjoy the ride, if you can.
WHAT TO EXPECT FROM OCTOBER
At home to: Vancouver, Los Angeles (Expected: 1-1-0) (Actual 2-0-0)
On the road to: NYI, NJD, NYR, CHI (Expected 2-1-1) Actual (3-1-0)
At home to: Philadelphia, Detroit (Expected 1-1-0) (Actual 2-0-0)
On the road to: Winnipeg, Minnesota (Expected 1-1-0) (Actual 0-1-1)
At home to: Washington, Florida (Expected 1-1-0)(Actual 1-1-0)
On the road to: Detroit, Columbus (Expected 1-1-0) (Actual 1-1-0)
Overall expected result: 7-6-1, 15 points in 14 games
Current results: 9-4-1, 19 points after 14 games
Splendid! Now, people are going to bitch about the splits (7-1-0 start, 2-3-1 coda) but teams have ebb and flow just like everything else. There's a lot to be happy about this morning in Oilers nation. Halloween is not always a happy time. All numbers five-on-five, all numbers via NST.
LINE 1 Leon Draisaitl-Connor McDavid-Zack Kassian played 10:34, going 9-8 Corsi, 3-2 shots, 1-0 goals and 1-2 HDSC. I thought this line was slow in Detroit, but 24 hours later they found the magic.
Leon Draisaitl had a big night, scoring (including all disciplines) 2-1-3 with the goals at five on five. Who's zooming who? Connor McDavid had a power-play assist and a takeaway, I was impressed with his forechecking effort. Zack Kassian had an assist, a HDSC and an unwise penalty.
LINE 2 Jujhar Khaira-Nuge-Sam Gagner played 8:36, 12-8 Corsi, 5-5 shots, 1-0 goals and 4-4 HDSC. What a great line, two games in a row.
Jujhar Khaira scored a goal and that's a relief for everyone. As important, he was involved around the puck all night. Two shots, three HDSC and he was moving his feet for 60. Music! Nuge had two assists, three shots and was quality. Sam Gagner had an assist and made good decisions with the puck consistently. Such a good player.
LINE 3 Alex Chiasson-Gaetan Haas-James Neal played 7:37, going 9-7 Corsi, 6-6 shots, no goals and 1-3 HDSC.
Alex Chiasson had an assist, a shot and a HDSC. He was moving his feet well and sending the puck to good places. Gaetan Haas had a shot and a giveaway, he just needs to speed up his motor when he has the puck. There is a player here. James Neal scored a goal on the PP, he's money in the offensive zone.
LINE 4 Markus Granlund-Riley Sheahan-Patrick Russell played 3:16, 0-2 Corsi, 0-1 shots, no goals and no HDSC.
Markus Granlund had a takeaway and broke his stick and skated around for a long time on a PK that was doomed. Riley Sheahan got hit by PLD and left the game late in the first period. Patrick Russell had two shots and two HDSC. He's getting closer.
OILERS 2019-20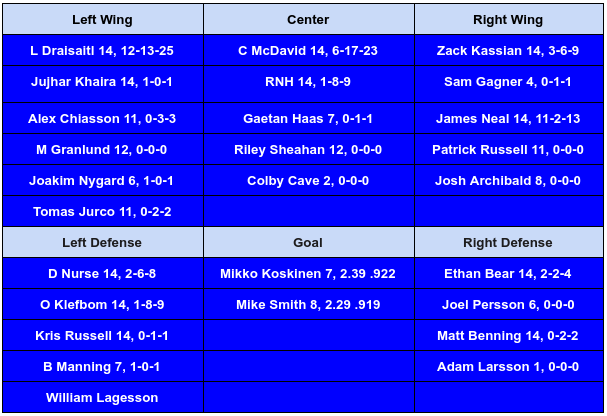 PAIRING ONE Oscar Klefbom and Joel Persson played 15:25 and had 18-16 Corsi, 8-9 shots, 1-0 goals and 4-5 HDSC.
Oscar Klefbom looked miles more comfortable with Persson, the veteran had three shots and two blocks. Looks a little slower skating back lately, wonder if there's a hitch. Persson passed the puck effectively and recovered well. He helps this team, a better 2RHD for this group than Russell in spite of coverage issues and lack of familiarity with the league.
PAIRING TWO Darnell Nurse and Ethan Bear played 14:36 and went 16-7 Corsi, 5-4 shots, no goals and 3-1 HDSC.
Darnell Nurse had a takeaway and a couple of blocked shots, played mostly clean minutes. Ethan Bear drew a penalty and had a blocked shot. Passing and clean exits were commonplace on the night, making transitions easier. Bear was a big part of it.
PAIRING THREE Kris Russell and Matt Benning played 13:00 and went 9-7 Corsi, 8-2 shots, 1-0 goals and 1-1 HDSC.
The duo played well, no major issues and Benning's outlet passing helped Russell's weakest areas. Russell had two shots on goal, blocked a shot and had several snow angels. Benning drew a penalty and delivered outlet passes that worked.
GOALIE Mike Smith stopped 23 of 24, .975. He played well. Very demonstrative when pucks go in, wonder if that irritates his teammates. Goaltending hasn't been the issue through the first month. In fact, it has been a strength.
NATIONALS
Being an orphan is damned difficult, in the sports sense. When the Expos no longer had a church home of their own, neither did I. I remain hopeful a team will return to Montreal in my lifetime, but this run by the Nationals was easily the best baseball experience for this fan in well over a decade. So, thanks to the Nats, to their beautiful 6-man pitching staff, to Rendon, Soto, Kendrick, Zimmerman and the rest. It meant a lot to see the remnants and the roll ends find the promised land. Well done.
LOWDOWN WITH LOWETIDE
At 10 this morning, TSN1260, we have a fun show planned and I hope you can join us. Jonah Birenbaum from The Score will pop in at 10:20 to talk World Series and the Nats win. Frank Seravalli from TSN will talk Oilers, Halloween costumes and trade rumors. 10-1260 text, @Lowetide on twitter. Talk soon!