The overtime on Saturday afternoon between the Oilers and Penguins was splendid entertainment. Getting to the extra frame was a marathon of endurance and skill, as the public at large worried about the quality and amount of rubber faced by Mike Smith. You can't win this way over a season, over even a month, but on the second day of November 2019, the Oilers rode the big train to glory.
Leon Draisaitl's overtime winner combined power, speed and skill in equal portions, and showed once again how dominant the big man is at this time. Can he score 50 again? Who on planet earth would bet against him?
THE ATHLETIC!
The Athletic Edmonton features a fabulous cluster of stories (some linked below, some on the site). Great perspective from a ridiculous group of writers and analysts. Proud to be part of The Athletic, there is a Puck Drop Special offer here.
OILERS AFTER 15 GAMES
Oilers 2015: 5-10-0, 10 points; goal differential -8
Oilers 2016: 9-5-1, 19 points; goal differential +6
Oilers 2017: 6-8-1, 13 points; goal differential -11
Oilers 2018: 8-6-1, 17 points; goal differential -2
Oilers 2019: 10-4-1, 21 points; goal differential +8
This is the first McDavid Oilers club to post 10 wins in the team's first 15 games. The 2019-20 club also has the best goal differential over the last five seasons.
OILERS IN NOVEMBER
Oilers in November 2015: 1-0-0, two points; goal differential +2
Oilers in November 2016: 0-0-1, one point; goal differential -1
Oilers in November 2017: 0-1-0, no points; goal differential -1
Oilers in November 2018: 1-0-0, two points; goal differential +4
Oilers in November 2019: 1-0-0, two points; goal differential +1
A good result to start another month, November has (in the past) been the month that separates the Oilers from the playoffs. The team has never posted more than 13 points or fewer than 10—and has never been above .500 in November since McDavid's arrival. It's a big month to come.
WHAT TO EXPECT IN NOVEMBER
On the road to: PIT (Expected 0-1-0) (Actual 1-0-0)
At home to: ARI, STL, NJD (Expected 2-1-0)
On the road to: ANA, SJS (Expected 1-0-1)
At home to: COL, DAL (Expected 1-1-0)
On the road to: SJS, LAK, VEG, ARI, COL (Expected 2-3-0)
At home to: VAN (Expected 1-0-0)
Overall expected result: 7-6-1, 15 points in 14 games
Current results: 1-0-0, 2 points after one game
Seven wins and 15 points (as predicted) would mean the Oilers finish November at 16-10-2, 34 points in 28 games. That projects to 99.6 points over 82 games. All numbers five-on-five unless noted, and via NST.
LINE 1 Leon Draisaitl-Connor McDavid-Zack Kassian played 13:57, were a ghastly 3-22 Corsi, 1-16 shots, no goals and 0-5 HDSC.
Leon Draisaitl had one shot, played much of the first 60 in his own end and seemed to be missing on passes or receiving passes just out of his reach. That all changed in OT, as he turned a sliver into absolute daylight. His brilliant breakaway goal, equal parts brawn and beauty, won the game. Connor McDavid drew a penalty and had a takeaway, but this was possibly the least effective game I've ever seen from him. Nothing he was doing wrong especially, credit the Penguins tight checking (they were on him whenever the puck came within a 10 mile radius). He made a lovely pass to Klefbom, who sent it behind the net and it caromed off the boards and right to Jujhar Khaira for a great chance. Zack Kassian had a shot and four hits, he was the only member of the line who spent much time at all with clean air.
LINE 2 Jujhar Khaira-Nuge-Sam Gagner played 9:37, went 5-12 Corsi, 3-8 shots, no goals and 1-3 HDSC.
Jujhar Khaira had what might have been the best chance of the game, mentioned above. One shot, three hits, took a penalty he didn't earn (horrible call). Nuge had a great SH chance, but didn't get much done at five-on-five. Solid in the dot. Sam Gagner had his quietest game since the recent recall.
LINE 3 Alex Chiasson-Gaetan Haas-James Neal played 7:16, going 6-9 Corsi, 4-6 shots, 2-0 HDSC.
Alex Chiasson had two shots, a takeaway and a couple of hits. He gets lost a little without a skill center, but he is trustworthy. Gaetan Haas had one brilliant play on the back check, very dangerous sortie resolved with his heady play. Also had two shots and one HDSC. James Neal had one HDSC, a takeaway and cleared the netfront in an insane game moment.
LINE 4 Markus Granlund-Colby Cave-Patrick Russell played 6:18, going 6-7 Corsi, 3-2 shots, 1-0 goals and 2-1 HDSC. Music!
Markus Granlund had an assist, drew a penalty had a couple of shots and played well overall. Colby Cave had a strong game, scoring a goal, winning eight of 11 faceoffs at five-on-five and showing he has no interest in returning to California. Patrick Russell had a shot and a HDSC worked hard and effectively.
PK minutes: Nuge 3:43; Patrick Russell 3:40; Colby Cave 3:03; Markus Granlund 3:03; Leon Draisaitl 2:31; Jujhar Khaira 2:09. No goals against.
2019-20 OILERS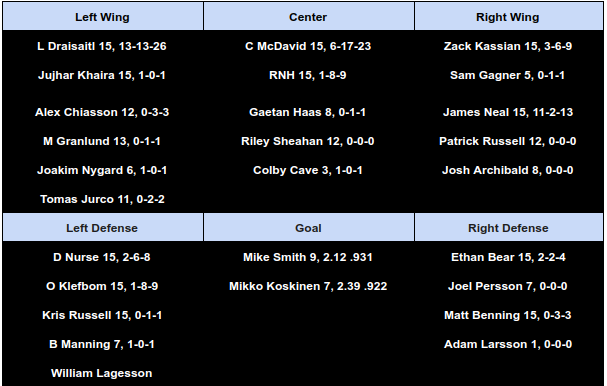 PAIRING ONE Oscar Klefbom and Joel Persson played 14:04, going 7-24 Corsi, 4-15 shots, no goals and 2-4 HDSC. Klefbom was 0-12 shots with McDavid in 8:37. My.
Oscar Klefbom had one shot and a takeaway, he looks slower lately and I wonder about all this icetime. Made smart plays with the puck and battled through a tough Penguins forecheck. Joel Persson had one shot and a takeaway, he scrambles but gets the job done. I'm starting to believe he can fill an NHL role.
PAIRING TWO Darnell Nurse and Ethan Bear played 13:55, going 6-13 Corsi, 1-9 shots, no goals and 0-3 HDSC. Pairing spent 8:04 with 97, and the group was 1-6 shots. Le holy.
Darnell Nurse had some good moments, including a blocked shot with the team in extreme peril when Mike Smith was out of position. He rumbled up the ice several times, dishing well but nothing came of it. I do like that he is often seen passing the puck to Bear for the outlet. Ethan Bear missed several minutes late in the first period after his leg (or knee) twisted on a tight check. Bear returned and played well. JB on twitter noted Bear following up Draisaitl for loose change on the GWG. Nice.
PAIRING THREE Kris Russell and Matt Benning played 10:49, 9-16 Corsi, 5-9 shots, 1-0 goals and 2-4 HDSC.
Kris Russell defended well and hit like a cement truck, he doesn't get a lot of credit but on this night was part of the most successful pairing. Matt Benning had an assist, two shots, a takeaway and two penalties. I liked his game.
GOALIE Mike Smith was the star of the game, stopping all 38 five-on-five shots and 51 of 52 overall (.981). Oilers are always in these blasted games where the goalie plays Jesus.
CONDORS 2019-20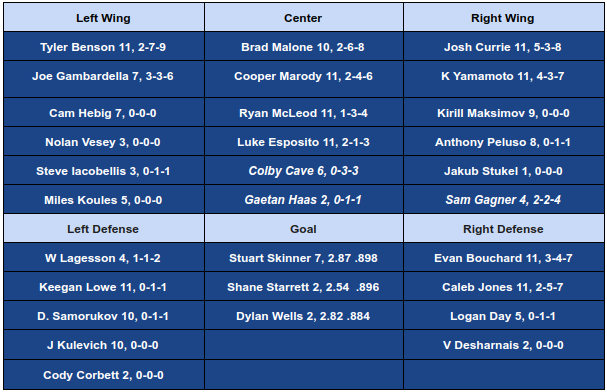 I'll be writing about the Condors today at The Athletic, but it appears Jay Woodcroft has found the right chemistry for his group this season. Some items: Stuart Skinner has emerged as the starter with Shane Starrett down (I didn't see much difference between Skinner and Dylan Wells); The addition of Lagesson and Day has given the team far more defensive torque; Tyler Benson and Cooper Marody appear to be starting to push again.