The first time the Edmonton Oilers played the Pittsburgh Penguins, it was January 19, 1980. It was a blood bath. I asked Cam Connor about a year ago about the game, here are his memories:
"In the middle of the second period, Gretzky came over the Penguins blue line and walked defenseman Kim Clackson. I knew what Clackson was going to do, because he always slashed the oncoming forward on that play. Clackson whacked Gretzky on the side of the head, and Wayne went down. Dave Semenko, who could beat Clackson, went right after him. Pat Hughes and I ended up pairing off. Semenko told me he and Clackson fought five times during the melee. At the end of the fight, the linesman began splitting them up, and Semenko turned his head for an instant. In that moment, Clackson came over the top of the linesman and landed a punch on Semenko's left eye."
THE ATHLETIC!
The Athletic Edmonton features a fabulous cluster of stories (some linked below, some on the site). Great perspective from a ridiculous group of writers and analysts. Proud to be part of The Athletic, there is a Puck Drop Special offer here.
OILERS AFTER 15 GAMES
Oilers 2015: 5-10-0, 10 points; goal differential -8
Oilers 2016: 9-5-1, 19 points; goal differential +6
Oilers 2017: 6-8-1, 13 points; goal differential -11
Oilers 2018: 8-6-1, 17 points; goal differential -2
Oilers 2019: 9-4-1, 19 points; goal differential +7
This is an attractive chart over the last two seasons and in four of the last five years. Edmonton needs sustain, that can come by avoiding any long losing streaks or by posting at least two more winning streaks of 7-1-0 or better. Goaltending will be key.
OILERS IN NOVEMBER
Oilers in November 2015: 1-0-0, two points; goal differential +2
Oilers in November 2016: 0-0-1, one point; goal differential -1
Oilers in November 2017: 0-1-0, no points; goal differential -1
Oilers in November 2018: 1-0-0, two points; goal differential +4
Oilers in November 2019: 0-0-0, no points
November will tell us a lot about this team. The previous McDavid teams had every imaginable outcome from the first game, Oilers haven't been fabulous against the Penguins since 2015 (1-4-3).
WHAT TO EXPECT IN NOVEMBER
On the road to: PIT (Expected 0-1-0)
At home to: ARI, STL, NJD (Expected 2-1-0)
On the road to: ANA, SJS (Expected 1-0-1)
At home to: COL, DAL (Expected 1-1-0)
On the road to: SJS, LAK, VEG, ARI, COL (Expected 2-3-0)
At home to: VAN (Expected 1-0-0)
Overall expected result: 7-6-1, 15 points in 14 games
Current results: 0-0-0, 0 points after zero games
As was the case in October, when I predicted 7-6-1 (15 points) in 14 games, once again this appears to be a .500 month for Edmonton. The Oilers said to hell with that noise in October, going 9-4-1 for 19 points and an impressive start. Avoiding a long losing streak is key.
OILERS 2019-20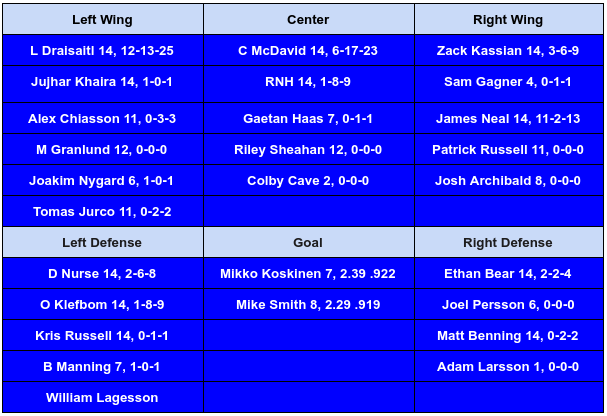 A hockey team is constantly moving, with the latest positive changes being that Khaira-Nuge-Gagner line and Joel Persson's return. Hopefully Joakim Nygard and Adam Larsson can impact the roster when they get back as well.
That Nuge line has been outstanding so far. At five-on-five, in just 19:37, the trio is 28-11 Corsi (71.79 percent), 17-7 shots (70.83 percent), 1-0 goals. It's too early to draw any conclusions, but if this group sticks it may free James Neal for work on Connor McDavid's line. Also, if the Nuge line works, this team is going to need a No. 3 center with skill in a quick hurry.
HERE COMES THE SUN 2019
I like to review my draft (Here Comes the Sun) board at the beginning of November, don't usually publish but feel like bragging a little. First, I'm not a scout but can do simple math and can also flag slow players or players getting zoomed by impact linemates. Below are the players I ranked 10 or more slots higher than they were drafted, and the early results. For our purposes, I'll just do the first round.
No. 5 overall LW Arthur Kaliyev, Hamilton Bulldogs (OHL). I had him No. 5, but he was drafted No. 33 by the Los Angeles Kings. In 16 OHL games this season, he is 16-15-31.
No. 13 overall LC Connor McMichael, London Knights (OHL). McMichael was chosen No. 25 by the Washington Capitals. In 12 OHL games this season, he is 13-13-26.
No. 14 overall L Jakob Pelletier, Moncton Wildcats (QMJHL). Pelletier was chosen No. 26 by the Calgary Flames. In 14 games, he is 11-14-25.
No. 19 overall R Bobby Brink, Sioux City Musketeers (USHL). I had him No. 19, he went No. 34 to the Philadelphia Flyers. He is 6, 3-3-6 for Denver (NCHC). That's a major step up in competition.
No. 24 overall LD Matthew Robertson, Edmonton Oil Kings (WHL). He fell all the way to No. 49 and the New York Rangers. He is 10, 3-3-6 with the Oil Kings.
No. 25 overall L Nick Robertson, Peterborough Petes (OHL). He was chosen No. 53 by the Toronto Maple Leafs and is currently 14, 16-9-25.
No. 26 overall C Raphael Lavoie, Halifax Mooseheads (QMJHL). Drafted No. 38 by the Edmonton Oilers, he is 17, 12-15-27 so far this year.
No. 27 overall R Nathan Légaré, Baie Comeau Drakkar (QMJHL). Drafted No. 74 by the Pittsburgh Penguins, he is 15, 6-7-13 so far this season.
No. 28 overall L Egor Afanasyev, Muskegon Lumberjacks (USHL). He was drafted No. 45 by the Nashville Predators. He is 13, 6-8-14 in the OHL so far this season.
I'm not saying all of these kids will cash, but math remains underrated at the draft and not selecting Arthur Kaliyev in the first round was absolute nonsense.
CONDORS 2019-20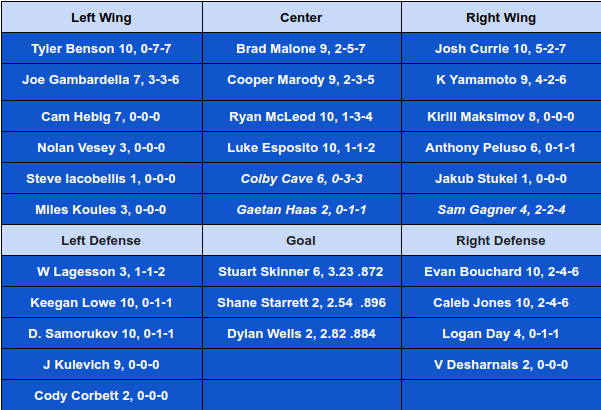 Condors won last night, lots of positives. Stuart Skinner stopped 26 of 28, Evan Bouchard had two assists, Caleb Jones skated miles, William Lagesson scored, Kailer Yamamoto drew another penalty, Tyler Benson made some great plays. Bakersfield back in action tonight in Ontario.