The Edmonton Oilers are 2-0-0 against the Pacific Division, wins over the Vancouver Canucks and Los Angeles Kings. The team needs to deliver handsomely against the division this season, and must be miles better than last year's 12-15-2 against the Pacific. Tonight's game won't be easy, the Coyotes might be better than their 8-4-1 record implies.
THE ATHLETIC!
The Athletic Edmonton features a fabulous cluster of stories (some linked below, some on the site). Great perspective from a ridiculous group of writers and analysts. Proud to be part of The Athletic, there is a Puck Drop Special offer here.
OILERS AFTER 16 GAMES
Oilers in 2015: 6-10-0, 10 points; goal differential -7
Oilers in 2016: 9-6-1, 19 points; goal differential +4
Oilers in 2017: 6-9-1, 13 points; goal differential -13
Oilers in 2018: 8-7-1, 17 points; goal differential -5
Oilers in 2019: 10-4-1, 21 points; goal differential +6
This is an amazing run, but are the Oilers close to being this good? The Oilers are third in points and No. 15 in five-on-five goal differential, but are No. 25 in five-on-five Corsi. Which number do they most closely resemble?
OILERS IN NOVEMBER
Oilers in November 2015: 1-1-0, two points; goal differential +1
Oilers in November 2016: 0-1-1, one point; goal differential -3
Oilers in November 2017: 1-1-0, two points; goal differential +2
Oilers in November 2018: 2-0-0, two points; goal differential +5
Oilers in November 2019: 1-0-0, two points; goal differential +1
Last year's team used those two victories build on an October that landed two games above .500 Bettman, this year's team can dream of greater things. The 2016-17 edition finished 12 games over .500 Bettman (47-35-9) and that's a solid goal for this year's team. Starting the season with a +5 Bettman in October is a grand beginning.
WHAT TO EXPECT IN NOVEMBER
On the road to: PIT (Expected 0-1-0) (Actual 1-0-0)
At home to: ARI, STL, NJD (Expected 2-1-0)
On the road to: ANA, SJS (Expected 1-0-1)
At home to: COL, DAL (Expected 1-1-0)
On the road to: SJS, LAK, VEG, ARI, COL (Expected 2-3-0)
At home to: VAN (Expected 1-0-0)
Overall expected result: 7-6-1, 15 points in 14 games
Current results: 1-0-0, 2 points after one game
Edmonton has an interesting trio of teams coming to town this week, I bet on a win tonight, but in truth it's more like a pick 'em. The Coyotes have a similar record to the Oilers, but also have some of those cool underlying numbers some of us hold in high regard. This won't be an easy game. Conor Garland will score, OEL will earn our respect, probably Clayton Keller does something amazing.
OILERS 2019-20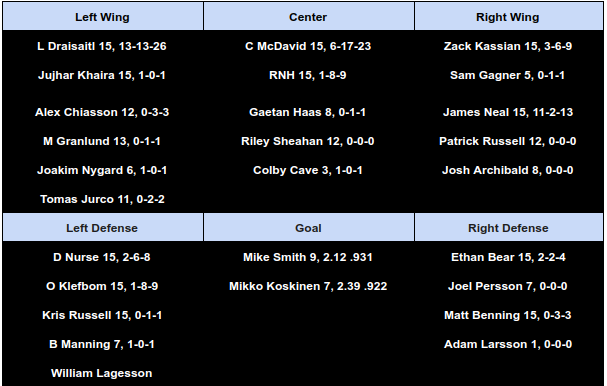 EVEN STRENGTH POINTS PER 60 (FWDS)
Leon Draisaitl 4.14
Connor McDavid 2.73
Colby Cave 2.34
Zack Kassian 2.27
James Neal 1.47
Alex Chiasson 1.29
Nuge 1.15
Tomas Jurco 1.14
Joakim Nygard 1.09
Sam Gagner 1.00
Gaetan Haas 0.91
Markus Granlund 0.49
Jujhar Khaira 0.36
Well there are finally 13 forwards who scored a point at even strength so we can post a "list" for the first time this year. Draisaitl is redonk, McDavid about where he should be and the rest are either in small sampleville or crawling from the wreckage. It's a start. All numbers NST.
CORSI FOR FIVE-ON-FIVE (DEFENSE)
Brandon Manning 50.83
Ethan Bear 49.79
Darnell Nurse 47.74
Oscar Klefbom 47.36
Joel Persson 47.32
Matt Benning 47.12
Kris Russell 45.32
Adam Larsson 31.58
Bear the rookie really has been a revelation, Manning has also played well in a depth role. The rest are all huddled in the same area, then Russell who has some kind of magnet in these possession metrics that kills his totals.
PUCK IQ (DFF V. ELITES DEFENSE)
Darnell Nurse 45.40 (Rel 7.10) 113 mins
Joel Persson 44.10 (Rel 6.40) 34 mins
Ethan Bear 43.70 (Rel 4.40) 114 mins
Oscar Klefbom 41.10 (Rel -0.40) 89 mins
Brandon Manning 40.60 (Rel -2.50) 16 mins
Kris Russell 35.80 (Rel -8.00) 68 mins
Matt Benning 33.10 (Rel -9.90) 45 mins
Adam Larsson 5.60 (Rel -42.40) 6 mins
This is all Puck IQ versus elites and is miles too soon to quote as gospel. We can take some things away, including usage. It's strange to see Klefbom playing so little (compared to Nurse-Bear) against elites, wonder if that changes when Larsson returns.
PUCK IQ (DFF V. ELITES FWD)
Zack Kassian 51.60 (Rel. 17.20) 96 mins
Leon Draisaitl 49.40 (Rel. 14.70) 104 mins
Connor McDavid 47.90 (Rel. 11.40) 105 mins
Alex Chiasson 47.20 (Rel. 7.20) 37 mins
Tomas Jurco 46.50 (Rel. 7.90) 29 mins
Markus Granlund 45.50 (Rel. 4.70) 31 mins
James Neal 42.50 (Rel. 1.50) 61 mins
Gaetan Haas 42.50 (Rel. 4.60) 12 mins
Nuge 42.30 (Rel. 1.30) 64 mins
Colby Cave 32.20 (Rel. -4.30) 12 mins
Josh Archibald 30.30 (Rel. -15.70) 21 mins
Patrick Russell 28.50 (Rel. -15.00) 39 mins
Riley Sheahan 23.10 (Rel. -24.20) 37 mins
Jujhar Khaira 20.60 (Rel. -26.40) 52 mins
Sam Gagner 20.30 (Rel. -30.10) 16 mins
Joakim Nygard 12.70 (Rel. -33.60) 12 mins
Some interesting items here, including the No. 1 line playing major minutes and outplaying the rest of the roster (rel). The line has also been playing in good fortune (6-0 goals versus elites).
LOWDOWN WITH LOWETIDE
We hit the ice in full stride this morning at 10, TSN1260. We start with Reid Fowler from Draft Kings, we'll chat NFL weekend and the Monday nighter. Jason Gregor pops in to talk Eskimos, Redblacks and Rick Campbell, plus the Oilers game tonight. 10-1260 text, @Lowetide on twitter. See you on the radio!