Gaetan Haas had a tough introduction to the NHL. With family in attendance for his first game in the world's best league, he played 2:11 in a win over Vancouver. That's less than ideal. Haas was used sparingly, looked good when he played, got sent down to Bakersfield for a quick tour, and has been back for the last four games. His goal last night, the first of his career, was the result of hard work and forechecking, using his speed and savvy to make things happen. Well done, European showtime. Well done.
THE ATHLETIC!
The Athletic Edmonton features a fabulous cluster of stories (some linked below, some on the site). Great perspective from a ridiculous group of writers and analysts. Proud to be part of The Athletic, there is a Puck Drop Special offer here.
OILERS AFTER 16 GAMES
Oilers in 2015: 6-10-0, 10 points; goal differential -7
Oilers in 2016: 9-6-1, 19 points; goal differential +4
Oilers in 2017: 6-9-1, 13 points; goal differential -13
Oilers in 2018: 8-7-1, 17 points; goal differential -5
Oilers in 2019: 10-4-2, 22 points; goal differential +5
Edmonton is on pace for 113 points, and are three points clear of the previous 'best McDavid' team. I suggested last night's game was a pick 'em, and the late goal by Haas tying it confirmed the closeness of the game. Arizona outplayed the Oilers for much of the game, but the home team fought through some tough checking and a team of referees imported from 1975 to grab a point. Tough to be negative.
OILERS IN NOVEMBER
Oilers in November 2015: 1-1-0, two points; goal differential +1
Oilers in November 2016: 0-1-1, one point; goal differential -3
Oilers in November 2017: 1-1-0, two points; goal differential +2
Oilers in November 2018: 2-0-0, two points; goal differential +5
Oilers in November 2019: 1-0-1, three points; goal differential 0
Once again, and it's admittedly early, this year's McDavid crew has some momentum heading into games against the Stanley Cup champions and the New Jersey Devils. Goal differential is flat, that's an interesting curio for a team with three of a possible four points.
WHAT TO EXPECT IN NOVEMBER
On the road to: PIT (Expected 0-1-0) (Actual 1-0-0)
At home to: ARI, STL, NJD (Expected 2-1-0) (Actual 0-0-1)
On the road to: ANA, SJS (Expected 1-0-1)
At home to: COL, DAL (Expected 1-1-0)
On the road to: SJS, LAK, VEG, ARI, COL (Expected 2-3-0)
At home to: VAN (Expected 1-0-0)
Overall expected result: 7-6-1, 15 points in 14 games
Current results: 1-0-1, 3 points after two games
The two remaining games this week are against teams who will be playing the second of back-to-backs, but counting on two wins is probably unwise. Blues are 6-2-2 in its last 10 games, New Jersey 3-4-3.
The Haas goal came on a 21 second shift featuring Haas, Zack Kassian and Jujhar Khaira. That isn't covered below, all numbers five-on-five unless noted and NST is the resource.
LINE 1 Leon Draisaitl-Connor McDavid-Alex Chiasson played 7:52, going 5-9 Corsi, 1-5 shots, 1-1 goals and 1-2 HDSC. Sam Gagner replaced Chiasson for 7:48, trio went 8-4 Corsi, 6-2 shots, 0-1 goals and 3-0 HDSC.
Leon Draisaitl had an assist on McDavid's brilliant goal, a giveaway that resulted in the first goal against (it wasn't in a terrible spot), won a lot of faceoffs and skated miles. Connor McDavid scored a stunning goal, four shots, three HDSC, drew a penalty. My God what a great hockey player. Alex Chiasson had one HDSC but didn't impress his coach, with Tippett saying "I put him in that place to give him a good opportunity tonight and there wasn't a lot happening there." Sam Gagner took better advantage of the opportunity and we'll see how the top line looks against St. Louis.
LINE 2 James Neal-Nuge-Zack Kassian played 9:58, going 9-10 Corsi, 6-6 shots, no goals and 1-3 HDSC. The trio's best moment came when Neal intercepted a pass, sent it to Nuge who got it to Kassian for a great chance. That was the big moment for the line.
James Neal had one shot, a takeaway and a giveaway. I bet he lands on McDavid's line soon. Nuge had one shot, a HDSC, a monster hit on OEL, a giveaway and won lots of faceoffs. Kassian almost scored, had one other HDSC, two shots, five hits and a penalty. I liked his game on this line.
LINE 3 Markus Granlund-Colby Cave-Patrick Russell played 5:01, going 3-2 Corsi, 1-1 shots, no goals and 0-1 HDSC.
Markus Granlund had two shots, a 10-bell chance and a takeaway. He played well but isn't bringing enough offense. Colby Cave had a HDSC but was challenged by the speed of this game. Patrick Russell had a takeaway but was otherwise quiet.
LINE 4 Jujhar Khaira-Gaetan Haas-Sam Gagner played 4:09, going 2-1 Corsi, 2-0 shots, no goals and no HDSC.
Jujhar Khaira did great work along the wall, he is bringing solid play consistently of late. He had a shot and a HDSC. Haas scored his first NHL goal and was central to the Oilers getting a point.
OILERS 2019-20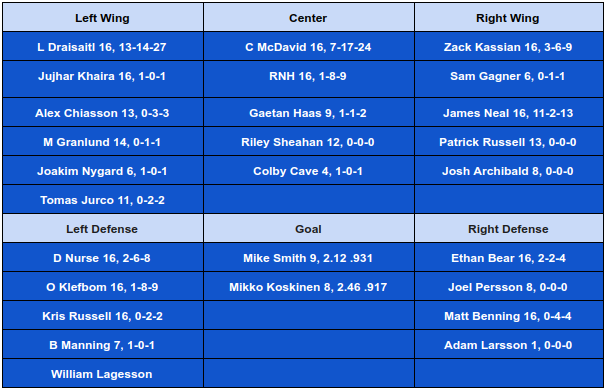 PAIRING ONE Darnell Nurse and Ethan Bear played 17:45, going 24-9 Corsi, 14-6 shots, 0-1 goals and 6-1 HDSC.
Darnell Nurse had four shots, two takeaways and played well to my eye, save for his indecisiveness (that was bad) in overtime. Ethan Bear had a HDSC, three shots and a giveaway. The pair had the puck moving in the right direction most of the night.
PAIRING TWO Oscar Klefbom and Joel Persson played just 10:07, going 6-10 Corsi, 2-5 shots, 0-1 goals and 1-4 HDSC.
Oscar Klefbom had one takeaway and five blocked shots, he was his usual self defensively. He had one shot on the power play, resulted in a brief chance for Nuge. Joel Persson played the second goal poorly, a penalty in that situation would have been satisfactory, and he struggled with Arizona's speed throughout the game. That's an issue in regard to his NHL future. Benched after the second goal.
PAIRING THREE Kris Russell and Matt Benning played 10:06, going 4-5 Corsi, 1-2 shots, 1-0 goals and 1-0 HDSC.
Kris Russell had an assist, a giveaway and two shot blocks on the night. Matt Benning got his shot to the net for Haas' tip and the tie. He also drew a penalty, played well.
GOALIE Mikko Koskinen stopped 21 of 24, .875. The first goal should have been stopped, Haas' goal bailed him out and then overtime was point blank.
LOWDOWN WITH LOWETIDE
At 10 this morning, TSN 1260. Jonathan Willis from The Athletic will join us to talk about last night's game and possible recalls. Scott Mitchell, TSN's Jays reporter has a look at the top 50 free agents and a starting pitcher acquisition (Chase Anderson) and the long road back to a respectable rotation. 10-1260 text, @Lowetide on twitter. See you on the radio!