Tonight's game against the St. Louis Blues will be a good test for the Oilers. The Pacific Division looks like it could land four teams in the playoffs next spring due to wayward starts in the Central. The key is to keep adding points, a regulation win here, a Bettman point there, a shootout victory around the corner. This should be a fun game, but both standings points will cost blood, sweat and tears.
THE ATHLETIC!
The Athletic Edmonton features a fabulous cluster of stories (some linked below, some on the site). Great perspective from a ridiculous group of writers and analysts. Proud to be part of The Athletic, there is a Puck Drop Special offer here.
OILERS AFTER 17
Oilers in 2015: 6-11-0, 12 points; goal differential -10
Oilers in 2016: 9-7-1, 19 points; goal differential +1
Oilers in 2017: 6-9-2, 14 points; goal differential -13
Oilers in 2018: 8-8-1, 17 points; goal differential -8
Oilers in 2019: 10-4-2, 22 points; goal differential +5
If the Oilers can continue to run ahead of those 2016-17 numbers, music! It'll get tougher, though. Sophomore McDavid's team went 38-19-8 from here. That's a romp.
WHAT TO EXPECT IN NOVEMBER
On the road to: PIT (Expected 0-1-0) (Actual 1-0-0)
At home to: ARI, STL, NJD (Expected 2-1-0) (Actual 0-0-1)
On the road to: ANA, SJS (Expected 1-0-1)
At home to: COL, DAL (Expected 1-1-0)
On the road to: SJS, LAK, VEG, ARI, COL (Expected 2-3-0)
At home to: VAN (Expected 1-0-0)
Overall expected result: 7-6-1, 15 points in 14 games
Current results: 1-0-1, 3 points after two games
I'm 15 games into watching this team and prepared to suggest that we're looking at a team that is going to push for the playoffs and should be in the mood to buy at the deadline. We'll know more at the end of November and this week will be important. That single point against the Coyotes was important. Tonight: Same thing. Injuries are, as always, a major worry for a team lacking depth.
OILERS 2019-20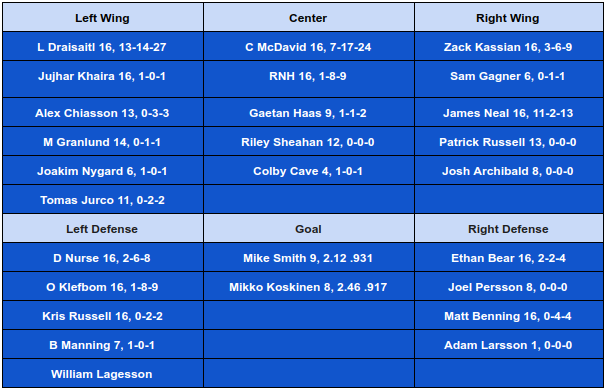 Based on yesterday's practice, it's a good guess we see Smith start, Persson sit (Manning drawing in), Granlund healthy scratch and possibly Jurco inserted. It's also possible Archibald, Sheahan and Nygard get into game action over the next 7-10 days.
WHAT HAS GONE RIGHT?
Ken Holland's bets are a fascinating group 16 games into the season. Consider:
James Neal has 11 goals
Mike Smith has a save percentage of .931 in nine games
Gaetan Haas has an even strength points per 60 of 1.64
Markus Granlund, Joakim Nygard, Alex Chiasson, Tomas Jurco, Josh Archibald, Riley Sheahan haven't worked out as of yet for one reason or another. Bear and Persson were roster players, no credit to Holland for those players.
I keep reading about Holland's signing of Chiasson as a major gaffe, and how he hasn't really improved the team. I don't think that's true. if we're honest, the Neal and Smith bets have been important parts of this team's success. Haas, Nygard and Persson still have a chance to succeed. The rest of these names still have a chance to help. So, for those who bury Holland, what exactly did he do to earn your fire? Because I'm thinking he's looking pretty solid on some major bets here.
LOWDOWN WITH LOWETIDE
At 10 this morning, TSN1260, I love our group of guests today. Bruce McCurdy from the Cult of Hockey will talk Holland the Oilers, Kris Abbott from OddsShark talks NFL, prop bets NHL and Champions League. We'll also receive a visit from Corey Graham and Andrew Peard (Oil Kings PBP crew) who will chat about the OK-Raiders game last night and what it tells us about both teams. 10-1260 text, @Lowetide on twitter. See you on the radio!