The Edmonton Oilers formula for winning games is a doppelganger for the team's 2016-17 success: Great goaltending, McDavid's line scores twice, team's PP outscores the PK, PK gives up a goal every two games, rest of team hangs on for dear life.
Last night, the formula was compromised. The goaltending didn't steal the game, the PK gave up two, and the rest of the team was unable to hang on for dear life. McDavid's line? Champions.
THE ATHLETIC!
The Athletic Edmonton features a fabulous cluster of stories (some linked below, some on the site). Great perspective from a ridiculous group of writers and analysts. Proud to be part of The Athletic, there is a Puck Drop Special offer here.
OILERS AFTER 17 GAMES
Oilers in 2015: 6-11-0, 12 points; goal differential -10
Oilers in 2016: 9-7-1, 19 points; goal differential +1
Oilers in 2017: 6-9-2, 14 points; goal differential -13
Oilers in 2018: 8-8-1, 17 points; goal differential -8
Oilers in 2019: 10-5-2, 22 points; goal differential +4
Based on the comments section last night, many readers of this blog were wildly disappointed in the effort last night. Folks, this team isn't talented enough to run with the big guns. Last night was a chance for the team, with St. Louis being tired, but there were too many Oilers who didn't or couldn't impact the game. There's a talent gap. Throw in mind numbing penalties and it's an L.
WHAT TO EXPECT IN NOVEMBER?
On the road to: PIT (Expected 0-1-0) (Actual 1-0-0)
At home to: ARI, STL, NJD (Expected 2-1-0) (Actual 0-1-1)
On the road to: ANA, SJS (Expected 1-0-1)
At home to: COL, DAL (Expected 1-1-0)
On the road to: SJS, LAK, VEG, ARI, COL (Expected 2-3-0)
At home to: VAN (Expected 1-0-0)
Overall expected result: 7-6-1, 15 points in 14 games
Current results: 1-1-1, 3 points after three games
Part of making the playoffs involves avoiding long losing streaks. Edmonton lost Monday and last night. Big game tomorrow night. Huge. All numbers five-on-five unless noted and via NST.
LINE 1 Leon Draisaitl-Connor McDavid-Zack Kassian played 4:46, going 8-6 Corsi, 5-2 shots, 1-0 goals and 2-2 HDSC. 29-97-Gagner played 6:31, going 6-8 Corsi, 5-2 shots, no goal and 5-1 HDSC.
Leon Draisaitl was fabulous, two assists (one PP) and played hard all night long. Three HDSC. Silly penalty my only issue. Connor McDavid was 1-1-2, including a power-play goal early. Some blamed 97 for the third goal, but I think he marked his man (Benning's guy scored the goal). Three HDSC. Zack Kassian won the job on RW from Sam Gagner mid-game, I thought both played well. The difference? Gagner didn't score on a 10-bell chance, Kassian scored on a brilliant shot. Life is sometimes unfair, but Kassian may have won his job back with that goal. Two HDSC.
LINE 2 James Neal-Nuge-Zack Kassian played 5:22, 8-7 Corsi, 3-3 shots, no goals and 0-2 HDSC. Tomas Jurco joined the line later (when Kassian bolted) and they played 3:40, 3-2 Corsi, 1-1 shots, no goals and 0-2 HDSC.
James Neal had one shot, one takeaway and he damn near scored on the PP off a deflection from a Klefbom shot. He needs to do more at five-on-five, that's the theme for this line. Nuge had two shots, one takeaway, lost several faceoffs and fell several times. He also made some poor decisions on the PP, a rare occurrence. He needs to be better. Line needs to add a talented member. Like Eric Clapton talented. Still, RNH on pace for 43 points this season, that fits in his career range. Tomas Jurco had one good look, a penalty and one truly astounding penalty.
LINE 3 Tomas Jurco-Gaetan Haas-Alex Chiasson played 6:39, 6-6 Corsi, 4-0 shots, no goals and 2-0 HDSC.
Gaetan Haas had a shot, a takeaway and worked hard. He didn't do enough to ensure he'll stay in the lineup when Riley Sheahan returns though. Alex Chiasson had three shots, three HDSC's and a takeaway. Might have been his best game this season.
LINE 4 Jujhar Khaira-Colby Cave-Patrick Russell played 4:33, going Corsi 2-2 and 2-1 shots, no goals and no HDSC.
Jujhar Khaira had one shot, a takeaway and drew a penalty. Colby Cave had one shot and led a few rushes, but none resulted in success. Patrick Russell had a quiet game.
OILERS 2019-20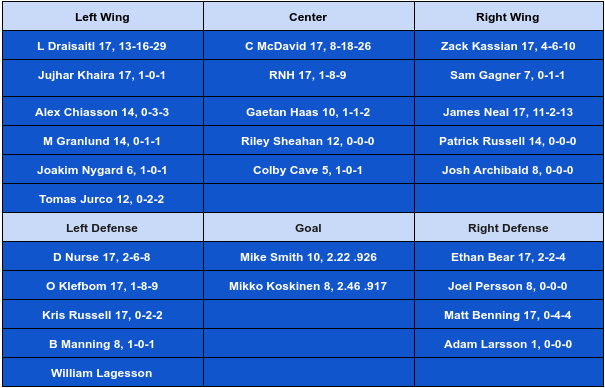 PAIRING ONE Darnell Nurse and Ethan Bear played 15:19 together, going 20-17 Corsi, 12-9 shots, 1-0 goals, 6-4 HDSC, 8-6 offensive versus defensive zone starts.
Darnell Nurse had a giveaway and a blocked shot, didn't show up otherwise on the five-on-five summary. I thought he played well in coverage and it's clear he gets the puck to Bear for outlets (which is s smart play). Ethan Bear filled the ice with deft passes, especially in the first period. Took a shot off his foot that looked painful, had two shots of his own, two takeaways and played well.
PAIRING TWO Oscar Klefbom and Kris Russell played 10:48, going 8-9 Corsi, 2-1 shots, no goals and 2-1 HDSC. 7-5 offensive-defensive zone start faceoffs.
Oscar Klefbom had a quiet night, the Oilers need more offence from him. Defensively, I thought he was effective. Kris Russell was solid, I like his aggressiveness lately in not giving up real estate. He has suppressed several sorties in the last five games just by standing up at either blue line. Solid.
PAIRING THREE Brandon Manning and Matt Benning played 7:07, going 7-6 Corsi, 4-1 shots, no goals and 1-0 HDSC. Pairing was 4-1 offensive-defensive zone starts via faceoffs.
Brandon Manning hit like a truck, had three giveaways and was caught out of position several times. He's playing too much. Matt Benning was high event, three shots and two giveaways. If Joel Persson can't play second pair, I'd try Benning with Klefbom.
GOALIE Mike Smith was off his previous brilliance and was not the team's best penalty killer on the night. He was rock solid in quiet times at five-on-five (16 of 17 stopped, .941) but overall (stopped 20 of 23, .870) will get you a loss on most nights. In the heart of the game at five-on-five (45:26), Edmonton won the shot clock 30-17. The PK, solid for much of the season, couldn't get it done on this night.
A FEW NOTES
Oilers five-on-five shots against rate per 60 (28.28) is fabulous, good for No. 4 in the NHL. Shots for suffers though, currently 27.26 (No. 28) overall.
Edmonton's five-on-five goal share (50.88) is solid, No. 14 in the entire NHL. There are a lot of sky is falling people talking Oilers today, and we have agreed the playoffs are not guaranteed. That said, even with an extreme lack of depth among the forwards, this team is competitive. If Holland can find two more actual NHL forwards, games like last night should result in points more often. I don't think he finds them this season. Stay the course.
The comments section went sideways last night while I was picking my daughter up from work. Currently, no one is in the 'monitor' slot on this blog. Fair warning: More nights like last night and that will change.
Two nights ago Nurse was a target (terrible OT play) and last night it was Nuge (he wasn't good all game, but especially late with the game on the line). That said, these are good NHL players, who have been part of this team's success. They are both in their 20's. Single events can have massive impact on a single game, while also being single events. I know you're mad at Nuge, hell he's probably mad at himself. I encourage you to spend some time with the head parts that suss out math and ask this question: Will a career 11.5 percent shooter stay at 2.4 percent for the rest of this season? By the way, Nuge is above 50 percent in the faceoff circle for the first time in his career. Oh, and the officiating has been terrible, but that isn't going to change.
LOWDOWN WITH LOWETIDE
A fun morning on the Lowdown, beginning at 10 on TSN1260. Marshall Ferguson (Ti-Cats pbp) from TSN 1150 will talk CFL All-Stars, the western and eastern semis and the coaching carousel. Scott Wheeler from The Athletic will discuss his excellent article breaking down Jesse Puljujarvi's work in the Sm-Liiga. Frank Seravalli from TSN will also chime in on the Oilers and MacT's brilliant piece from this morning. 10-1260 text, @Lowetide on twitter. See you on the radio!