Taylor Hall playing in Edmonton has always been a worthwhile evening. As a road warrior, against the Oilers, fans are struck with something between melancholy and blind rage. It's this century's 'trade the city never forgave' and I remain convinced the Oilers will make a run at Hall when the opportunity presents.
THE ATHLETIC!
The Athletic Edmonton features a fabulous cluster of stories (some linked below, some on the site). Great perspective from a ridiculous group of writers and analysts. Proud to be part of The Athletic, there is a Puck Drop Special offer here.
OILERS AFTER 18 GAMES
Oilers in 2015: 6-12-0, 12 points; goal differential -11
Oilers in 2016: 9-8-1, 19 points; goal differential -1
Oilers in 2017: 7-9-2, 16 points; goal differential -7
Oilers in 2018: 9-8-1, 19 points; goal differential -4
Oilers in 2019: 10-5-2, 22 points; goal differential +4
Once again this year's Oilers have a chance to gain some real clearance from the ghost of November's past. A win tonight gets the team 25 percent of the way to the playoffs in only 22 percent of the schedule. Okay, okay, but it would be cool.
OILERS IN NOVEMBER
Oilers in November 2015: 2-2-0, four points; goal differential 0
Oilers in November 2016: 2-1-1, five points; goal differential -2
Oilers in November 2017: 2-2-0, four points; goal differential -1
Oilers in November 2018: 2-2-0, four points; goal differential 0
Oilers in November 2019: 1-1-1, three points; goal differential -1
Each of the McDavid seasons have resembled what we're seeing here, 'fits and starts' and then the gales of November come slashing. You'd like to see a winning streak here, maybe the fresh troops who arrive starting tonight will jump start the team.
WHAT TO EXPECT IN NOVEMBER
On the road to: PIT (Expected 0-1-0) (Actual 1-0-0)
At home to: ARI, STL, NJD (Expected 2-1-0) (Actual 0-1-1)
On the road to: ANA, SJS (Expected 1-0-1)
At home to: COL, DAL (Expected 1-1-0)
On the road to: SJS, LAK, VEG, ARI, COL (Expected 2-3-0)
At home to: VAN (Expected 1-0-0)
Overall expected result: 7-6-1, 15 points in 14 games
Current results: 1-1-1, 3 points after three games
I projected Edmonton to finish this segment 2-2-0, a win tonight puts them 2-1-1 and a point ahead of my predicted pace. The team then heads out for two road games and then the toughest game of the month against Colorado Avalanche. Seven wins predicted, getting a second one tonight puts the Oilers in a good spot.
OILERS 2019-20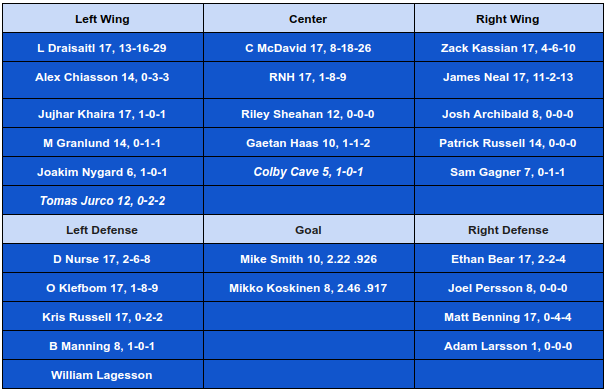 We may see lines and pairings as above tonight, I'm interested to see if Joel Persson draws back so quickly after getting stapled to the bench. Also, Josh Archibald has been a real disappointment, I'll be looking for him to show far more than we've seen so far this year.
HOLLAND ATLANTIC CROSSING
Apparently Ken Holland won't be making the trip to Finland to observe Jesse Puljujarvi. As with all things JP, it's possible to read any and all into this new piece of news. Oilers could use a scoring winger about now, and a No. 3 center too. I maintain, and have since this story first broke, the only way Holland has this reflect badly on him is by taking less than 100 cents on the dollar in return for the big winger. Problem is: What is full value for Jesse Puljujarvi right now?
TAYLOR HALL, Y'ALL
I've suggested all down the line that Edmonton is an option for Hall. People look at me like I've gone mad, but in all honesty he's a terrific option. How many scoring forwards who will be UFA in summer 2020 are a better fit? Edmonton could check down to Mike Hoffman but Hall is more dynamic.
CONDORS 2019-20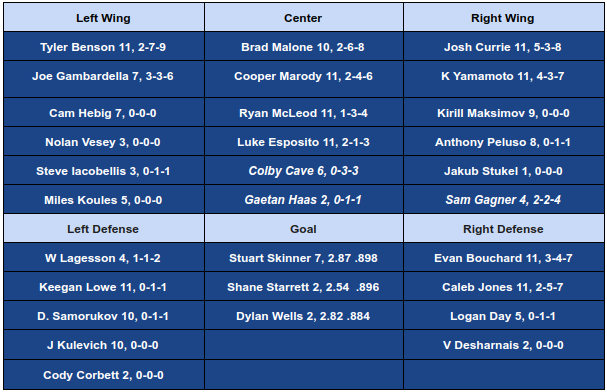 We're a month or so away from recalls, I think Caleb Jones is the only player so far to have earned one. Tyler Benson, Kailer Yamamoto and Cooper Marody have shown flashes, but will need to push more to create separation. Condors play tonight at home against the porous San Diego Gulls. A big chance for the prospects to get some black ink.
LOWDOWN WITH LOWETIDE
At 10 this morning, we begin the weekend a little early on TSN1260. Steve Lansky from Big Mouth Sports will talk CFL broadcasts and live mic, plus the Oilers and all of Canada's teams so far this season. Matt Iwanyk talks Eskimos and eastern semi just after 11 and we'll talk Oilers game, waivers and panic if the home team loses at Rogers tonight.