Oilers fans have seen some great talent from Europe since 1979. Jari Kurri was smart and brilliant in every quadrant of the ice, Esa Tikkanen drove the league to distraction, Reijo Ruotsalainen was a fireball, Janne Niinimaa a passing delight, Ales Hemsky ridiculous and Oscar Klefbom is dreamy. Gaetan Haas took a little time to show us what he is, but now that he's coming into view, his skill and utility is beginning to make a difference in Edmonton.
THE ATHLETIC!
The Athletic Edmonton features a fabulous cluster of stories (some linked below, some on the site). Great perspective from a ridiculous group of writers and analysts. Proud to be part of The Athletic, there is a Puck Drop Special offer here.
OILERS AFTER 18
Oilers in 2015: 6-12-0, 12 points; goal differential -11
Oilers in 2016: 9-8-1, 19 points; goal differential -1
Oilers in 2017: 7-9-2, 16 points; goal differential -7
Oilers in 2018: 9-8-1, 19 points; goal differential -4
Oilers in 2019: 11-5-2, 24 points; goal differential +8
This looks good, gotta say. Oilers might not be good enough to play on Tabernac Saturday, but the fans can bask in the glow of 24 points in 18 games. Over a season, that's a 109-point pace. This is fun!
OILERS IN NOVEMBER
Oilers in November 2015: 2-2-0, four points; goal differential 0
Oilers in November 2016: 2-1-1, five points; goal differential -2
Oilers in November 2017: 2-2-0, four points; goal differential -1
Oilers in November 2018: 2-2-0, four points; goal differential 0
Oilers in November 2019: 2-1-1, five points; goal differential +3
A solid first nine days of November, the impressive thing about last night is the Oilers stopped a losing streak before it reached three. There's a calmness about this team so far, the start of this season has been impressive.
WHAT TO EXPECT IN NOVEMBER
On the road to: PIT (Expected 0-1-0) (Actual 1-0-0)
At home to: ARI, STL, NJD (Expected 2-1-0) (Actual 1-1-1)
On the road to: ANA, SJS (Expected 1-0-1)
At home to: COL, DAL (Expected 1-1-0)
On the road to: SJS, LAK, VEG, ARI, COL (Expected 2-3-0)
At home to: VAN (Expected 1-0-0)
Overall expected result: 7-6-1, 15 points in 14 games
Current results: 2-1-1, 5 points after four games
Oilers are ahead of my prediction, again. I expected 2-2-0 and then a solid run through California. Anaheim and San Jose are different teams than they've been in the past, that's going to be important ahead of that road trip to Colorado and Texas.
OILERS 2019-20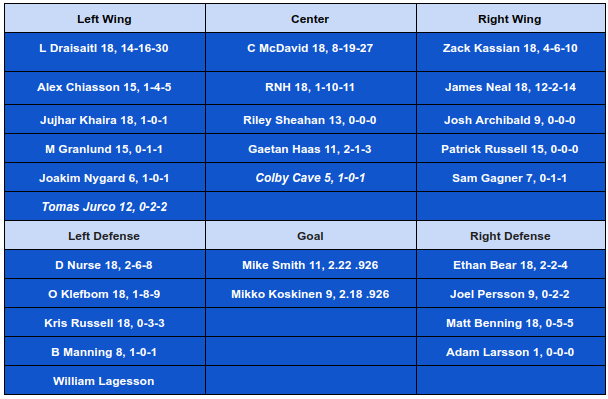 The top line remains a stunning trio (now 26 goals in 18 games) and I do believe the second line is being badly underrated by many who are worried about Nuge's five-on-five goal total. I would encourage you to seek out the "outscoring goal total" for each line. That's what we're looking for. I don't care if the defenseman scores the goal. Seriously. All numbers five-on-five via NST.
LINE 1 Leon Draisaitl-Connor McDavid-Zack Kassian played 13:21, going 16-16 Corsi (solid), 8-8 shots, no goals and 3-3 HDSC.
Leon Draisaitl scored a gorgeous goal, never take it for granted. That's a giant skill player. Holy crap. Two HDSC's and around the puck all night. What a player. Just 7 PK seconds. Connor McDavid had a PP assist (I thought he had two, but just one in the summary) plus 2 HDSC, he has so much going on but lately they don't cash as much. Crazy to even mention, but I expect he's going on a tear soon. Zack Kassian is a terrific linemate for these two, had a nice look in the first period (Nuge with the pass iirc), a takeaway (and a GV), plus went after PK Subban who was in 97's face.
LINE 2 James Neal-Nuge-Alex Chiasson played 10:22, going 9-7 Corsi, 5-3 shots, 1-0 goals and 2-0 HDSC.
James Neal scored a goal, had a couple of chances and blocked a shot that kept him off the ice for a time. Good player. Nuge had a helluva game, two assists (one on the PP) and so many intelligent plays. His pass to Leon was true. On pace for 50 points. Alex Chiasson scored a power-play goal and had a five-on-five assist plus three shots. Did Sami Vatanen wrong. Good game by all three.
LINE 3 Jujhar Khaira-Riley Sheahan-Josh Archibald played 10:09, going 7-8 Corsi, 4-3 shots, no goals and 0-1 HDSC. Faced the Hall line for 5:07, going 3-2 Corsi. I'm sort of wondering if Tippett wants this line out against the other team's best. He seems to get a Sheahan-Hall type matchup more often than a rando happening would imply. Sheahan and Archibald played over 3 minutes on the PK.
Jujhar Khaira had a couple of promising sorties, but pushed the puck deep and chased. The most promising trip through the neutral zone saw Khaira pass to Matt Benning, who sent a harmless shot to the New Jersey net for a whistle. Solid PK. Riley Sheahan drew a penalty, had a takeaway and two giveaways, but his line held Hall at bay for five minutes and that's a solid chore completed. Josh Archibald had a shot, and could have had a dandy chance but didn't see the puck squirting into his location in the slot. I hope they keep this line together, call it the redemption trio.
LINE 4 Markus Granlund-Gaetan Haas-Patrick Russell played 7:19, going 11-6 Corsi, 6-3 shots, 1-0 goals and 2-0 HDSC.
Markus Granlund moved the puck better than we've seen him recently, seemed to have a little more speed. Less than 2 PK minutes, not certain he's long for this team. Gaetan Haas had another solid game, this guy is damn useful. Scored, 71 percent in the circle, worked hard at both ends of the ice and had several promising moments with and around the puck. Patrick Russell had a HDSC, a takeaway and was effective in about 2 PK minutes.
BLUE VERSUS HALL
Nurse-Bear: 5-9 Corsi in 6:39
Klefbom-Persson: 0-7 Corsi in 4:42
Russell-Benning: 1-2 Corsi in 3:40
PAIRING ONE: Darnell Nurse and Ethan Bear played 15:18, going 17-22 Corsi, 9-9 shots, no goals and 1-3 dangers. Pairing had 2 offensive zone and 7 defensive zone faceoffs, spent 7:46 (8-12 Corsi) with 97.
Darnell Nurse had two shots and several other chances where he sent rocket passes to teammates. Nurse often doesn't have touch on his passes, they're bullets. He made a poor pass at five-on-five to Bear that ended up being NJD's best scoring chance sequence of the game. Ethan Bear is the opposite, all of his passes seem to be perfectly timed and with the exact amount of torque required. Bear had three shots and drew a penalty. He also battled the Devils forwards physically, something Nurse helped him with at times. This pairing has enjoyed some fine games.
PAIRING TWO Oscar Klefbom and Joel Persson played 14:42, going 10-16 Corsi, 4-8 shots, 2-0 goals and 4-1 HDSC. Had four offensive and four defensive zone faceoffs, and played 4:55 (6-3 Corsi) with McDavid.
Oscar Klefbom moved the puck efficiently, defended well and played a coverage (defensive) game. Blocked a couple shots. Joel Persson had easily his best game so far, grabbing two assists and playing a sound positional game. What a recovery from his effort against the Coyotes.
PAIRING THREE Kris Russell and Matt Benning played 14:04, going 11-7 Corsi, 7-4 shots, 1-0 goals and 1-3 HDSC. Four/four offensive/defensive zone faceoffs. Played 3:10 (3-4 Corsi) with McDavid.
Kris Russell had an assist, two shots and 1-2 takeaway/giveaways. I think Tippett is very comfortable using this pairing in multiple situations. Matt Benning had an assist and a shot on goal, I thought he played very well on the evening.
GOALIE Mikko Koskinen stopped all 26 shots, 22 at five-on-five and including four HDSC's. He was calm, athletic and played angles well. I think he's Edmonton's best goalie.
CONDORS 2019-20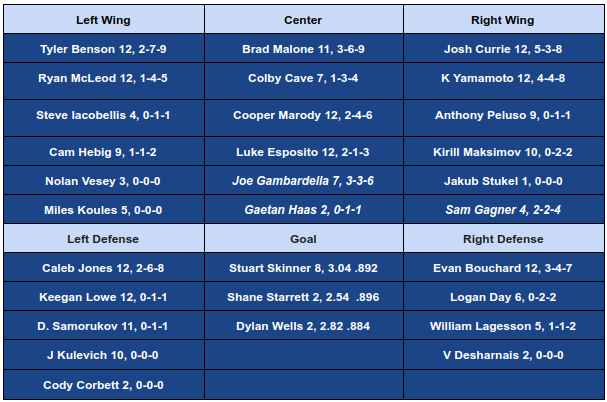 The Condors lost last night, gave up a lead on a SH goal and then couldn't score in over 20 minutes to get the tie against a struggling group of San Diego Gulls.
I said yesterday that Caleb Jones is the only player who has earned a recall, and nothing about last night changed the script. Cooper Marody got hurt, that's going to impact the offence. Team is also missing Joe Gambardella.
Jones had five shots, Kirill Maksimov two assists, Colby Cave six shots and a goal. Condors play San Jose Barracuda tonight, Jay Woodcroft will have to alter the lineup if Marody can't play.
GAETAN HAAS
Smart player, has speed, aggressive in puck pursuit and he's putting it all together. Signing free-agent Europeans is like a box of Forrest Gump's chocolates, you never know what you're going to get. We still don't really know about Haas, Persson and Nygard, but they are contributing and are a part of an 11-5-2 NHL team. I don't know how many of these men will play 200+ games in the world's best league, but Haas impresses me with his intelligence, range of skills and adaptability. That counts for something.