As time goes by, players become associated with major events against specific opposition. Wayne Gretzky's goal against Mike Vernon of the Calgary Flames, Mark Messier's famous playoff game against the Chicago Blackhawks, Grant Fuhr's stone cold shutout of the New York Islanders.
Darnell Nurse is associated with a playoff game against the Anaheim Ducks, sending Ryan Kesler into the crease where he ran roughshod over Cam Talbot and finished the Oilers, spring 2017. Nurse will have more chances to create positive imprints on the fan base and that's what making the playoffs is all about each spring.
THE ATHLETIC!
The Athletic Edmonton features a fabulous cluster of stories (some linked below, some on the site). Great perspective from a ridiculous group of writers and analysts. 
Proud to be part of The Athletic, less than two coffees a month offer here.
New Lowetide: Tyler Benson emerging from the pack of Bakersfield Condors hopefuls. (Will link).
New Daniel Nugent-Bowman: Ryan Nugent-Hopkins shines, mad props for Leon Draisaitl and more to like as the Oilers beat the Devils
New Daniel Nugent-Bowman: What inexperienced defencemen like the Oilers' Joel Persson must do to gain their coach's confidence
Lowetide: Oilers are closer to having an effective second line than a year ago, but few have noticed
Daniel Nugent-Bowman: The beauty of a good night's sleep can be elusive for many NHL players
Jonathan Willis: Why the Oilers were wise to gamble on Tomas Jurco, even though it didn't pan out
Jonathan Willis: The unlikely goalie performances underpinning the Oilers' hot start
Lowetide: How far away is Evan Bouchard and what role will he play with the Oilers?
Scott Wheeler: Analyzing Jesse Puljujarvi's play in Finland to see what he could offer as an NHLer
Jonathan Willis: Oilers right to wait until they're sure before recalling Kailer Yamamoto, Tyler Benson
Lowetide:  Can Leon Draisaitl score more than 50 goals this season?
Lowetide: Bakersfield Condors coaching staff continues to mold unheralded players into legit NHL prospects.
Daniel Nugent-Bowman: Oilers Mailbag: Fixing the forward depth, slotting the big three, a Puljujarvi trade and more
Minnia Feng: The 2019-20 Oilers fan guide to emotions and stressful circumstances
Jonathan Willis: How much will the Oilers have to pay to keep pending free agent Zack Kassian?
Lowetide: Sheahan hurt, Oilers in need of a two-way centre; some candidates emerging
Jonathan Willis: Handicapping the chase for the Calder after the first month of the 2019-20 NHL season
Jonathan Willis: Unproductive Oilers forwards are in danger of losing their jobs — and soon
Lowetide: Analyzing the current state of the Edmonton Oilers goaltending.
Daniel Nugent-Bowman: 'I don't think anyone's feeling comfortable': Oilers' Holland pleased but cautious amid early improvements.
Jonathan Willis: A rare success during Edmonton's long rebuild, why Oscar Klefbom is the model for finishing Oilers' blue line
Jonathan Willis: Can the Oilers afford to pursue Taylor Hall in free agency?
Lowetide: Oilers top 20 prospects summer 2019.
OILERS AFTER 19 GAMES
Oilers in 2015: 6-12-1, 13 points; goal differential -12
Oilers in 2016: 10-8-1, 21 points; goal differential +2
Oilers in 2017: 7-10-2, 16 points; goal differential -10
Oilers in 2018: 9-9-1, 19 points; goal differential -6
Oilers in 2019: 11-5-2, 24 points; goal differential +8
At 11-5-2, the Oilers delivered a breathtaking first chapter (7-1-0) and then fell to earth (4-4-2) in the 10 games that followed. The injured veterans are beginning to return and that should be good news. Adam Larsson is a week away, can Edmonton go 2-2-0 in the next four games?
OILERS IN NOVEMBER
Oilers in November 2015: 2-3-0, four points; goal differential -3
Oilers in November 2016: 2-2-1, five points; goal differential -3
Oilers in November 2017: 3-2-0, six points; goal differential 0
Oilers in November 2018: 2-3-0, four points; goal differential -3
Oilers in November 2019: 2-1-1, five points; goal differential +3
Edmonton hasn't yet delivered a dominant November during the McDavid era, in fact a win today would give this year's team the best record through five. Oilers were 9-4-1 in October, a repeat of that record in November would mean 38 points in 28 games. That's a strong enough run to strongly suggest playoffs. Let's not get ahead of ourselves.
WHAT TO EXPECT IN NOVEMBER
On the road to: PIT (Expected 0-1-0) (Actual 1-0-0)
At home to: ARI, STL, NJD (Expected 2-1-0) (Actual 1-1-1)
On the road to: ANA, SJS (Expected 1-0-1)
At home to: COL, DAL (Expected 1-1-0)
On the road to: SJS, LAK, VEG, ARI, COL (Expected 2-3-0)
At home to: VAN (Expected 1-0-0)
Overall expected result: 7-6-1, 15 points in 14 games
Current results: 2-1-1, 5 points after four games
Anaheim is 2-2-1 in its last five games and hasn't played since a Tuesday night loss to the Minnesota Wild. Ducks are 6-2-1 at home this season. Edmonton has the percentage edge in five-on-five Corsi (48.5 to 47), shot share (49 to 47), goal share (53 to 42). Edmonton has 14 power-play goals in 84 minutes, Anaheim four power-play goals in 79 minutes.
OILERS 2019-20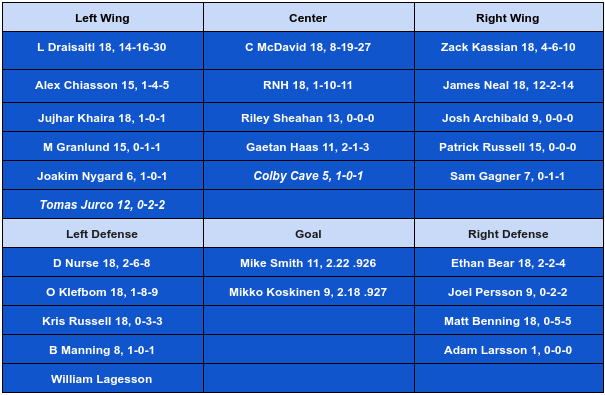 Oilers hit the road with more healthy troops and a key will be that third line. Dave Tippett won't be able to match up lines but if Sheahan's line can hold its own that's not as big a deal. Be prepared to be frustrated by the Ducks goaltender. He's good.
CONDORS 2019-20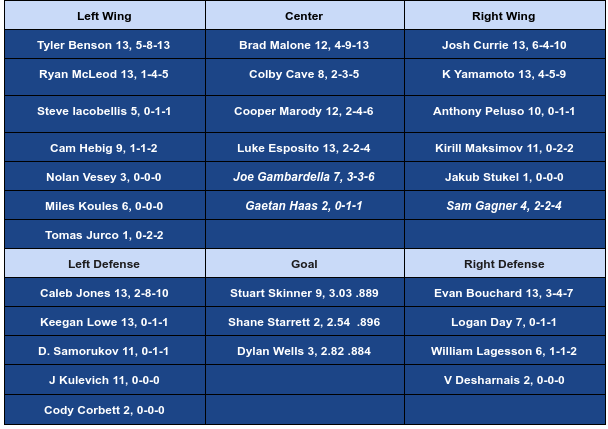 Tyler Benson delivered three goals last night, Brad Malone had a big night and the Condors won a game. Caleb Jones remains the best Bakersfield prospect, and Benson plus Yamamoto pushing. This should be a great team to follow winterlong.