The Edmonton Oilers arrived in California and fed the Ducks with some solid hockey. Stars included Connor McDavid, Leon Draisaitl, Ryan Nugent-Hopkins, Zack Kassian, the penalty kill and Oscar Klefbom. Happy for Patrick Russell, who grabbed the first point of his NHL career in the shadow of the happiest place on earth. A nice Mom's trip.
THE ATHLETIC!
The Athletic Edmonton features a fabulous cluster of stories (some linked below, some on the site). Great perspective from a ridiculous group of writers and analysts. Proud to be part of The Athletic, less than two coffees a month offer here.
OILERS AFTER 19 GAMES
Oilers in 2015: 6-12-1, 13 points; goal differential -12
Oilers in 2016: 10-8-1, 21 points; goal differential +2
Oilers in 2017: 7-10-2, 16 points; goal differential -10
Oilers in 2018: 9-9-1, 19 points; goal differential -6
Oilers in 2019: 12-5-2, 26 points; goal differential +12
This is new. I mean you can see it in the numbers here but the games themselves are proof. There is structure, there is calm, there is purpose. That was one of the truly impressive games I've seen this team play in a long time. Ebenezer Scrooge would have a hard time finding a downbeat from last night's game.
OILERS IN NOVEMBER
Oilers in November 2015: 2-3-0, four points; goal differential -3
Oilers in November 2016: 2-2-1, five points; goal differential -3
Oilers in November 2017: 3-2-0, six points; goal differential 0
Oilers in November 2018: 2-3-0, four points; goal differential -3
Oilers in November 2019: 3-1-1, seven points; goal differential +7
It's been a long time since the Oilers piled up a giant point total in any November. We are early days and there is struggle ahead. Still, this is something else.
WHAT TO EXPECT IN NOVEMBER
On the road to: PIT (Expected 0-1-0) (Actual 1-0-0)
At home to: ARI, STL, NJD (Expected 2-1-0) (Actual 1-1-1)
On the road to: ANA, SJS (Expected 1-0-1) (Actual 1-0-0)
At home to: COL, DAL (Expected 1-1-0)
On the road to: SJS, LAK, VEG, ARI, COL (Expected 2-3-0)
At home to: VAN (Expected 1-0-0)
Overall expected result: 7-6-1, 15 points in 14 games
Current results: 3-1-1, 7 points after five games
It was a big win because it's a division game and because several Pacific clubs have lost in the last 48 hours. San Jose has three wins in a row entering tomorrow night's game, so winning against Anaheim was important.
OILERS 2019-20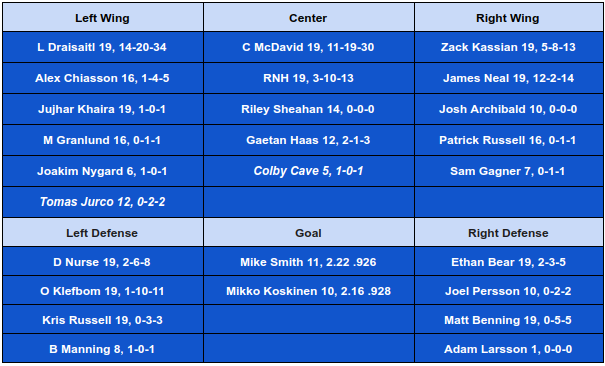 As we approach the 20-game mark, it's fun to multiply everything by four and look for career seasons. It's also true the checking line hasn't scored. The goaltending is solid as a rock and that's a major thing. All numbers five-on-five unless noted and all via NST.
LINE 1 Leon Draisaitl-Connor McDavid-Zack Kassian played 13:12, going 11-20 Corsi, 7-14 shots, 2-1 goals and 5-5 HDSC.
Leon Draisaitl had two assists (plus two power play) two shots, one HDSC and a giveaway plus takeaway. Connor McDavid scored two goals at five-on-five and added a third on the power play. His most brilliant goal looked like the All-Star scoring competition with Ducks for props. Zack Kassian had a strong game, scoring a big goal and grabbing two assists. Four HDSC! Man what a line.
LINE 2 James Neal-Nuge-Alex Chiasson played 11:12, going 19-6 Corsi, 11-3 shots, 1-0 goals and 6-0 HDSC.
James Neal had two shots, two HDSC and a giveaway he was a key i the lead-up to the Nuge goal but received no assist. Nuge was a big story early in the game with his terrific goal (plus a PP marker later), four shots, 2 HDSC and a takeaway. Wonderful game. Alex Chiasson had one shot and two HDSC's. This line is hammering opponents lately, those possession numbers are crazy good.
LINE 3 Markus Granlund-Gaetan Haas-Patrick Russell played 9:46, going 4-8 Corsi, 1-3 shots, 0-1 goals and 1-1 HDSC.
Markus Granlund had one shot and played over two minutes on an effective PK, but was most noticeable for not doing anything really on the second goal. Gaetan Haas drew two penalties and was around the puck a lot. He's making Granlund look bad he's around the disc so much. Patrick Russell got an assist and worked hard all night again.
LINE 4 Jujhar Khaira-Riley Sheahan-Josh Archibald played 8:34, going 4-6 Corsi, 2-3 shots and no goals, 1-0 HDSC.
Jujhar Khaira was good on the forecheck and PK, he is good in a fourth line role. Sheahan had the line's only HDSC but made a couple of nice passes and Archibald had his best chance to score via a shot less than 10 feet from the net. Most of his shots have been long rangers. He was more involved, spent more time with or near the puck, than I've seen. Good sign.
PAIRING ONE Oscar Klefbom and Joel Persson played 16:19, going 15-17 Corsi, 11-10 shots, 0-1 goals and 4-1 HDSC.
Oscar Klefbom had two PP assists, and at five-on-five two shots a takeaway and three blocks. Joel Persson made a poor decision on the first GA, had three shots and one hammer that missed the net but sounded like a rocket. Persson is in danger with Adam Larsson close to his return.
PAIRING TWO Darnell Nurse and Ethan Bear played 13:33, going 12-10 Corsi, 5-7 shots 3-1 goals and 5-4 HDSC.
Darnell Nurse used his speed and size effectively during the evening. He crushed sorties at the blue line and used his speed to retrieve pucks and send them the other way quickly. Bear helps him a lot. Ethan Bear had an assist, but also two giveaways. He recovers well when making a miscue, and Nurse helps him, too. Solid pair. Bear's passing changes the equation when he's on the ice.
Pairing Three Kris Russell and Matt Benning were 8-12 in 12:07, 4-5 shots, 1-0 goals and 3-1 HDSC. This pairing had 2 defensive faceoffs, compared to 3 for Nurse-Bear and 4 for Klefbom-Persson. This pairing had 0 offensive zone faceoffs, compared to 2 for Nurse-Bear and 6 for Klefbom-Persson. Tippett does more active coaching than McLellan, in several areas. This is one.
Kris Russell blocked a couple of shots and defended aggressively but there wasn't much danger for this pairing. In a game like this one Russell is effective without getting noticed. Probably one of the reasons he is underrated by some. Matt Benning had a couple of giveaways that came to no harm and passed the puck well. A quiet night for this pairing but 12:07 TOI at five-on-five says they were giving the top-4D some rest and that's a solid.
GOALIE Mikko Koskinen stopped 31 of 33, .939 save percentage. NST says he stopped eight of 10 high danger chances, I'm not sure of that total but do know he was splendid when the game was still in doubt.
REMEMBRANCE DAY
Of all the things I thought would never be controversial, the poppy is up there. Oh well, we live in conflicted times. I'm not going to address either news item beyond saying Canadians fighting over our war dead and their symbol is just about the most distasteful thing I've had to witness.
My Dad was in the war, rarely talked about it and only showed emotion when talking about his brother Roy. Roy is in Holten this morning and we remember his sacrifice today. This is important stuff. People the age of my children and younger boarded the train in their communities decades ago and did not return. They left their farms, their parents, their futures on the platforms of those train stations.
My neighbour and his wife served in the military; he is now a fireman here back home. I will walk over to his house today and thank him for his service. That's such a small thing to do but it's important. His sacrifice, her sacrifice, allowed my children to grow up in a peaceful world. They are the best of us. If you see someone from the military past or present today or a police officer or someone who works in a hospital or healthcare, thank them for their service.
You live in Canada. You won the lottery. Pay respects to our fighting men and women today, responsible for over 100 years of keeping war from our doorstep. Now, more than any time in my life I value the words "lest we forget" and that in and of itself is an alarm. If you have no idea what I'm talking about, read the books on World War 2. Look at the photos. Find the knowledge. Your questions will be answered.
In Flanders fields the poppies blow
Between the crosses, row on row,
That mark our place; and in the sky
The larks, still bravely singing, fly
Scarce heard amid the guns below.
We are the Dead. Short days ago
We lived, felt dawn, saw sunset glow,
Loved and were loved, and now we lie
In Flanders fields.
Take up our quarrel with the foe:
To you from failing hands we throw
The torch; be yours to hold it high.
If ye break faith with us who die
We shall not sleep, though poppies grow
In Flanders fields.
-Lieutenant Colonel John McCrae