It's been a long time between drinks of water for the Edmonton Oilers in the NHL draft's fifth round. Miro Satan, Jason Chimera, Walt Poddubny, Shaun Van Allen, and now Ethan Bear. It's important to note drafting success and for the organization to value it heavily. Those amateur scouts are some of the most important people in an organization. Their success drives team success. Ethan Bear is an important player for the Oilers. Vital that the team cashes another fifth rounder in a more timely fashion. That gap between Bear and Jason Chimera? 18 years.
THE ATHLETIC!
The Athletic Edmonton features a fabulous cluster of stories (some linked below, some on the site). Great perspective from a ridiculous group of writers and analysts. Proud to be part of The Athletic, less than two coffees a month offer here.
OILERS AFTER 24 GAMES
Oilers in 2015: 8-14-2, 18 points; goal differential -13
Oilers in 2016: 12-10-2, 26 points; goal differential +7
Oilers in 2017: 9-13-2, 20 points; goal differential -14
Oilers in 2018: 11-11-2, 24 points; goal differential -11
Oilers in 2019: 14-6-3, 31 points; goal differential +15
The 2016 team went on a heater that saw them close 35-16-7 to finish 47-26-9, 103 points. I don't think that's reasonable, but the club's impressive start means banked points that could be key in April when the season winds down to a precious few games.
OILERS IN NOVEMBER
Oilers in November 2015: 3-6-1, seven points; goal differential -5
Oilers in November 2016: 3-6-1, seven points; goal differential -8
Oilers in November 2017: 4-5-1, nine points; goal differential 0
Oilers in November 2018: 4-6-0, eight points; goal differential -6
Oilers in November 2019: 5-2-2, 12 points, goal differential +10
Injuries, goalie wobble, weird trades, oh the November rain Oilers fans have seen. And this year? 21 days into a 30-day month and the formula is holding steady.
WHAT TO EXPECT IN NOVEMBER?
On the road to: PIT (Expected 0-1-0) (Actual 1-0-0)
At home to: ARI, STL, NJD (Expected 2-1-0) (Actual 1-1-1)
On the road to: ANA, SJS (Expected 1-0-1) (Actual 1-1-0)
At home to: COL, DAL (Expected 1-1-0) (Actual 1-0-1)
On the road to: SJS, LAK, VEG, ARI, COL (Expected 2-3-0) (Actual 1-0-0)
At home to: VAN (Expected 1-0-0)
Overall expected result: 7-6-1, 15 points in 14 games
Current results: 5-2-2, 12 points in 9 games
This Oilers team outperformed my October projection and looks to be poised to do the same thing in November. Dave Tippett's keys to the highway seem simple enough. Run 97-29 through the wee wee hours ("sun's just a red ball rising over them refinery towers"), find some clean air for Nuge and then ramrod the bottom six ragged on the penalty kill. It's a Tenth Avenue Freeze out with Nurse-Bear and Klefbom-Jones, and a surprisingly delightful (o, o, o, I'm on fire) third pair. Solid goalie duo form the tight rhythm section on the backstreets and you're born to run.
I hope you can make it out to the event, it'll be a cool way to watch the game and we'll have some surprises plus the Q&A. That segment was terrific last time we got together, your input was welcome and several story ideas (like prospect updates on Sundays) grew out of the conversations. I promise you'll have a good time.
OILERS 2019-20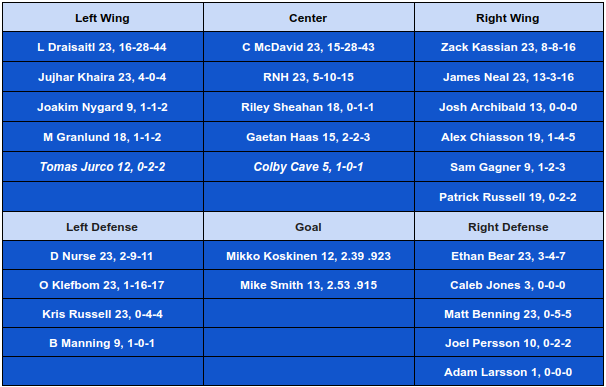 Ethan Bear has had an impact on this team. NST tells us Bear and Nurse have played 352 minutes at five-on-five this season, winning the shot differential (52.3 percent). They are 19-24 in goals together but have taken on the elites (Puck IQ has both men over 150 minutes at five-on-five, the top totals) and are delivering 47 percent possession and 8-4 goal differential. Both men get credit, but Bear, as a rookie, has delivered in an area of weakness and right on time. Impressive.
CONDORS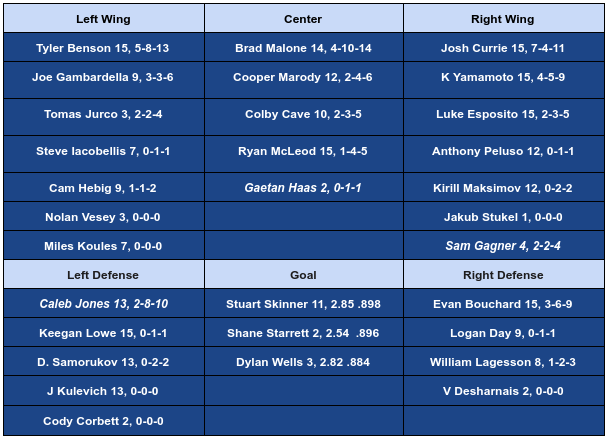 The Bakersfield Condors play Stockton this morning at 11 our time. The Condors have yet to take flight and the prospect forwards are running in place but there's plenty of blacktop.
You know, one of my favourite things is to watch prospects find their way. For instance, Ethan Bear's emergence this season is, for me, a wonderful result and payment for all the Pouliot's and Rita's and Hajt's and Wajt's.
The trick is, and I mean this, to cheer like mad but understand these kids can get derailed by so very many things. Here. Pick a year. 1995? Okay. Here are the scoring numbers for Edmonton's 1995-96 AHL team.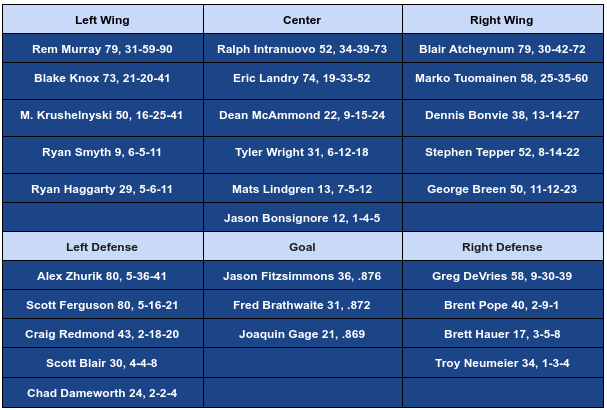 Ryan Smyth was the big star, he was a high pick and delivered in the AHL from opening night (he was 19 here). Dean McAmmond and Mats Lindgren were both first rounders who had careers, McAmmond played forever. Rem Murray had no draft pedigree, Jason Bonsignore was all draft pedigree. Only one of them would have an NHL career. Bottom line: No matter how good you are with AHL numbers or watching games, no matter how well you can break down the video, some will surprise and some will disappoint. So, if you say "Tyler Benson doesn't look good now, he might be stalling" just stop. It doesn't work like that. We were fading Ethan Bear last year, now look at him. We don't know who is going to hit the gym this summer and we don't know who is going to catch a rut in a game in March. This prospect thing is not an exact science.
LOWDOWN WITH LOWETIDE
A loaded show this morning, TSN1260 beginning at 10. The Mayor John Hoven will join us in hour one and Frank Seravalli will pop in during hour two, plus we are working on another guest surrounding the Babcock firing. Wild times. 10-1260 text, @Lowetide on twitter. Talk soon!