The best story around the Edmonton Oilers yesterday was probably Kirill Maksimov, who scored a goal and added an assist in an overtime loss to the Stockton Heat. Maksimov, along with Tyler Benson and Kailer Yamamoto, represents the most promising skill wingers in the system. He's many miles from the NHL, but small victories are big steps.
THE ATHLETIC!
The Athletic Edmonton features a fabulous cluster of stories (some linked below, some on the site). Great perspective from a ridiculous group of writers and analysts. Proud to be part of The Athletic, less than two coffees a month offer here.
OILERS AFTER 24 GAMES
Oilers in 2015: 8-14-2, 18 points; goal differential -13
Oilers in 2016: 12-10-2, 26 points; goal differential +7
Oilers in 2017: 9-13-2, 20 points; goal differential -14
Oilers in 2018: 11-11-2, 24 points; goal differential -11
Oilers in 2019: 14-7-3, 31 points; goal differential +11
This year's model remains the class of the group and honestly has no clear comparable. That 2016 team is going to catch this group, but through 24 games this is the best McDavid team.
OILERS IN NOVEMBER
Oilers in November 2015: 3-6-1, seven points; goal differential -5
Oilers in November 2016: 3-6-1, seven points; goal differential -8
Oilers in November 2017: 4-5-1, nine points; goal differential 0
Oilers in November 2018: 4-6-0, eight points; goal differential -6
Oilers in November 2019: 5-3-2, 12 points, goal differential +6
Different angle, same result. No matter how angry and frustrated you are about last night, this bunch has been carrying the mail compared to their predecessors.
WHAT TO EXPECT IN NOVEMBER
On the road to: PIT (Expected 0-1-0) (Actual 1-0-0)
At home to: ARI, STL, NJD (Expected 2-1-0) (Actual 1-1-1)
On the road to: ANA, SJS (Expected 1-0-1) (Actual 1-1-0)
At home to: COL, DAL (Expected 1-1-0) (Actual 1-0-1)
On the road to: SJS, LAK, VEG, ARI, COL (Expected 2-3-0) (Actual 1-1-0)
At home to: VAN (Expected 1-0-0)
Overall expected result: 7-6-1, 15 points in 14 games
Current results: 5-3-2, 12 points in 10 games
One thing that I suspect will be true: The Oilers will play better in Vegas on Saturday. There will be a burr under their saddles after this game. That means we'll have a great game to watch on Saturday night at The Rec Room. Are you going to be there? Click this link to book tickets and there's some information in there about free drink tickets and a few other details. Hope to see you!
OILERS 2019-20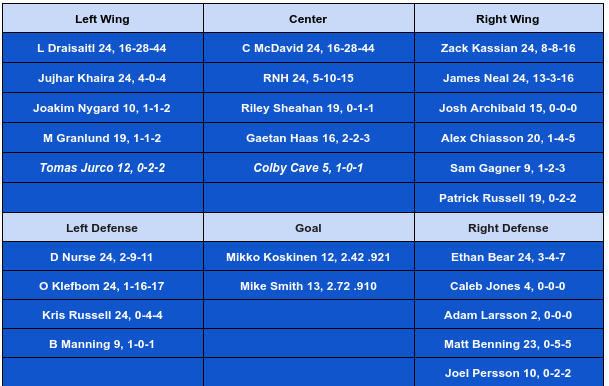 There was a lot of poor play and lack of execution last night, it's all contained in this NST page. As the lines got jumbled during the game, I'm going to do a player by player summary. All numbers five-on-five unless otherwise noted.
Leon Draisaitl had three shots and two HDSC, lost coverage on the 3-0 goal and was generally poor on the evening. His postgame was something else, he was accountable. He made a 50-50 pass to 97 to turn over the puck in the neutral zone and then released Carter in the goal's key decision. Connor McDavid scored a nice goal to give some hope early in the second period but lost coverage on Kopitar's goal, giving him an open look. Caleb Jones lost the initial battle to Kopitar, no sin for a rookie. Ethan Bear got caught flat-footed on the Toffoli goal, although that was a helluva pass. You'd like better coverage there but that's a tough play.
Joakim Nygard gets less out of breakaways than Todd Marchant and that's saying something. I kid, but it would be nice to see him cash one of those. Adam Larsson was fine in his return, made safe plays and battled. Alex Chiasson is betwixt and between now, he needs a goal to go in here and get some confidence. Darnell Nurse had a good game, turned over the puck deep in LAK's zone that would eventually result in a goal but many things happened after. I would have liked him to haul ass back, but Leon had the position covered. Low percentage play though, Darnell waiting in the offensive zone in hopes of a misfire on the clear. He damn near scored later.
Gaetan Haas drew a penalty but he has a bad habit of not stopping events, either by falling down or being slow to execute. I like him. James Neal had one of his pedestrian games. Josh Archibald played well to my eye, would like to see one of those chances go in. Great PK. Jujhar Khaira worked hard (got hurt doing it) but didn't have an offensive sortie of note. He needs to find a way to get involved in the offense every night.
Kris Russell played his normal game, led the PK crew with 7:16 and was effective. Markus Granlund didn't get much done offensively but is part of the PK rotation again (replacing Patrick Russell, who did not dress). Oscar Klefbom was probably Edmonton's best player, his consistency is vital to this team. Riley Sheahan was five of eight in the dot at five-on-five and played a clean 5:46 on the PK.
Ryan Nugent-Hopkins had one 10-bell chance and won five of eight in the dot. Played well but didn't have an impact. Zack Kassian skated miles, hit everything and was part of some promising beginnings but nothing rhymed. Mike Smith stopped nine of 12, .750. He was poor. Mikko Koskinen was far better, giving up two while stopping 16 of 18, .889. I expect we'll be seeing more of Koskinen in the coming days.
Lots of chatter after the game about the Oilers falling flat against poor teams. I'm not sure it has much to do with quality of opponent, seems to me this Oilers team is trying to find consistency. It's also true we're seeing regression, Mike Smith's performance last night was proof it still exists even after an outstanding start.
CONDORS 2019-20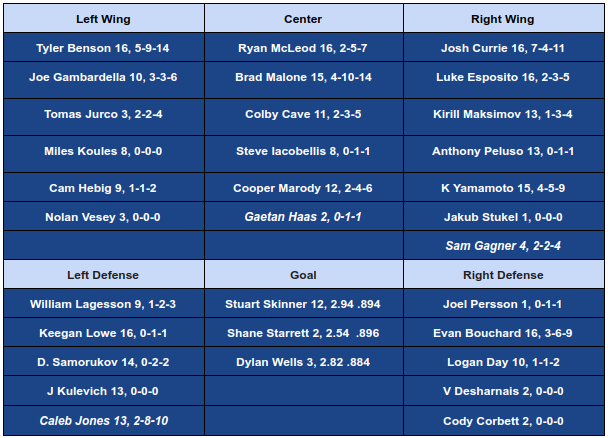 The lines and pairings are courtesy our friend Wilde inside yesterday's game thread. Maksimov's push came because Kailer Yamamoto was out, that young man needs to stay healthy. A nice push also for Ryan McLeod, as you know my concern about him is offense and that's a very nice spot for him to increase the boxcars. Most likely forward recall? Tyler Benson.
LOWDOWN WITH LOWETIDE
At 10 this morning, TSN1260. We'll have Steve Lansky from Big Mouth Sports to talk Oilers, Maple Leafs and Grey Cup. Matthew Iwanyk will pop in at 11 and we'll preview the Grey Cup and Dave Jamieson will join us live from media row in Calgary as things gear up for the big game. 10-1260 text, @Lowetide on twitter. See you on the radio!