At last we arrive at Tabernac Saturday and the Oilers playing a night game for the faithtful to get silly over. Giant beer kegs and wine in every possible container, with hard liquor and sipping liqueurs and whatever the hell brandy is, they're all getting drink drank drunk tonight. It's hockey night in Canada! Can you hear the music???
THE ATHLETIC!
The Athletic Edmonton features a fabulous cluster of stories (some linked below, some on the site). Great perspective from a ridiculous group of writers and analysts. Proud to be part of The Athletic, less than two coffees a month offer here.
New Lowetide: Why Dave Tippett's deployment is a sign the Oilers need a No. 3 centre
New Jonathan Willis: A Jesse Puljujarvi trade is an opportunity of which only one NHL team gets to take advantage
TONIGHT!
There's still time to book your tickets (here) for tonight's get-together at the Rec Room WEM! There will be a Q. and A. (ask me anything!), a great game between the Oilers and Vegas, plus drink tickets for the first 50 people through the door. It is FREE for subscribers to The Athletic and you get to bring someone! We did this a year ago and had a great conversation with lots of input from you. I really hope you can make it, please register if you haven't already. If you're not a subscriber, the offer above will cost you two coffees a month and it's well worth it. Not just for Daniel, Jon and myself with Oilers coverage, but Corey Pronman and Scott Wheeler draft articles and more. It's an amazing site, I promise. See you tonight!
OILERS AFTER 25 GAMES
Oilers in 2015: 8-15-2, 18 points; goal differential -14
Oilers in 2016: 13-10-2, 28 points; goal differential +7
Oilers in 2017: 10-13-2, 22 points; goal differential -13
Oilers in 2018: 12-11-2, 26 points; goal differential -5
Oilers in 2019: 14-7-3, 31 points; goal differential +11
Now is the time to win some games. Edmonton is 1-1-0 on this road trip and I've bet (below) the next three games will go 1-2-0. The Oilers would be doing themselves an enormous favour by winning two of the next three. Vegas is not an easy place but Edmonton has had some success against VGK, going 4-4-0 since the expansion team entered the league.
OILERS IN NOVEMBER
Oilers in November 2015: 3-6-2, eight points; goal differential -6
Oilers in November 2016: 4-6-1, nine points; goal differential -3
Oilers in November 2017: 4-6-1, nine points; goal differential -5
Oilers in November 2018: 4-6-1, nine points; goal differential -7
Oilers in November 2019: 5-3-2, 12 points, goal differential +6
The gales of November normally come early to Edmonton's Oilers, but this year has been anomalous. Sweet music! Alas, the team must avoid a losing streak. Tonight and tomorrow are big. Look at the goal differential! Holy Dave Tippett!
WHAT TO EXPECT IN NOVEMBER
On the road to: PIT (Expected 0-1-0) (Actual 1-0-0)
At home to: ARI, STL, NJD (Expected 2-1-0) (Actual 1-1-1)
On the road to: ANA, SJS (Expected 1-0-1) (Actual 1-1-0)
At home to: COL, DAL (Expected 1-1-0) (Actual 1-0-1)
On the road to: SJS, LAK, VEG, ARI, COL (Expected 2-3-0) (Actual 1-1-0)
At home to: VAN (Expected 1-0-0)
Overall expected result: 7-6-1, 15 points in 14 games
Current results: 5-3-2, 12 points in 10 games
If Edmonton can go 2-2-0 from here to the end of the month, they'll finish 7-5-2 and exceed (by one point) my prediction. The team's record would be 16-9-3, 35 points after 28 games. That projects to 103 points, a perfect match for the 2016-17 Oilers.
OILERS 2019-20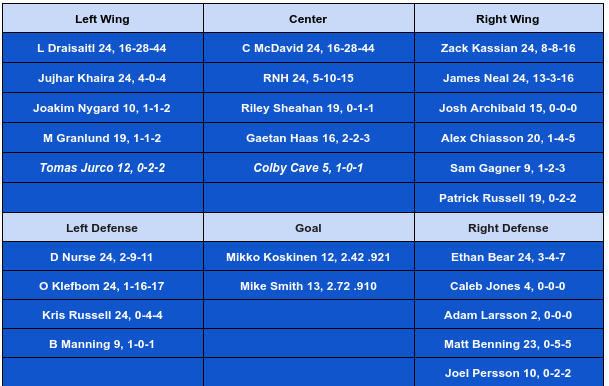 Several comments here on the blog and online have me wondering if we agree on the order of importance currently for Edmonton's pro defensemen. Including the Condors, and understanding things could change in the future, my list from most to least valuable is (1-14): Klefbom, Nurse, Bouchard, Larsson, Bear, Jones, Benning, Samorukov, Lagesson, Russell, Persson, Day, Manning, Lowe.
Your mileage may vary, and I might put Bouchard ahead of Nurse on another day (especially after the next contract), but that's about where I am with each man's future at this time. I will add that Larsson jumps right up to No. 2 as soon as he shows last season was an outlier. What is your list? Love to know.
CONDORS 2019-20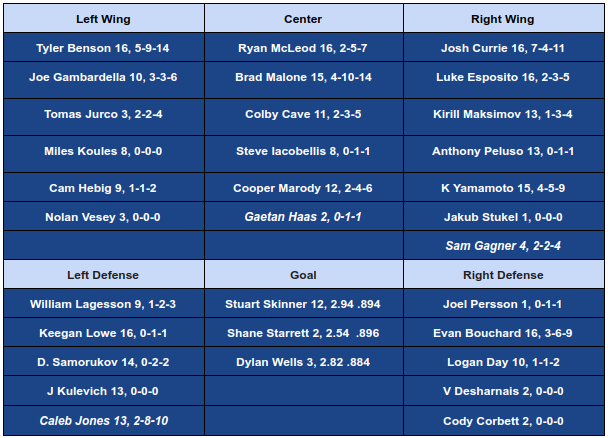 Condors play tonight against Iowa.