Two first period passes by Leon Draisaitl set the Edmonton Oilers in a great direction and aided in the team's win over the VGK. The first required creativity from Leon and anticipation from Connor McDavid, and was one of the sweetest goals of the year. They really are the Glimmer Twins. The second assist is what puts Leon on a trajectory that involves season ending awards and great fame. Backhand, on the tape, from about 10 miles. Oh my.
At The Athletic get together last night, several of us agreed the Mike Smith start in Vegas was important. The veteran goalie has been outplayed by Mikko Koskinen so far this season, while also getting more playing time. A big win in Vegas for Smith. A nice recovery game by the top line, too.
THE ATHLETIC!
The Athletic Edmonton features a fabulous cluster of stories (some linked below, some on the site). Great perspective from a ridiculous group of writers and analysts. Proud to be part of The Athletic, less than two coffees a month offer here.
OILERS AFTER 26 GAMES
Oilers in 2015: 9-15-2, 20 points; goal differential -14
Oilers in 2016: 14-10-2, 30 points; goal differential +8
Oilers in 2017: 10-14-2, 22 points; goal differential -14
Oilers in 2018: 13-11-2, 28 points; goal differential -4
Oilers in 2019: 15-7-3, 33 points; goal differential +13
Big win. I mean a big one. Defeating Vegas after the LAK stumble represents a solid recovery. The No. 1 line was absolute fire, and I thought all four lines contributed. Defensively, Edmonton worked hard and smart against a strong Golden Knights squad. Tabernac Saturday worked out just fine.
OILERS IN NOVEMBER
Oilers in November 2015: 4-6-2, 10 points; goal differential -6
Oilers in November 2016: 5-6-1, 11 points; goal differential 0
Oilers in November 2017: 5-6-1, 11 points; goal differential -1
Oilers in November 2018: 4-7-1, nine points; goal differential -10
Oilers in November 2019: 6-3-2, 14 points, goal differential +8
This November stands out from the crowd. It's the only season of McDavid's career that has a positive goal differential through 11 (12) games.
WHAT TO EXPECT IN NOVEMBER
On the road to: PIT (Expected 0-1-0) (Actual 1-0-0)
At home to: ARI, STL, NJD (Expected 2-1-0) (Actual 1-1-1)
On the road to: ANA, SJS (Expected 1-0-1) (Actual 1-1-0)
At home to: COL, DAL (Expected 1-1-0) (Actual 1-0-1)
On the road to: SJS, LAK, VEG, ARI, COL (Expected 2-3-0) (Actual 2-1-0)
At home to: VAN (Expected 1-0-0)
Overall expected result: 7-6-1, 15 points in 14 games
Current results: 6-3-2, 14 points in 11 games
There are three games left and a win tonight guarantees another month of more than a point per game pace. The Coyotes play Edmonton tough, but this Oilers team is no easy out for the other side, either. Getting a lead is important against Scottsdale.
OILERS 2019-20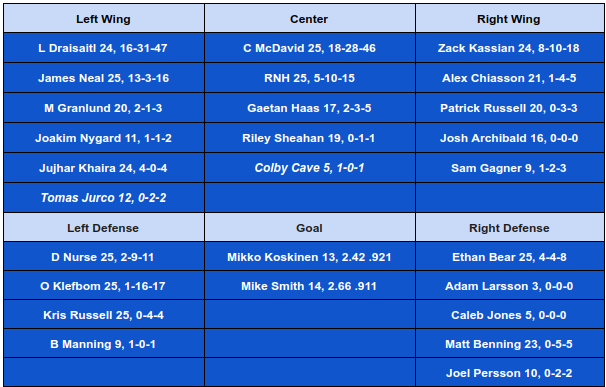 The top line is incredible, we are watching something special in real time. I've mentioned the Cashman-Esposito-Hodge '70-71 line before, that trio scored 140 goals. The Leon-McD-Kassian line has scored 42 goals in 24 games. That's a pace that would land them at 144 over 82 games in a more defensive era. Incredible. All numbers NST and five-on-five unless noted.
LINE 1 Leon Draisaitl-Connor McDavid-Zack Kassian had their best game of the season, playing 14:25, going 19-12 Corsi, 9-6 shots, 2-0 goals and 2-2 HDSC.
Leon Draisaitl had two assists (third on the PP), a shot, HDSC, drew a penalty, had a takeaway and won eight of 12 in the circle. Honestly, watch that pass to McDavid, 97 isn't even looking that way when 29 sends it. McDavid was flying all night, the man is a national treasure. His foot speed tracking Karlsson on the breakaway was incredible. Kassian was a bull in a china shop, key on both goals just by being a load.
LINE 2 James Neal-Nuge-Alex Chiasson played 11:13, going 12-12 Corsi, 7-7 shots, 0-1 goals and 1-2 HDSC.
James Neal made two impressive defensive plays in the game's first 10 minutes, showing he was engaged. Had one great chance and was very physical. Nuge scored but the ref blew the whistle before it went in. Even with the goal not counting, I saw him very good on the night. He was 67 percent on the dot and had a 10-bell chance on the PP. Alex Chiasson had four shots, a takeaway and worked like a demon. Nothing is going in for him but he's trying for sure.
LINE 3 Markus Granlund-Gaetan Haas-Patrick Russell played 10:06, going 10-8 Corsi, 5-4 shots, 1-0 goals and 4-0 HDSC.
Markus Granlund scored a huge goal, lots of hard work for the entire line but he cashed. If he can contribute more consistently, that's a big deal. Gaetan Haas worked hard on the goal, also had a couple of great chances on his own. He is always noticeable. Patrick Russell had an assist, a shot on goal and a takeaway. This line earned its keep on this evening.
LINE 4 Joakim Nygard-Riley Sheahan-Josh Archibald played 9:52, going 2-9 Corsi, 1-5 shots, 0-1 goals and 0-1 HDSC. Saw a steady diet of the Cody Glass and Paul Stastny lines.
Joakim Nygard used his speed to great advantage, had a takeaway and is surprisingly effective along the wall. Riley Sheahan worked hard and against quality opposition, Josh Archibald had a helluva chance. This line got caved in possession but I don't think they were to blame for the GA (luck came to town).
PAIRING ONE Darnell Nurse and Ethan Bear played 18:03, going 20-15 Corsi, 11-8 shots, 2-0 goals and 3-2 HDSC.
Darnell Nurse had four shots, carried the puck well and played a rugged game against a team that won't quit. Ethan Bear scored a lovely goal, outlet passed effectively and won more battles than you might expect from a rookie. What a pleasure to watch him emerge in real time. Bear's goal was a lot about instinct. Any defenseman can sneak down the slot, but Bear's timing and offering Draisaitl a target were key. The shot was low and landed where Fleury exited as he got set. Lovely.
PAIRING TWO Oscar Klefbom and Adam Larsson played 11:03, going 7-13 Corsi, 3-6 shots, 1-1 goals and 2-2 HDSC.
Oscar Klefbom looked great as always save for the Shea Theodore goal where he got beaten. Effective otherwise. Adam Larsson was the main issue on the Theodore goal, giving up possession, the line and the lane. That's about everything. Still working on getting up to pace, Edmonton needs Larsson.
PAIRING THREE Kris Russell and Caleb Jones played 11:30, going 16-5 Corsi, 8-3 shots, no goals and 2-1 HDSC.
Kris Russell played his normal game, blocking shots and defending. Caleb Jones was effective across the board, defended well and moved the puck effectively. If they make the decision on merit, he's here to stay.
GOALIE Mike Smith stopped 24 of 26, .923. He was excellent all night, a terrific bounceback game from the big man.
THANKS!
I've worked in radio since 1980 and can tell you with complete confidence that live events have a life of their own.
Last night, at the wonderful Rec Room WEM, I had a chance to meet many of you at this year's The Athletic get-together. It was a brilliant success, owing mostly to two things: The people who attended (fabulous!) and to Katie Caldwell. I was proud to represent The Athletic in that room and very much enjoyed the evening. Thanks so much for attending.
CONDORS 2019-20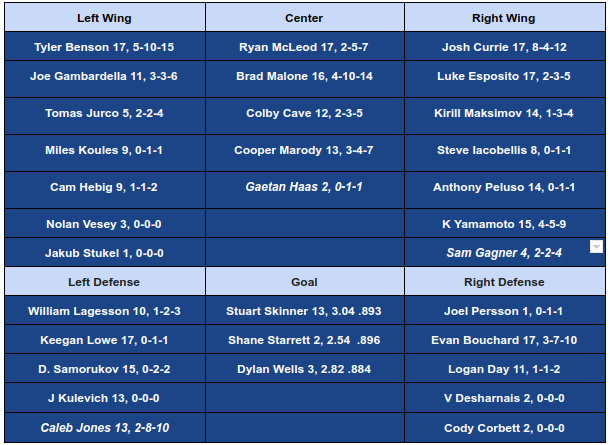 Condors play Iowa again today.