In the minutes before game time Oilers fans received the news: Ryan Nugent-Hopkins would miss the Arizona game plus another, and maybe more due to a wrist injury. Tabernac Saturday is a cruel cruel day. A day that began with bad ended with good: A shootout victory and a small increase in the team's Pacific Division lead.
THE ATHLETIC!
The Athletic Edmonton features a fabulous cluster of stories (some linked below, some on the site). Great perspective from a ridiculous group of writers and analysts. Proud to be part of The Athletic, less than two coffees a month offer here.
OILERS AFTER 26 GAMES
Oilers in 2015: 9-15-2, 20 points; goal differential -14
Oilers in 2016: 14-10-2, 30 points; goal differential +8
Oilers in 2017: 10-14-2, 22 points; goal differential -14
Oilers in 2018: 13-11-2, 28 points; goal differential -4
Oilers in 2019: 16-7-3, 35 points; goal differential +13
This is a tremendous start for the Oilers, now holding a significant edge over the 2016-17 team. That first McDavid playoff squad is likely to catch this one, but I'm thinking (for the first time) maybe this one really does have what it takes to win the division. It was an impressive weekend.
OILERS IN NOVEMBER
Oilers in November 2015: 4-6-2, 10 points; goal differential -6
Oilers in November 2016: 5-6-1, 11 points; goal differential 0
Oilers in November 2017: 5-6-1, 11 points; goal differential -1
Oilers in November 2018: 4-7-1, nine points; goal differential -10
Oilers in November 2019: 7-3-2, 16 points, goal differential +8
This team is five points clear of the best team from the past during this period. That's significant. There isn't much track left in the month, 16 points following up 19 points in October is truly amazing.
WHAT TO EXPECT IN NOVEMBER
On the road to: PIT (Expected 0-1-0) (Actual 1-0-0)
At home to: ARI, STL, NJD (Expected 2-1-0) (Actual 1-1-1)
On the road to: ANA, SJS (Expected 1-0-1) (Actual 1-1-0)
At home to: COL, DAL (Expected 1-1-0) (Actual 1-0-1)
On the road to: SJS, LAK, VEG, ARI, COL (Expected 2-3-0) (Actual 3-1-0)
At home to: VAN (Expected 1-0-0)
Overall expected result: 7-6-1, 15 points in 14 games
Current results: 7-3-2, 16 points in 12 games
The Oilers exceeded my reasonable expectations for the month last night and have two games in hand to push the total higher. I had 88 points as the season, right now the team is on pace for 110. Incredible.
OILERS 2019-20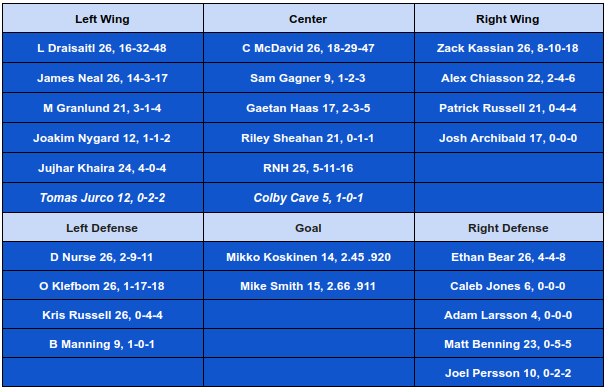 The bottom-six scoring has been coming along lately, Granlund is showing up on the scoresheet with some consistency. Added to Jujhar Khaira (who has been productive with skill lines so it's cheating a little) and Gaetan Haas and maybe there's more goals than there were a year ago from that group. All numbers via NST and five-on-five unless otherwise noted.
LINE 1 Leon Draisaitl-Connor McDavid-Zack Kassian played 19:22, going 23-15 Corsi, 11-9 shots, 0-1 goals and 1-3 HDSC.
Leon Draisaitl had a fabulous power play assist, a couple of great looks (one in OT), a takeaway and won nine of 11 in the dot. He was tripped in overtime, no call. Connor McDavid had a PP assist, three shots and a HDSC. He was incredible in OT, and added a new wrinkle when knocking a Coyote to the ice with some vengeance. A key play in the game came when Christian Fischer engaged in some shenanigans with 97 and then raced away to score the second Coyotes goal. No penalty on this play either. Zack Kassian had three shots but also three giveaways. The line got a steady diet of Brad Richardson-Fischer-Michael Grabner, plus defenders Alex Goligoski and Jakob Chychrun. Coyotes were mostly effective against the big line.
LINE 2 James Neal-Sam Gagner-Alex Chiasson played 12:43 and went 17-4 Corsi, 9-2 shots, 1-0 goals and 4-0 HDSC. That's a great number set.
James Neal scored a fine power-play goal early in the game and had three shots, two HDSC at five-on-five. Solid road trip from the veteran. Sam Gagner was impressive subbing for Nuge, his assist came after gaining zone entry and taking full advantage of OEL falling. Samwise first passed for Neal (who was racing for the net) and then out front to Chiasson who broke his slump. A good night for the veteran. Alex Chiasson scored a goal, had three shots and two HDSC. He needed that goal.
LINE 3 Joakim Nygard-Riley Sheahan-Josh Archibald played 7:25, going 7-6 Corsi, 4-3 shots, 0-1 goals and 1-2 HDSC.
Joakim Nygard was part of the furniture on the third Arizona goal, love the effort chasing your mark to the net but try not to park your ass where the goalie is supposed to go. He did have a HDSC. Riley Sheahan and Josh Archibald worked hard but not much showed up on the score sheet to prove it.
LINE 4 Markus Granlund-Gaetan Haas-Patrick Russell played 7:16, going 8-7 Corsi, 5-2 shots, 0-0 goals and 3-1 HDSC. A good number set.
Markus Granlund scored another big goal. His first 15 games with Edmonton were pedestrian but the veteran has been an enormous help lately. He had three shots and two HDSC. Now three goals in four games. Gaetan Haas had a shot and a dangerous chance, and won five of seven in the circle. Patrick Russell grabbed an assist, and had a shot plus HDSC.
PAIRING ONE Darnell Nurse and Ethan Bear played 18:48, going 22-17 Corsi, 11-10 shots, 0-1 goals and 1-5 HDSC. Duo was stapled to the McDavid line.
Darnell Nurse had a terrific chance to score in overtime via a McDavid feed, had three shots at five on five and worked hard defending. Ethan Bear had three shots and is more dynamic with the puck than his partner. His work in the Arizona zone last night signals a player who can get to clean air on his own with vision and the ability to make defenders miss both him and the puck. He's going to score some gorgeous goals this season.
PAIRING TWO Oscar Klefbom and Caleb Jones played 17:13, going 18-15 Corsi, 9-8 shots, 2-1 goals and 2-2 HDSC.
Oscar Klefbom had a nice assist, three shots and played well. He intercepted a headman pass in OT that would have resulted in a clear breakaway. Caleb Jones defended well and he's jumping into the play more. I don't see how they can send him back.
PAIRING THREE Kris Russell and Adam Larsson played 15:22, going 14-13 Corsi, 5-3 shots, no goals and 4-5 HDSC.
Kris Russell had a takeaway and some poor clearing and he defended most of the time and so did Adam Larsson. Russell was mostly effective in the defensive zone. Neither man is a quality passer, so the pairing is unable to book passage to the offensive zone. Adam Larsson is rock steady on the third pair, a real luxury for coach Dave Tippett he can run the vet here because of two rookies filling more prominent jobs.
GOALIE Mikko Koskinen was the star of the game in my opinion. He made three outstanding saves in the third period to keep Edmonton within a goal. He stopped 26 of 29, .897.
CONDORS 2019-20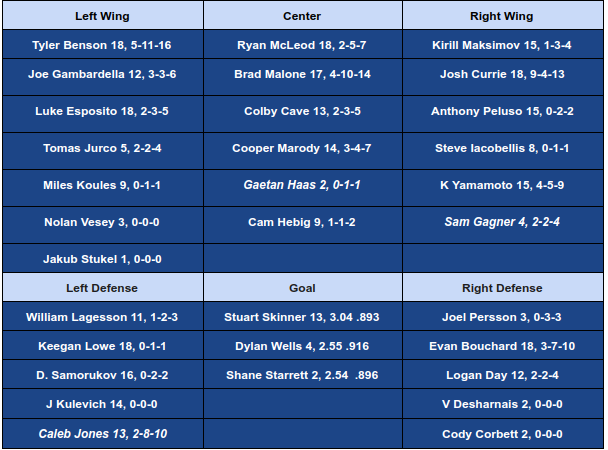 Lines courtesy Wilde, who also confirms the defensive pairings, which I believe have been consistent for a few games now. The RH blue is where a lot of the current offense is coming from, Woodcroft is running two lines of veterans and one line of prospects. Team lacks depth, but Cooper Marody is back and should be in a feature role.
THE ATHLETIC GET TOGETHER
A quick note to thank all who attended the Rec Room event on Saturday. I was pleased to see both genders well represented and had a chance to chat with most of you. My takeaways are that you are very interested in the prospects, in the next Darnell Nurse contract, in the possibility of Taylor Hall's return, the next trade, Dave Tippett's role, Tyler Benson's arrival. I wrote all the points and ideas down and will be writing articles based on your questions and comments in the coming weeks. Thanks for taking the time. I was truly touched by the number of people who took the time to attend and to take part in the discussion.
LOWDOWN WITH LOWETIDE
A busy morning (I'll be on the round table at 9) starts at 10, TSN1260. Dan Ralph from The Canadian Press joins us at 10:20 to talk Grey Cup and Jason Gregor will be my guest at 11 to chat GC and Oilers impressive road trip. 10-1260 text, @Lowetide on twitter. See you on the radio!!