The Edmonton Oilers exorcised a couple of demons in San Jose on Tuesday night. The team held a lead in the third period, something it was unable to do Saturday against the Dallas Stars. At the same time the club answered back a 6-3 loss to the Sharks on November 12. It was a solid effort by Dave Tippett's crew.
THE ATHLETIC!
The Athletic Edmonton features a fabulous cluster of stories (some linked below, some on the site). Great perspective from a ridiculous group of writers and analysts. Proud to be part of The Athletic, less than two coffees a month offer here.
OILERS AFTER 23 GAMES
Oilers in 2015: 7-14-2, 16 points; goal differential -13
Oilers in 2016: 12-9-2, 26 points; goal differential +9
Oilers in 2017: 8-13-2, 18 points; goal differential -16
Oilers in 2018: 10-11-2, 22 points; goal differential -12
Oilers in 2019: 14-6-3, 31 points; goal differential +15
Edmonton is on pace for 111 points the last time and Oilers team delivered that point total it was 1986 and I was wearing dockers and drinking screwdrivers. If the team finished the season at Bettman .500 from here on in (25-25-9) the final record would be 39-31-12, 90 points. This team might be headed for fresh blacktop.
OILERS IN NOVEMBER
Oilers in November 2015: 3-5-1, seven points; goal differential -2
Oilers in November 2016: 2-6-1, five points; goal differential -11
Oilers in November 2017: 4-4-1, nine points; goal differential +3
Oilers in November 2018: 3-6-0, six points; goal differential -7
Oilers in November 2019: 5-2-2, 12 points; goal differential +10
The November fog seems to have lifted, this brilliant nine games is a nice start. I don't expect we'll see the club get close to the the October numbers (9-4-1) but the goal differential (October, +5 and November +10) is damned impressive.
WHAT TO EXPECT IN NOVEMBER
On the road to: PIT (Expected 0-1-0) (Actual 1-0-0)
At home to: ARI, STL, NJD (Expected 2-1-0) (Actual 1-1-1)
On the road to: ANA, SJS (Expected 1-0-1) (Actual 1-1-0)
At home to: COL, DAL (Expected 1-1-0) (Actual 1-0-1)
On the road to: SJS, LAK, VEG, ARI, COL (Expected 2-3-0) (Actual 1-0-0)
At home to: VAN (Expected 1-0-0)
Overall expected result: 7-6-1, 15 points in 14 games
Current results: 5-2-2, 12 points in 9 games
The road trip now looks far more promising, especially if the Oilers can get past the LAK later this week. Honestly, this season has a different feel, even more than the 2016-17 group. Something about repeatable performances. All numbers five-on-five unless noted and via NST.
LINE 1 Leon Draisaitl-Connor McDavid-Zack Kassian played 14:46, going 16-10 Corsi, 8-5 shots, 2-1 goals, 5-2 HDSC.
Leon Draisaitl grabbed a late assist, had two shots and a HDSC, plus drew a penalty. It goes without saying but he could have scored more if not for slightly off timing. Man he's having a year. Connor McDavid had a goal and an assist (plus a PP apple), along with three shots, two HDSC plus a penalty taken and another drawn. Zack Kassian scored an early goal that helped set the tone for the game, had two shots and two HDSC. The line is hammering like Dick Pound at a drug testing convention.
LINE 2 Jujhar Khaira-Nuge-James Neal played 10:39 together, going 9-16 Corsi, 5-11 shots, 0-1 goals and 2-2 HDSC.
Jujhar Khaira scored again and had an impact on the game with strong work along the wall and on the forecheck. Four shots, two HDSC, one takeaway and a half dozen hits. Fine game. Nuge had one shot on goal and didn't get much done offensively, but made several good defensive plays (including a brilliant backcheck that robbed Evander Kane of a one-timer for a sure goal. James Neal scored his 13th goal of the season on the power play, but was quiet at evens. I like the line.
LINE 3 Markus Granlund-Gaetan Haas-Alex Chiasson played 9:27, going 5-9 Corsi, 2-3 shots, 1-0 goals and 1-4 HDSC.
Markus Granlund scored his first goal as an Oiler, had one shot and a takeaway. Gaetan Haas grabbed an assist, a shot, HDSC, got hit four times, lost battles several times and went 1-11 in the dot. Look, I like him too but if you're looking for an area to improve, well, it's at centre. Alex Chiasson didn't get much done but did battle and shot wide a couple of times.
LINE 4 Joakim Nygard-Riley Sheahan-Josh Archibald played 8:58, going 7-6 Corsi, 5-2 shots, no goals and 4-0 HDSC.
Joakim Nygard had one shot, two HDSC, a takeaway and a giveaway. He's fast as lightning. Riley Sheahan had an assist, two shots, two HDSC, plus won 8 of 14 faceoffs on a night when no one else could do a thing. Josh Archibald had three shots, one HDSC, two takeaways. He was noticeable in a good way.
OILERS 2019-20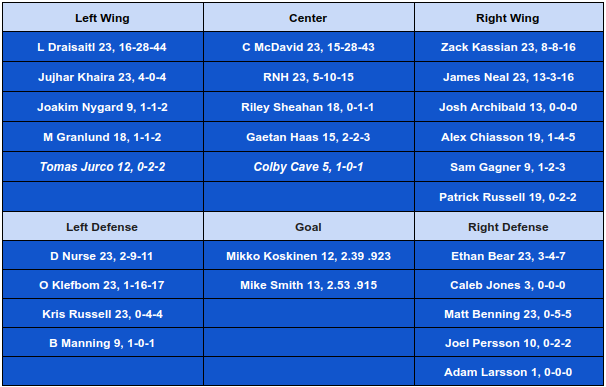 Connor McDavid closed the gap on Leon Draisaitl last night, this must be what it was like when Mickey and Maris were chasing the home run crown in 1961. I kid. Matt Benning was hurt last night, it's uncertain if he will be able to answer the call in Los Angeles. Adam Larsson is close to ready, so that may be the change out. The question I have is this: Does coach Tippett break up Klefbom-Jones? I'm not sure of the way to go.
PAIRING ONE Oscar Klefbom played 13:22 with Caleb Jones, going 8-16 Corsi, 5-8 shots, 1-0 goals, 1-4 HDSC. Pair was 2-4 in offensive-defensive zone faceoffs. Klefbom and Kris Russell played 8:09, going 10-7 Corsi, 6-3 shots, 1-0 goals, 3-2 HDSC and 4-1 offensive zone faceoffs.
Oscar Klefbom had an enormous game. Played 8:24 against Hertl line, 6:27 against Couture line. Had an assist (plus a PP assist), three shots, a giveaway and skated miles. Sharks are a physical team and Klefbom took many hits but performed admirably. Outstanding game. Caleb Jones played a steady game and is establishing himself as an NHL player in real time.
PAIRING TWO Darnell Nurse-Ethan Bear played 17:37, going 22-16 Corsi, 12-7 shots, 2-1 goals, 8-3 HDSC and 6-8 offensive zone faceoffs.
Darnell Nurse had two assists, two shots and played a physical game. Played 6:10 against Hertl's line and 6:01 against Couture's line. Nurse had a good game. Ethan Bear had a giveaway and a takeaway, made one gorgeous deke in the offensive zone and played capably. He's technically a rookie but his audition is over. Bear is bona fide.
PAIRING THREE Kris Russell and Matt Benning played 2:25, going 0-3 Corsi. Benning was injured early in the game and that forced the club into making five add up to six. It worked out well. Benning's health is a big story this morning.
GOALIE Mikko Koskinen stopped 33 of 35, .943. NST notes he stopped all 10 HDSC's and to my eye the big man was outstanding.
JUJHAR KHAIRA
We have seen Mr. Khaira play this well before, then fall into long periods of pedestrian play. I'm a big fan of this player would like to point out that he has nine shots in his last two games, 182 shots in his first 175 NHL games. This man can play a more prominent role, especially if he trusts his shot. Khaira is impossible to deal with when he's aggressively pursuing offense.
LOWDOWN WITH LOWETIDE
At 10 this morning, we hit the air on the Lowdown, TSN1260. At 10:20, a truly rare Edmonton radio happening as Bruce McCurdy from the Cult of Hockey will break down an Oilers win from last night. I called the Mormon Tabernacle Choir in an effort to have them deliver a live version of 'Hallelujah chorus' but they couldn't make it work with their schedule. Either way, a joyous moment on the way. Marshall Ferguson from TSN 1150 Hamilton joins us at 11, we'll talk about Grey Cup and the strong Ti-Cats club heading to Calgary. 10-1260 text, @Lowetide on twitter. See you on the radio!