The double waivers on Saturday morning (Brandon Manning, Markus Granlund) signaled the Oilers were going to shuffle the roster a little after the poor December that will wrap up on Tuesday. The big question: Who is going to fly north?
THE ATHLETIC!
The Athletic Edmonton features a fabulous cluster of stories (some linked below, some on the site). Great perspective from a ridiculous group of writers and analysts. Proud to be part of The Athletic, less than two coffees a month offer here.
OILERS 2019-20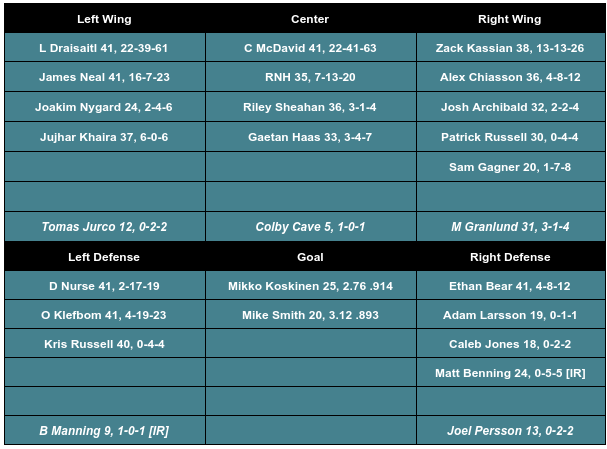 I've been predicting a large number of roster changes this season, the record is 43 and there was a chance this year's club could push for that number. I don't believe it now, because we're halfway through the season and stuck at 27. Two new recalls, if they aren't Cave and Persson, will put the roster at 29. Still a long way to go.
Who should they recall? If I was king of the world, it would be one of Tyler Benson or Kailer Yamamoto up front, and William Lagesson on the back. I would further insert both into the lineup soon, especially the forward. Once again, here are the scoring numbers at five on five from the Oilers forwards this season. I've used NST to find the 372 busiest NHL forwards this year, and ranked the men below in terms of lines. Here we go:
Connor McDavid 2.91 (first line) (681 mins)
Leon Draisaitl 2.80 (first line) (665 mins)
Zack Kassian 2.48 (first line) (581 mins)
Sam Gagner 1.72 (second line) (243 mins)
Ryan Nugent-Hopkins 1.05 (fourth line) (455 mins)
Gaetan Haas 1.00 (fourth line) (298 mins)
Joakim Nygard 0.97 (fourth line) (247 mins)
Jujhar Khaira 0.88 (fourth line) (408 mins)
Markus Granlund 0.82 (fourth line) (292 mins)
Patrick Russell 0.74 (fourth line) (324 mins)
James Neal 0.70 (fourth line) (513 mins)
Alex Chiasson 0.61 (fourth line) (395 mins)
Josh Archibald 0.57 (fourth line) (317 mins)
Riley Sheahan 0.51 (fourth line) (352 mins)
There are over 2,500 minutes devoted to men who are scoring less than 1.00 points per game. Who should they recall? The best offensive option available.
CONDORS 2019-20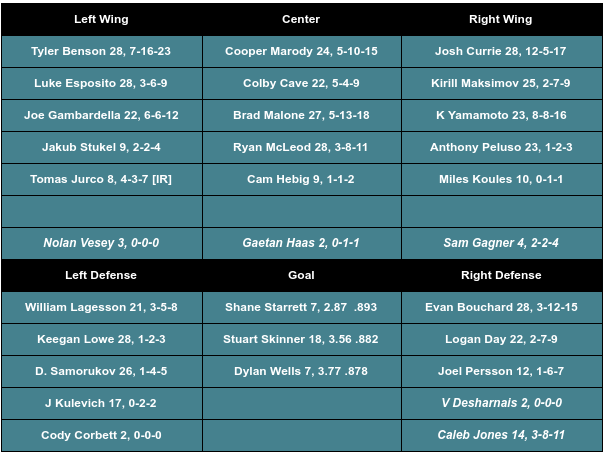 I think Benson is a safer bet and that Yamamoto has a more impressive outer marker. I'd call both men up but the world might burst into flames.
Leon Draisaitl—Connor McDavid—Kailer Yamamoto
Tyler Benson—Ryan Nugent-Hopkins—Zack Kassian
Jujhar Khaira—Riley Sheahan—Josh Archibald
Joakim Nygard—Gaetan Haas—James Neal/Sam Gagner/Alex Chiasson
I know what you're saying, how can I possibly put Neal on the fourth line and run two absolute rookies in the top six. My answer: What are the alternatives? Haas might have earned a shot at the skill lines, but Neal, Chiasson and even Gagner have been inconsistent. These aren't stone cold rookie pros, like Ryan McLeod and Kirill Maksimov. Yamamoto was a first round pick in 2017, both men chosen ahead of him (Robert Thomas and Filip Chytil) are NHL regulars. Benson led his AHL team in points as a rookie and is leading his team again as a sophomore pro.