Bill James once wrote a wonderful piece on the Minnesota Twins during the early years of the WS team's development. It was called "That was One Ugly Baby" and detailed a rotten season played by a plethora of youngsters who would one day bring glory to Minneapolis, led by an unassuming man named Tom Kelly as manager.
Summary: It didn't look too good when those young kids arrived and kicked the ball all over the yard, but just a few years later the organization won it all. The emergence of Frank Viola, Kent Hrbek, Gary Gaetti and Tom Brunansky in 1982 gave the club an enormous lift, later aided by the addition of Kirby Puckett (1984) and some astute trade additions.
Point being it's very difficult to identify the exact moment when a team turns true north. One of the things we can count is prospects who develop into actual NHL players.
THE ATHLETIC!
The Athletic Edmonton features a fabulous cluster of stories (some linked below, some on the site). Great perspective from a ridiculous group of writers and analysts. Proud to be part of The Athletic, less than two coffees a month offer here.
ACTUAL NHL PLAYERS
I do a 'reasonable expectations' series every August-September, it's my best guess about how things are going to go in the coming season. I pegged the Oilers to finish with 88 points, their overall goal differential at 239-250 (it's at 116-128 currently). I had Connor McDavid scoring 48 goals and 116 points, Leon getting 93 points. James Neal? 18 goals.
You know what I didn't have? And this is the part where the 1982 Minnesota Twins come in. I didn't have Ethan Bear scoring 12 points in 41 games, playing like a veteran. That's an important piece to this season's story. If Edmonton can add Bear and a couple of others from the 'not sure' pile, this season will have served a purpose. Now, making the playoffs is cooler, but credit where due the team gave Ethan Bear a chance to emerge and Evan Bouchard a chance to adjust. There's value in these things.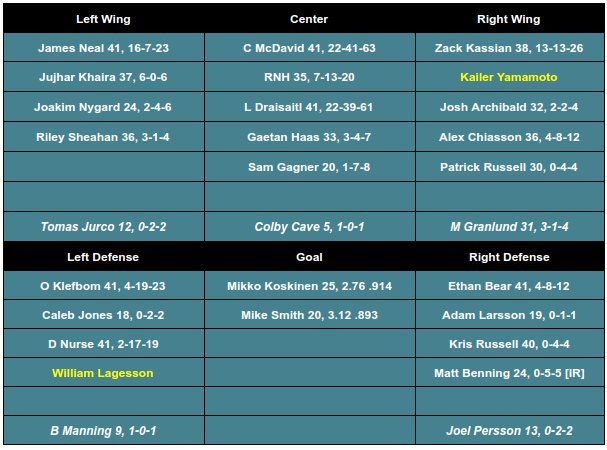 ACTUAL NHL PLAYERS
Back in September, I counted 12 'actual' NHL players. There were: McDavid, Draisaitl, Nuge, Kassian, Neal, Chiasson, Klefbom, Larsson, Nurse, Russell, Benning, Koskinen.
I also counted 12 'solid hopefuls' on my RE roster, players who I projected to play more than 35+ games but had some uncertain elements. They were: Evan Bouchard, Joel Persson, Cooper Marody, Jujhar Khaira, Riley Sheahan, Sam Gagner, Markus Granlund, Gaetan Haas, Josh Archibald, Joakim Nygard, Caleb Jones, Mike Smith.
Finally, there were a group of 10 'distant hopefuls' who I projected to play fewer than 35 games. The names included Tyler Benson, Joe Gambardella, Tomas Jurco, Josh Currie, William Lagesson, Colby Cave, Ethan Bear, Kailer Yamamoto, Patrick Russell and Shane Starrett.
Halfway through the season, the actual NHL players have mostly covered the bet, with injuries and slumps having some impact. The hopeful dozen have been a mixture of handbags and gladrags along the way. The distant hopefuls have gifted the roster Ethan Bear, Patrick Russell and possibly the two Sunday recalls (Yamamoto and Lagesson).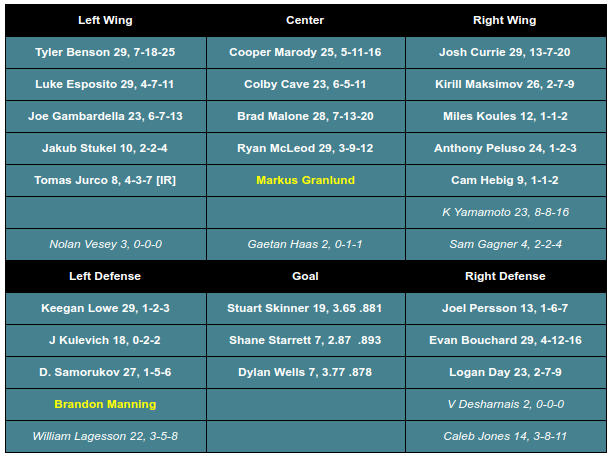 Lines and pairings via Wilde and I thank him. Condors won twice on the weekend and in doing so moved up to No. 5 in the AHL Pacific. The band (Benson-Marody-Currie) is back together, Evan Bouchard is playing better and Stuart Skinner stopped just enough shots two win the day. This team lacks the experience of last year's blue and the steady goaltending of veteran Shane Starrett. I can't wait to see the new lines and pairings with Manning and Granlund in the mix.

This is correct. It's important to remember that Ken Holland has no attachment to any draft pick chosen before Philip Broberg. All of these kids are orphans. What's more, Ken Holland is going to have a different grade on all the prospects. Some of the previous picks he might value more than Peter Chiarelli did, others less so.
I was genuinely surprised by the reaction to the Yamamoto recall. For me, it was basically a coin flip. Benson had the better numbers (my article at The Athletic from yesterday drills down) and the most improvement year over year. That said, Yamamoto's offense has been improving lately (4-3-7 in his last eight games before recall) and he was the most dynamic player in Bakersfield. Benson (0-6-6 in his last three games) has been delivering more often but owns a different skill set. He'll get his turn. For Oilers fans, we're learning what Ken Holland values. The fact it doesn't match your view, or the view of Peter Chiarelli, should come as no surprise.
As for YKOil's idea, makes sense. If Brandon Saad is in play, 'Hawks ask is likely to be young players and there would be a large contract going back (Saad is a $6 million hit). Maybe it's Gagner and some dollars retained, something like that. I think Jones might be a more likely trade acquisition based on Chicago's depth chart but that's a guess.
LOWDOWN WITH LOWETIDE
We're back to shake off the Christmas rust and begin the quick climb to New Year's. There's a good chance we hit the air a little before 10, as the WJ game (Canada versus Germany) probably ends around 9:30. Show officially begins 10 this morning, TSN1260. Chris Meaney from The Athletic will talk NFL at 10:20, Guy Flaming from The Pipeline Show at 10:40 will talk WJ's and Oil Kings. At 11, Jason Gregor talks Oilers, NFL playoffs and World Juniors. 10-1260 text, @Lowetide on twitter. See you on the radio!