The first time Edmonton played the Rangers, the result was 10-2 New York live from Manhattan. John Davidson had an easy night in the Rangers net, stopping 18 of 20. Two Edmonton goalies (Eddie Mio and Dave Dryden) faced 47 shots. Goal scorers for New York included long hairs Ron Duguay, Don Murdoch, Ron Greschner and Pat Hickey, while Al Hamilton scored his first goal as an NHL Oiler in the loss. Oilers fans are hoping for a better result tonight.
THE ATHLETIC!
The Athletic Edmonton features a fabulous cluster of stories (some linked below, some on the site). Great perspective from a ridiculous group of writers and analysts. Proud to be part of The Athletic, less than two coffees a month offer here.
OILERS AFTER 42 GAMES
Oilers in 2015: 17-22-3, 37 points; goal differential -22
Oilers in 2016: 21-14-7, 49 points; goal differential +5
Oilers in 2017: 18-21-3, 39 points; goal differential -21
Oilers in 2018: 20-19-3, 43 points; goal differential -6
Oilers in 2019: 20-17-4, 44 points; goal differential -8
This year's model looks a lot like last year's edition and who wants yesterday's papers? December has knocked the hell out of this team's won-loss record, not a single doubt about it. A win tonight doesn't get the team out of the ditch but it would be a one small step for next year.
OILERS IN DECEMBER
Oilers in December 2015: 6-6-2, 14 points; goal differential -11
Oilers in December 2016: 7-2-5, 19 points; goal differential +2
Oilers in December 2017: 7-5-1, 15 points; goal differential +3
Oilers in December 2018: 6-7-1, 13 points; goal differential -12
Oilers in December 2019: 4-8-1, 9 points; goal differential -14
Yeah.
WHAT TO EXPECT IN DECEMBER
On the road to: VAN (Expected 1-0-0) (Actual 1-0-0)
At home to: OTT, LAK, BUF, CAR (Expected 2-1-1) (Actual 1-2-1)
On the road to: MIN (Expected 1-0-0) (Actual 0-1-0)
At home to: TOR (Expected 0-1-0) (Actual 0-1-0)
On the road to: DAL, STL (Expected 0-2-0) (Actual 1-1-0)
At home to: PIT, MTL (Expected 1-1-0) (Actual 1-1-0)
On the road to: VAN (Expected 0-0-1) (Actual 0-1-0)
At home to: CAL, NYR (Expected 1-1-0) (Actual 0-1-0)
Overall expected result: 6-6-2, 14 points in 14 games
Current results: 4-8-1, 9 points in 13 games
After living through this month, 11 points in 14 games would smell like victory. Seriously. Reminds me of that CSN song "time we have wasted on the way" and January is going to need some winning streaks if deadline buying is in the plans.
OILERS 2019-20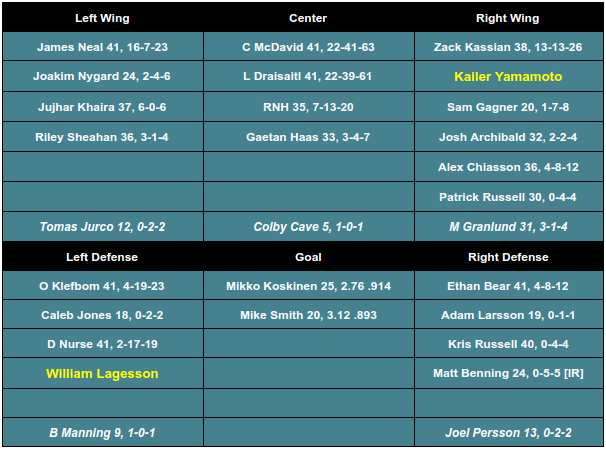 Yamamoto has played 59 minutes in the NHL with Draisaitl, the results (1-5 goals, 31 percent expected goals) are poor but that's a small sample size. I've always been a fan of Yamamoto (ranked him No. 11 for the 2017 draft on my final list) but am more concerned about injury. His wrist issue started as a small item and lingered throughout the year. He didn't dominate offensively in the AHL, in fact his career points per game at that level (.68) trails Tyler Benson's (.92) by some margin.
But his junior resume was stronger (1.27 for Yamamoto, 0.97 for Benson) and he is a more dynamic player. Edmonton has a need for speed. I think Yamamoto can help, if he can stay healthy. The answer unfolds starting tonight.
CONDORS 2019-20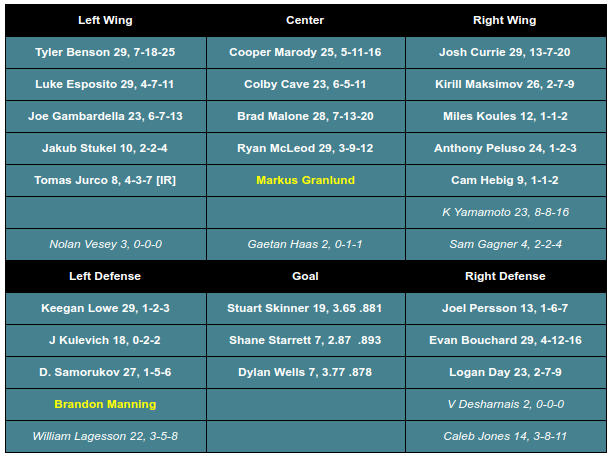 At 6pm Edmonton time, the Condors will play Ontario Reign. It'll be a chance for Jay Woodcroft and staff to deploy Markus Granlund and Brandon Manning. The Benson-Marody-Currie line is back with a vengeance and the defensive pairings are likely to drive everyone crazy. At this point my only real concern on blue is making sure Bouchard and Samorukov have veteran partners. Manning-Bouchard, Samorukov-Day? We wait.
WORLD JUNIORS
Philip Broberg scored his first goal of the World Juniors today, a dandy wrist shot with evil intent that found twine against the Slovaks. He's averaging 18 minutes a night, playing a lot of PK and has played well to my eye. Beautiful skater.
Raphael Lavoie has an assist so far at the WJ's, he is averaging 13:56 per game. That's No. 8 among forwards by my math, which means he's moved up a line based on the original depth chart. Five shots a little disappointing, he hasn't unleashed anything frightening yet.
Matej Blumel has a goal and is averaging 15:31 so far in the tournament. I think he's a long shot for the NHL but he has offensive talent.