Each January 1 on this blog, I write a post with the same title. Often the verbal is decidedly downbeat. Here's a passage from last year: "Peter Chiarelli trying to fix the holes with a mountain of silicone sealants and a glue gun, while Ken Hitchcock is trying to get his three dressed up to look like nine. Six losses in a row. The call is coming from inside the house." You know, fun stuff.
Last night had everything: A blowout through most of two periods, absolute panic in the last 21 minutes, an injury to Oscar Klefbom and some good work by Kailer Yamamoto with the game on the line. The game was entertaining while also being life threatening. If you have high blood pressure, I hope you PVR'd the third period. Holy crap!
THE ATHLETIC!
The Athletic Edmonton features a fabulous cluster of stories (some linked below, some on the site). Great perspective from a ridiculous group of writers and analysts. Proud to be part of The Athletic, less than two coffees a month offer here.
OILERS AFTER 42 GAMES
Oilers in 2015: 17-22-3, 37 points; goal differential -22
Oilers in 2016: 21-14-7, 49 points; goal differential +5
Oilers in 2017: 18-21-3, 39 points; goal differential -21
Oilers in 2018: 20-19-3, 43 points; goal differential -6
Oilers in 2019: 21-17-4, 46 points; goal differential -7
This year's team isn't quite last year and is a little shy (especially in goal differential) of the playoff team. Cam Talbot had a .919 SP after 34 games on New Year's Day 2017, Mikko Koskinen has a .912 SP after 25 games this morning. Maybe that's the difference.
OILERS IN DECEMBER
Oilers in December 2015: 6-6-2, 14 points; goal differential -11
Oilers in December 2016: 7-2-5, 19 points; goal differential +2
Oilers in December 2017: 7-5-1, 15 points; goal differential +3
Oilers in December 2018: 6-7-1, 13 points; goal differential -12
Oilers in December 2019: 5-8-1, 11 points; goal differential -12
Oilers were -12 goal differential in 14 games, that's always going to be a tough month unless it's 1985. Speaking of, Edmonton hasn't won a NYE game since 1985.
WHAT TO EXPECT IN DECEMBER
On the road to: VAN (Expected 1-0-0) (Actual 1-0-0)
At home to: OTT, LAK, BUF, CAR (Expected 2-1-1) (Actual 1-2-1)
On the road to: MIN (Expected 1-0-0) (Actual 0-1-0)
At home to: TOR (Expected 0-1-0) (Actual 0-1-0)
On the road to: DAL, STL (Expected 0-2-0) (Actual 1-1-0)
At home to: PIT, MTL (Expected 1-1-0) (Actual 1-1-0)
On the road to: VAN (Expected 0-0-1) (Actual 0-1-0)
At home to: CAL, NYR (Expected 1-1-0) (Actual 1-1-0)
Overall expected result: 6-6-2, 14 points in 14 games
Current results: 5-8-1, 11 points in 14 games
After all that, the club comes within three points of my prediction. Honestly. It was a painful month. I would like it to be followed by 'Winning Month' please and thanks. Light a candle for Klefbom, all numbers NST and five on five unless noted.
OILERS 2019-20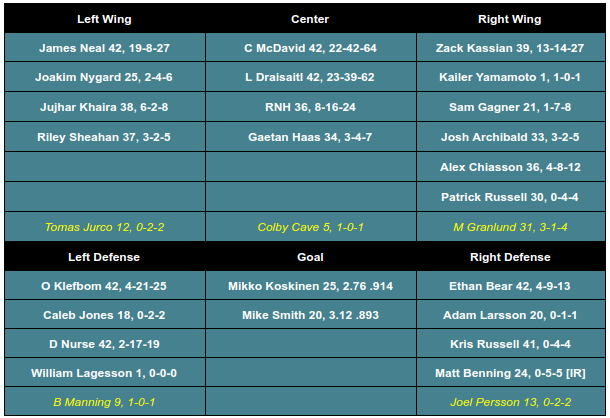 LINE 1 James Neal-Connor McDavid-Zack Kassian played 12:07, going 13-12 Corsi, 8-6 shots, 1-0 goals and 2-1 HDSC.
James Neal scored three goals, two on the power play plus an assist with the man advantage. Man he has quick hands. Strong game. Send the damned pick to Calgary, this thing is over. Connor McDavid had two shots, won nine of 20 in the dot and had a PP assist. He was brilliant, but on a night when the pucks weren't going in (gorgeous setup for Nurse). Zack Kassian's sweet pass to Neal got Edmonton off and running. Four shots, HDSC and a takeaway. Played well. That pass to Neal is what Kassian is going now consistently and it's going to get him paid.
LINE 2 Jujhar Khaira-Ryan Nugent-Hopkins-Sam Gagner played 10:01, going 9-14 Corsi, 6-6 shots, 1-2 goals, 3-5 HDSC and 1-6 offensive-defensive zone starts.
Jujhar Khaira had an assist, shot, HDSC, three giveaways plus another even strength assist. Nuge had a great game, despite winning just two of 10 on the dot. He scored a goal, had two HDSC, all three of his assists came on the power play. Like McDavid, he was setting up linemates who didn't cash. Sam Gagner had three shots, three takeaways and sat in the penalty box for a minor penalty. He was also dreadful in coverage.
LINE 3 Joakim Nygard-Leon Draisaitl-Josh Archibald played 8:48, going 7-14 Corsi, 3-6 shots, 0-1 goals and 0-2 HDSC.
Joakim Nygard had a takeaway and drew a penalty, his speed was useful at both ends of the ice. Leon Draisaitl had two giveaways and two takeaways, going 6-6 in the faceoff circle. His goal came on the power play. Josh Archibald had a goal, two shots and like Nygard his speed was useful all over the ice.
LINE 4 Riley Sheahan-Gaetan Haas-Kailer Yamamoto played 6:46, going 5-8 Corsi, 2-3 shots, 1-0 goals and 0-1 HDSC. Interesting this line had no offensive zone faceoffs and three in the defensive zone. Tippett said Yamamoto is a "tenacious player with good hands" and that's a great description.
Riley Sheahan had an assist and 1:15 on the penalty kill, he played a rambunctious game. Gaetan Haas had a shot on goal and was in the photo a lot. Kailer Yamamoto had a strong debut, two shots (both solid looks), a takeaway and some physical play. Scored the seventh goal when New York pulled their goalie, made the entire play. He intercepted a pass, made a fine outlet pass to Khaira, received it, ignored the thrown stick (which made it an automatic goal no matter the actual result) and ended New York.
PAIRING ONE Oscar Klefbom and Ethan Bear played 11:36, going 10-13 Corsi, 6-5 shots, 2-0 goals, 2-4 HDSC.
Oscar Klefbom had a strong game until the injury, Hail Mary full of grace. Klefbom had an assist, plus a power play assist, three shots with the man advantage. Three giveaways five on five. Ethan Bear had an assist, a shot, four giveaways and a takeaway. Blocked six shots. Passed like a God.
PAIRING TWO Darnell Nurse and Kris Russell played 11:04, going 10-17 Corsi, 6-8 shots, 1-1 goals and 1-1 HDSC. Pairing had one offensive and six defensive zone starts.
Darnell Nurse had one shot, a giveaway and four blocked shots. He also hit the post with an absolute cannon of a shot. Kris Russell drew a penalty and had a giveaway.
PAIRING THREE William Lagesson and Adam Larsson played 9:04, 8-15 Corsi, 4-7 shots, 0-1 goals and 0-3 HDSC. Pairing had three offensive and five defensive faceoffs.
William Lagesson had one shot and two giveaways, he looked mostly under control during the game. Adam Larsson defended a lot, had one giveaway.
GOALIE Mikko Koskinen stopped 27 of 32, .844. I'm not going to blame him for the five goals against, they were brilliant shots or tipped and often involved defensive breakdowns in front of him. Maybe you'd like his glove to be outside the goal when he catches it, but the key item was Gagner not contesting the cross-ice bullet. I'll be interested to read your thoughts on Koskinen's performance.
Goals Against
On the Kreider goal, three on two against Nurse and Larsson. Kassian first forward back and he's working hard but won't get there. Skjei (I think it was Skjei) bulls Larsson, Nurse goes inside to block a free lane to Panarin, and Panarin sends a great pass to Kreider who cashes. Nurse stayed in the middle to cover Panarin, counting on Kassian to thwart the pass. High skill Rangers. My take is Nurse had to suppress the pass across, even though it might mean Panarin one on one with the goalie. Your mileage may vary.
On the Strome goal, Panarin gains the zone far left side. He stops up and uses the downtown traffic (Strome with his mark 89 coming in together) to gain separation from Kris Russell (Sam Gagner getting in the way). Panarin pass to Fox, almost intercepted by Nuge, Fox to Strome and bang it's in. Who had Strome? I'd say Gagner but he never actually had Strome.
The Marc Staal goal begins with the big defenseman carrying the puck through the neutral zone. Drop pass to Panarin, far left at the blue line again. Oilers are four back and in good shape. Staal drives to the net, both men on the pairing back in (Russell, Larsson). Sam Gagner with the soft coverage, doesn't prevent pass to slot, where Staal, Larsson and Russell have all congregated. Shot from Strome tipped by Staal.
The Panarin goal starts with an alley oop to the neutral zone, Adam Larsson throws it but it lands in Hades (at Panarin's feet). Man that guy is good. Panarin enters the zone going the speed of light, with William Lagesson and Larsson obeying the speed limit and skating backwards. Lagesson does a good job of keeping Panarin to the outside (his shot comes from the right side dot) but it's a perfect shot and that's all she wrote.
The Zibanejad goal starts with Adam Fox at the LW position in the Oilers zone. Pass back to Tony DeAngelo, back to Fox, through Sam Gagner (who had lost his stick) and Zibanejad rifles a shot that Koskinen stops, but only after it enters the net. Lordy.
CONDORS 2019-20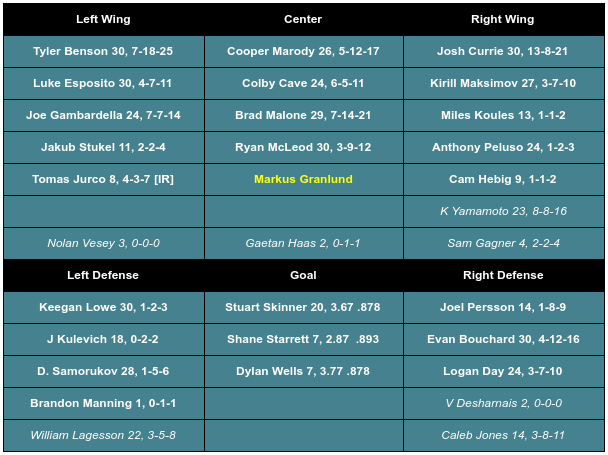 Condors lost in overtime, it was an interesting game with several notable items. Evan Bouchard had six shots on goal, Markus Granlund did not play. Kirill Maksimov scored again, he is now 2-2-4 in four games. I swear to you it's an annual happening: Prospects muddle through until Christmas and then take off after December 25. It's been happening in the AHL forever.