Ryan Nugent-Hopkins is starting to post crooked numbers in five on five scoring. Oilers badly need him to deliver at career average levels. Despite being a No. 1 overall selection, posting crooked numbers in the discipline has never been his jam.
He has never posted 2.00 per 60 scoring at five on five in any season, but his average, and playing against great players mind, is 1.65 per 60. This season, he's at 1.16/60 and that's after scoring two goals in the last three games. Edmonton needs you, Ryan Nugent-Hopkins.
THE ATHLETIC!
The Athletic Edmonton features a fabulous cluster of stories (some linked below, some on the site). Great perspective from a ridiculous group of writers and analysts. Proud to be part of The Athletic, less than two coffees a month offer here.
OILERS AFTER 43 GAMES
Oilers in 2015-16: 17-23-3, 37 points; goal differential -23
Oilers in 2016-17: 21-15-7, 49 points; goal differential +3
Oilers in 2017-18: 18-22-3, 39 points; goal differential -24
Oilers in 2018-19: 20-20-3, 43 points; goal differential -11
Oilers in 2019-20: 21-17-4, 46 points; goal differential -7
A win tonight and the Oilers will touch greatness, or, well, the best team of the McDavid era. Still worried about the goal differential but the standings points can't be taken away. Entering tonight, Edmonton is on a pace that would land them 90 points. That isn't going to be enough to make a typical postseason.
OILERS IN JANUARY
Oilers in January 2016: 1-0-0, two points; goal differential 0
Oilers in January 2017: 0-1-0, no points; goal differential -2
Oilers in January 2018: 0-1-0, no points; goal differential -5
Oilers in January 2019: 1-0-0, two points; goal differential +1
Oilers in January 2020: TBD
WHAT TO EXPECT IN JANUARY
On the road to: BUF, BOS, TOR, MTL, CAL (Expected 2-2-1) (Actual 0-0-0)
At home to: NAS, ARI, CAL, STL (Expected 1-2-1)
Overall expected result: 3-4-2, eight points in nine games
Current results: 0-0-0
I see possible points in Buffalo, Montreal and Calgary on the road (Oilers play well there) and believe the team will show well against everyone but St. Louis at home.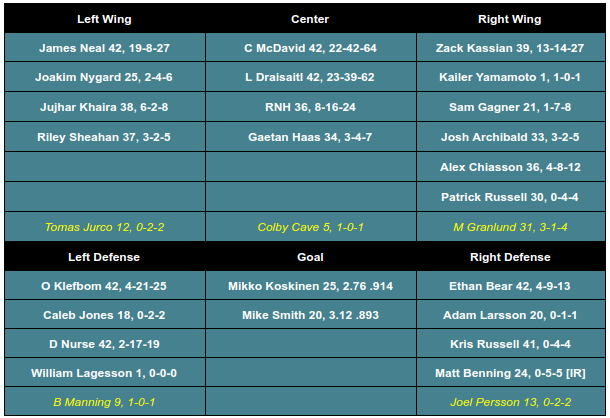 ROOKIE BLUE
I've been thinking lately about the Oilers' rookies this season. They are all defensemen, and we might be looking at an impressive one-position crop. Ethan Bear, Caleb Jones and Joel Persson have all played some, William Lagesson has now played an NHL game and at some point Evan Bouchard may also get into some games this year. That's a large group for one season.
It got me thinking about single seasons and one position impact. Here are some that I noticed from Oilers history:
1980-81: Wingers Jari Kurri and Glenn Anderson; Defensemen Paul Coffey and Charlie Huddy.
1981-82: Goalies Grant Fuhr and Andy Moog both qualified under NHL rules.
1995-96: Wingers Miro Satan and Ryan Smyth.
2010-11: Wingers Jordan Eberle and Taylor Hall
Maybe we'll have a group of defensemen from 2019-20 join this group in the years ahead.
OSCAR
No word on Klefbom as I write this, Jonathan Willis is in Buffalo for The Athletic so follow him on twitter for updates. Huge possible impact on the January games. Even contemplating the pairings (Nurse-Bear, Jones-Larsson, Russell-Benning?) is a frightening idea. He is one of three blue who have played over 200 minutes against elites at five on five this season, according to Puck IQ.
LOWDOWN WITH LOWETIDE
We are back, starting at 10, TSN1260. Lots of World Juniors and Oilers talk, with Bruce McCurdy (10:20) from the Cult of Hockey and Frank Seravalli (11am) from TSN chiming in. Your comments welcome at 10-1260 text, @Lowetide on twitter. Talk soon!