The Edmonton Oilers lost a winnable game on the road last night, I think it was a weak PS call but those are the breaks. Frustrating? Yes. Disaster? Hardly. It's important to remember that the Oilers, while trying to make the playoffs, are also building the future. Kailer Yamamoto's two games this season are a welcome reminder of just how important staying the course is for an organization running out of balance and at the top of the cap.
I know you want a trade for immediate help but four months of a UFA is empty calories. The club is adding important pieces. Ethan Bear. Caleb Jones. Kailer Yamamoto. William Lagesson. That's the way you do it.
We're into 2020 now, and the club is in a position where the out of town scoreboard is important. Edmonton was not blessed by it last night.
THE ATHLETIC!
The Athletic Edmonton features a fabulous cluster of stories (some linked below, some on the site). Great perspective from a ridiculous group of writers and analysts. Proud to be part of The Athletic, less than two coffees a month offer here.
OILERS AFTER 43 GAMES
Oilers in 2015-16: 17-23-3, 37 points; goal differential -23
Oilers in 2016-17: 21-15-7, 49 points; goal differential +3
Oilers in 2017-18: 18-22-3, 39 points; goal differential -24
Oilers in 2018-19: 20-20-3, 43 points; goal differential -11
Oilers in 2019-20: 21-17-5, 47 points; goal differential -7
I have to say this team's ability to hang around with the 2016 team this late in the season is impressive. Now, they're down 10 in the goal differential, but 21 wins and 47 points is a solid total. Edmonton is on track for 90 points. I picked them to post 88. The Oilers are in the playoffs this morning and incredibly lead the Flames in goal differential. This is not a strong division.
OILERS IN JANUARY
Oilers in January 2016: 1-0-0, two points; goal differential 0
Oilers in January 2017: 0-1-0, no points; goal differential -2
Oilers in January 2018: 0-1-0, no points; goal differential -5
Oilers in January 2019: 1-0-0, two points; goal differential +1
Oilers in January 2020: 0-0-1, one point; goal differential -1
WHAT TO EXPECT IN JANUARY
On the road to: BUF, BOS, TOR, MTL, CAL (Expected 2-2-1) (Actual 0-0-1)
At home to: NAS, ARI, CAL, STL (Expected 1-2-1)
Overall expected result: 3-4-2, eight points in nine games
Current results: 0-0-1, one point in one game
Boston on Saturday has to be an assumed loss, it would be incredible to grab a point there. Toronto is also damn near impossible if they're firing on all cylinders and they are doing just that right now. Montreal and Calgary are the other chances to grab points on the trip.
OILERS 2019-20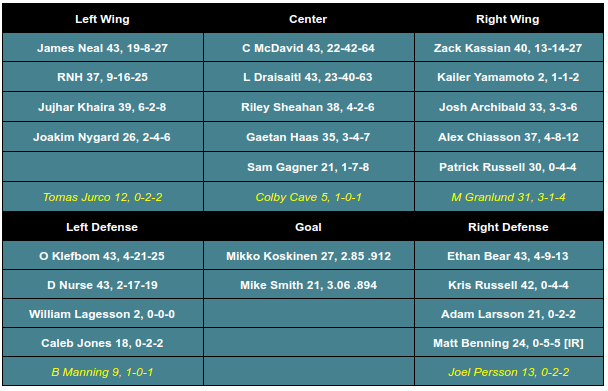 That second line had some jump early, seemed to fade a little as time went on. Lots of frustration from the team last night based on the sound bites, that's good. Now to channel all that energy into grabbing some road points this month. All numbers five on five unless noted, and everything comes from NST.
LINE 1 James Neal-Connor McDavid-Zack Kassian played 15:39, going 11-13 Corsi, 9-7 shots, no goals and 3-3 HDSC.
James Neal had two shots on goal and hit a lot but didn't look as dangerous as the NYR game. Made some nice passes though, hope they give him time to get settled on the big line. Connor McDavid had four shots, three HDSC and won eight of 15 in the dot while drawing a penalty. Quality as always, no goals. Zack Kassian had a HDSC and took a penalty, more good passing. He is a better play now than he's ever been and it isn't close.
LINE 2 Ryan Nugent Hopkins-Leon Draisaitl-Kailer Yamamoto played 13:40, going 13-5 Corsi, 8-2 shots, 1-0 goals and 2-0 HDSC.
Ryan Nugent-Hopkins scored a nice goal, played well and made smart plays with the puck. Leon Draisaitl had a good game, including an assist, a giveaway, two takeaways and he won 12 of 15 faceoffs. Had a brief wobble in OT that led to the PS. He had a couple of rocket shots too, but didn't score. Kailer Yamamoto had an assist, two shots and both were HDSC. He should have been in Edmonton sooner, makes his line better.
LINE 3 Jujhar Khaira-Riley Sheahan-Josh Archibald played 7:58, going 5-7 Corsi, 2-6 shots, 1-2 goals, 2-4 HDSC.
Jujhar Khaira was quiet, seemed lost at times (like on the Lazar goal). Riley Sheahan scored and won five of seven on the dot. He is playing well, as well as he has at any time for the Oilers. Josh Archibald let his mark get inside position on the first goal against, but also had an assist.
LINE 4 Joakim Nygard-Gaetan Haas-Alex Chiasson played 6:52, going 4-0 Corsi, 4-0 shots no goals and 2-0 HDSC.
Joakim Nygard had two HDSC, his foot speed creates an urgency everywhere. Gaetan Haas didn't get much in the way of chances but worked hard and skated miles. Alex Chiasson worked hard but is in one of those funks where he looks like he'll never score again.
PAIRING ONE Oscar Klefbom and Ethan Bear played 20:16, going 13-10 Corsi, 8-5 shots, 1-0 goals and 4-2 HDSC. Spent 12:06 with McDavid, this is easily the best pairing for the top line.
Oscar Klefbom had three shots, one takeaway and several good moments in coverage. Moves the puck so well. He was out in overtime and part of the exchange that led to the PS. I think Oscar's injury has made his footspeed average. I don't know if they should run him in OT. Ethan Bear had two shots, several good outlet passes and some good decisions. He has such good touch on his passes. Battled hard down low in the defensive zone, he's winning more of those battles.
PAIRING TWO Darnell Nurse and Kris Russell played 20:04, going 10-17 Corsi, 7-10 shots, 0-1 goals and 3-3 HDSC. Pairing struggled mostly due to making poor passing decisions (both turned simple neutral zone five foot passes into jailbreaks the other way) and Nurse stepped away from Sam Reinhart in the slot in the seconds before his fine tipped goal.
Darnell Nurse had one takeaway and several moments when he was nonchalant with the puck. He did pause several times to settle down the play, Oilers blue haven't been doing that lately. Kris Russell had two shots, two blocked shots and worked hard to get between the puck and his own net. Better outlet passes would save him hours of work every night.
PAIRING THREE William Lagesson and Adam Larsson played 9:21, going 7-7 Corsi, 4-5 shots, 1-1 goals, 2-4 HDSC.
William Lagesson had a blocked shot and appears to be settling in. Made a nice little play in the neutral zone in the first period with danger all around. He just needs to play. I don't know how they're going to find room for Bear, Jones and Lagesson in the final 38 games. Adam Larsson got an assist, shot, he made it to the far side of the net to foil Johansson but didn't get support and Lazar put the puck in the net.
GOALIE Mike Smith stopped 23 of 26, .885. The Lazar goal could have been aided by a goalie who was quicker laterally, but the Reinhart and Eichel tallies weren't on the netminder.
THE OT PLAY
Play starts behind the Buffalo net, Oscar Klefbom steps left, Jack Eichel gets a step going up the left side. As Klefbom hits the neutral zone in pursuit, Leon Draisaitl arrives but does not interrupt Eichel's path to the net in any way. At this point, Klefbom is in trail position and is forced to slash and hammer. I don't think it was a PS, but they don't ask me in these situations. Blame? I'm inclined to wonder about Oscar in OT (foot speed), and you could blame Leon for not slowing progress. It's also true that Jack Eichel made a nice play.
THE FUTURE
I'm looking for roster additions who project as solutions to problems over the next several years. Some of them have to be inexpensive. Kailer Yamamoto's cap hit will be $894,166 next season, the good things he is doing in the NHL now are heartening for 2020-21. Evan Bouchard, Tyler Benson and others are percolating on the farm, perhaps they'll contribute later this year.
The more I think about it, the more I would like to see a "Patrick Maroon" style trade. Grab a player who is underperforming and under contract. Acquire him at a good price. I like that better than chasing Toffoli because it helps (potentially) now and later.
Did you see Connor McDavid's frustrated postgame? Many, if not most, Oilers fans want the GM to make a trade right now to help this 2019-20 club. I think the smarter play is to look for a player who is possibly on the outs with his current team. Someone like Sam Bennett.
LOWDOWN WITH LOWETIDE
Friday edition of the show kickstarts the weekend! We get rolling at 10, Steve Lansky from BigMouthSports will talk Oilers and tell us the biggest sports story (for him) of 2019. We're fluid on the other guest, likely NFL and possibly Julian Edlow from Draft Kings. We'll chat WJ's and more, 10-1260 text and @Lowetide on twitter. Talk soon!