The Oilers reach Tabernac Saturday (afternoon edition) in Boston today, and the script written involves a rocking good time for the home side. Edmonton hasn't played a complete 60 minutes in weeks, the Bruins are locked, loaded and angry from a series of recent overtime misfortunes. If I'm rating this movie, it's a horror, not suitable for children. Or the aged.
THE ATHLETIC!
The Athletic Edmonton features a fabulous cluster of stories (some linked below, some on the site). Great perspective from a ridiculous group of writers and analysts. Proud to be part of The Athletic, less than two coffees a month offer here.
OILERS AFTER 44 GAMES
Oilers in 2015: 17-23-4, 38 points; goal differential -24
Oilers in 2016: 22-15-7, 51 points; goal differential +4
Oilers in 2017: 18-23-3, 39 points; goal differential -25
Oilers in 2018: 21-20-3, 45 points; goal differential -11
Oilers in 2019-20: 21-17-5, 47 points; goal differential -7
If this game ends in a loss, this year's Oilers will have quite a bit in common with last year's team. Of course, last year's team finished 14-18-6 to finish 35-38-9, 79 points. I think Edmonton will push close to 90 points this time. Edmonton is 16-17-5 since the five game streak to open the season. If the club repeats that run to end the year, the final point total will be 85.
OILERS IN JANUARY
Oilers in January 2016: 2-0-0, four points; goal differential +1
Oilers in January 2017: 1-1-0, two points; goal differential -1
Oilers in January 2018: 1-1-0, two points; goal differential -4
Oilers in January 2019: 1-1-0, two points; goal differential -3
Oilers in January 2020: 0-0-1, one point; goal differential -1
WHAT TO EXPECT FROM JANUARY
On the road to: BUF, BOS, TOR, MTL, CAL (Expected 2-2-1) (Actual 0-0-1)
At home to: NAS, ARI, CAL, STL (Expected 1-2-1)
Overall expected result: 3-4-2, eight points in nine games
Current results: 0-0-1, one point in one game
I have today as a loss. What you're looking for today is a strong performance, perhaps the goalie stealing a point, or the power play going off and allowing the road team to earn overtime.
OILERS 2019-20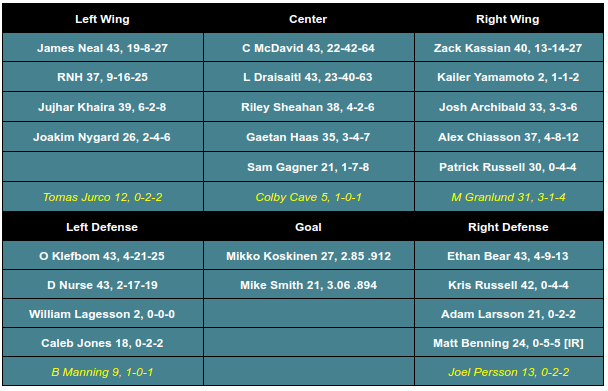 I'm excited to see that second line again, especially Yamamoto working the corners against Chara. He's small and quick, Z might not see him.
The Oilers are far from a complete team, but it's encouraging to look at this depth chart and see the placement of Bear, Lagesson, Jones and Yamamoto. One hopes we see Tyler Benson soon. The future isn't Tyler Toffoli, the future is Ryan McLeod.
CONDORS 2019-20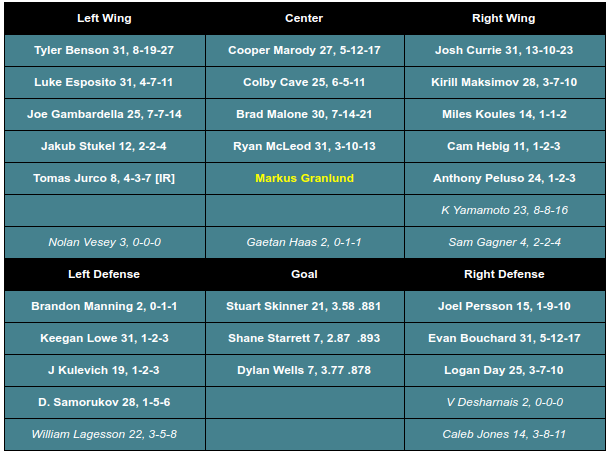 Tyler Benson had a goal and an assist last night as the Condors continued a nice little run. Josh Currie had a pair of assists, Evan Bouchard scored and Stuart Skinner stopped 29 of 31, .935. Jay Woodcroft and staff seem to have figured some things out, suspect Brandon Manning has been a useful addition.
One final item on Bakersfield (who play again tonight): Jay Woodcroft has been on the job for less than two seasons, and several prospects have popped under his watch. Always credit the prospect for most of the work, but when the parade over 18 months is Ethan Bear, Patrick Russell, Caleb Jones, Kailer Yamamoto and William Lagesson, that's a lot. Shame the Oilers only gave Jesse Puljujarvi four games with Woodcroft and company. Second half recalls might include Tyler Benson, Evan Bouchard and Josh Currie. Thanks to Wilde for clarity on lines and pairings and his comments in yesterday's thread are valuable insight.