There are sporting moments that rise above the normal and emerge, immediately, as something else again. Yesterday in Boston, the Oilers took advantage of a wayward Bruins team that looked more Pit Martin than Phil Esposito. Mike Smith, whose photo is in the dictionary under 'maligned' had a great game. Darnell Nurse, whose next contract is the subject of great derision, played his best game of the year. Leon Draisaitl had a terrific game, he was on the edge and at times beyond it. As a Bruins fans since the 1960's, I can tell you many Boston citizens left that rink yesterday imagining the big man in a Bruins uniform. Connor McDavid? Immortal as always.
THE ATHLETIC!
The Athletic Edmonton features a fabulous cluster of stories (some linked below, some on the site). Great perspective from a ridiculous group of writers and analysts. Proud to be part of The Athletic, less than two coffees a month offer here.
OILERS AFTER 44 GAMES
Oilers in 2015: 17-23-4, 38 points; goal differential -24
Oilers in 2016: 22-15-7, 51 points; goal differential +4
Oilers in 2017: 18-23-3, 39 points; goal differential -25
Oilers in 2018: 21-20-3, 45 points; goal differential -11
Oilers in 2019-20: 22-17-5, 49 points; goal differential -5
That handsome victory yesterday gives the season record a little extra shine. This year's Oilers have victories over Washington, Boston, Vegas, NY Islanders and Colorado. I'd say yesterday's win might have been the most satisfying, especially considering what the team went through in December. Oilers are on pace for 91 points.
OILERS IN JANUARY
Oilers in January 2016: 2-0-0, four points; goal differential +1
Oilers in January 2017: 1-1-0, two points; goal differential -1
Oilers in January 2018: 1-1-0, two points; goal differential -4
Oilers in January 2019: 1-1-0, two points; goal differential -3
Oilers in January 2020: 1-0-1, three points; goal differential +1
All of a sudden this year's team loves January after a difficult win against a monumental foe. Somehow Toronto, Montreal and Calgary don't seem as difficult. We'll see how that works out. TML are on a run.
WHAT TO EXPECT FROM JANUARY
On the road to: BUF, BOS, TOR, MTL, CAL (Expected 2-2-1) (Actual 1-0-1)
At home to: NAS, ARI, CAL, STL (Expected 1-2-1)
Overall expected result: 3-4-2, eight points in nine games
Current results: 1-0-1, three points in two games
I had this game as a loss, the Buffalo (and Montreal) game as a win. Toronto will be tough. Once back in the west, Edmonton will want to exact some kind of revenge for that Saturday disaster after Christmas.
OILERS 2019-20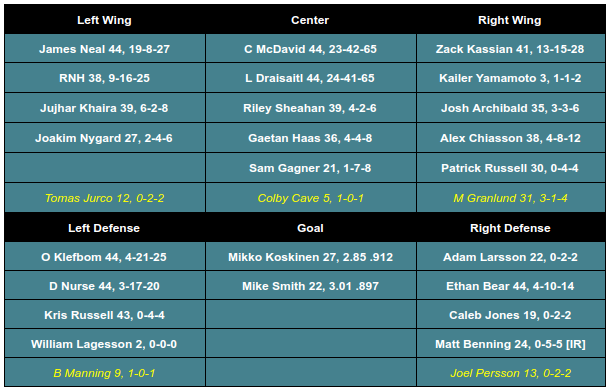 Oilers have benefited from former Condors like Bear, Russell, Jones, Yamamoto and Lagesson, one wonders if and when we'll see the next man (likely Benson). One thing is clear: Edmonton enters deadline discussions with all of Bear, Jones and Lagesson on the roster and just months from being waiver eligible. Something's gotta give. All numbers five on five unless noted, and via NST.
LINE 1 James Neal-Connor McDavid-Zack Kassian played 12:00, going 17-9 Corsi, 9-7 shots, 1-0 goals and 2-1 HDSC. McDavid 5:57, 7-2 Corsi and no goals against Patrice Bergeron.
James Neal had a good look, two takeaways and was close to making some connections. Connor McDavid scored a breathtaking goal, he is so fast! Four shots, HDSC, 1-2 takeaway-giveaway and he was a going concern all night. Zack Kassian made a lovely blind pass to send 97 away, he's got real talent and is going to get paid.
LINE 2 Nuge-Leon Draisaitl-Kailer Yamamoto played 13:15, going 13-21 Corsi, 6-10 shots, 1-0 goals and 2-1 HDSC. Draisaitl 5:06 against Bergeron (7-10 Corsi, 1-0 goals).
RNH was quiet offensively after a nice run in the last four games. He's a fine two-way forward and that's part of the reason why this makeshift line is having success. Leon Draisaitl was dirt mean, that's a compliment. He played with an edge, had an assist (and an ENG), a giveaway, took a penalty and won 17 of 25 faceoffs. Kailer Yamamoto had some looks, two HDSC, a giveaway and a takeaway and made smart plays all over the ice. He belongs.
LINE 3 Joakim Nygard-Gaetan Haas-Alex Chiasson played 6:39, going 4-5 Corsi, 2-1 shots, 1-0 goals, 2-1 HDSC.
Joakim Nygard had an early breakaway and missed the net, causing a large donation to the LT swear jar. He also had a takeaway and drew a penalty. Gaetan Haas scored a goal, absolute giveaway by Jake DeBrusk who is in a bit of a funk. He also drew a penalty. Alex Chiasson had a HDSC and a good look on the PP but was mostly quiet again.
LINE 4 Jujhar Khaira-Riley Sheahan-Josh Archibald played 6:34, going 5-4 Corsi, 2-3 shots, no goals and 0-1 HDSC.
Jujhar Khaira had two shots and a blocked shot, he looked more confident than in recent games but the results were shy. Riley Sheahan had a shot on goal and won six of seven on the dot. Josh Archibald missed an empty net late, he and Sheahan were on for the PP GA but not much they could do (tipped off Russell). Line had a solid game.
PAIRING ONE Darnell Nurse and Ethan Bear played 16:49, going 16-16 Corsi, 8-9 shots, 1-0 goals and 3-1 HDSC, 4-6 offensive-defensive zone faceoffs. Played 6:54 against Bergeron, 8-7 Corsi, 1-0 goals.
Darnell Nurse had a fine game, even without the goal (GWG). Three shots, good coverage, recognition. I ran the tape back again and didn't see much that would raise an eyebrow, the Bruins coaxed Nurse into a pass from deep in his one zone (bank play) and somehow managed to stop it, but Nurse recovered and helped suppress. He was excellent. Ethan Bear passed well, only a couple of errant ones. Took a penalty, had a takeaway and an assist. He had some wobble around Christmas but has settled in again. A fine, fine rookie.
PAIRING TWO Oscar Klefbom and Adam Larsson played 17:16, going 18-15 Corsi, 10-8 shots, 1-0 goals and 2-3 HDSC. Played 6:36, 5-10 Corsi, 2-5 shots and no goals against Patrice Bergeron.
Oscar Klefbom had two shots, one HDSC, a giveaway and blocked some more shots. He's an insane value contract. He has the complete range of skills, so can pass, carry, skate well and defend. It's my belief he's best with the other veteran Swede alongside. Adam Larsson had three shots, rushed the puck exactly the same way Bob Baun used to, and calmed the waters. A bruiser of a shutdown blue. I love when they put the band back together.
PAIRING THREE Kris Russell and Caleb Jones played 7:12, going 3-10 Corsi, 1-4 shots, no goals and 0-1 HDSC.
Kris Russell had two shots, took three hits including a shot from behind courtesy Brad Marchand that should have been a penalty. He played almost 12 minutes, including time on the PK. Tipped Pastrnak's shot. Caleb Jones played eight minutes total, and along with William Lagesson's small TOI total recently I wonder if the Oilers are getting close to bringing in Matt Benning from the injured list.
GOALIE Mike Smith was brilliant, easily his best performance since October. Stopped 35 of 36, .972.
CONDORS 2019-20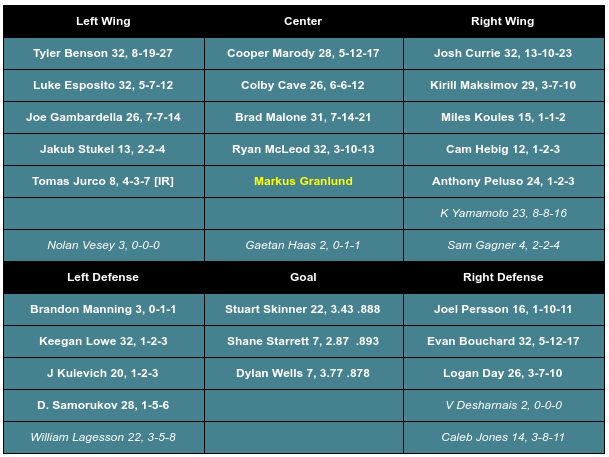 I'm going to be writing about him later today for The Athletic, but one of the major recent spikes in Bakersfield is Stuart Skinner. In his last five games, he is 4-0-1, 2.95 and .911 save percentage. Outstanding turnaround and perhaps confirmation the Oilers did in fact have it right when running Skinner over Wells early in the season. By the way, Brandon Manning has made a world of difference based on my spy reports from Bakersfield.