The Toronto Maple Leafs are a little like the "Air Coryell" San Diego Chargers: High octane both ways. The Edmonton Oilers enter Don Mills with a pretty good game, some structure and a few hands they can rely on. It's going to be a major test, just like Saturday afternoon. Tabernac Monday?
THE ATHLETIC!
The Athletic Edmonton features a fabulous cluster of stories (some linked below, some on the site). Great perspective from a ridiculous group of writers and analysts. Proud to be part of The Athletic, less than two coffees a month offer here.
OILERS AFTER 45 GAMES
Oilers in 2015-16: 17-23-5, 39 points; goal differential -24
Oilers in 2016-17: 23-15-7, 53 points; goal differential +4
Oilers in 2017-18: 19-23-3, 41 points; goal differential -26
Oilers in 2018-19: 21-21-3, 45 points; goal differential -12
Oilers in 2019-20: 22-17-5, 49 points; goal differential -5
The current Oilers have a chance to clear 50 points tonight, and continue cleaning up that goal differential. As we continue toward March, the 2016-17 team is going to get so far ahead we'll lose sight of their taillights. A win tonight and both teams are at the same intersection.
OILERS IN JANUARY
Oilers in January 2016: 2-1-0, four points; goal differential 0
Oilers in January 2017: 2-1-0, four points; goal differential 0
Oilers in January 2018: 1-2-0, two points; goal differential -8
Oilers in January 2019: 2-1-0, two points; goal differential +1
Oilers in January 2020: 1-0-1, three points; goal differential +1
The bonus double u in Boston gives us a chance to dream a little about the possibilities this month. Another October (or mini-October) would basically guarantee a playoff berth. Too much to dream.
WHAT TO EXPECT IN JANUARY
On the road to: BUF, BOS, TOR, MTL, CAL (Expected 2-2-1) (Actual 1-0-1)
At home to: NAS, ARI, CAL, STL (Expected 1-2-1)
Overall expected result: 3-4-2, eight points in nine games
Current results: 1-0-1, three points in two games
I have tonight as a loss, but the game against the Bruins featured a tight team (in a good way) with more than one option for any challenge. No idea if we'll see them again, but the Maple Leafs have holes and if this group can offer something close to balance, well, I'm getting ahead of myself.
OILERS 2019-20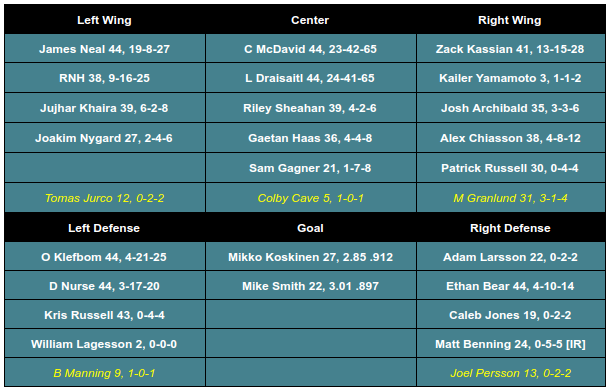 Puck IQ suggests Dave Tippett will be running the McDavid and Draisaitl lines against Toronto's elites, with Klefbom-Larsson and Nurse-Bear getting the heart of the order from the defensive side. Patrick Russell hasn't played since the Calgary game just after Christmas. I think we're heading for a transaction.
MAPLE LEAFS 2019-20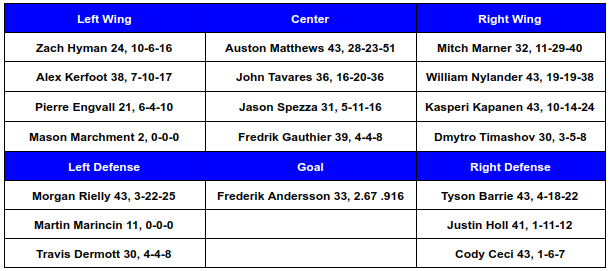 Puck IQ suggests the Rielly and Marincin pairings will see the tougher chores, but Ceci has faced tough competition (Dermott not much). I think Rielly and Barrie are absolute dynamite, great players. Coaching changes mean shuffle and I expect Marincin is getting a slight push. Thrilled, gotta say. Up front, Tavares and Matthews lines get the hose from the forward group.
GRANDMA
My Grandma was a Maple Leafs fan. She would yell at the goalies (famously Gary Smith, later famously Mike Palmateer) to get back in their nets. She was a fan, which is to say I didn't notice any give in her devotion between 1967 (SC winners) and after the trade of Palmateer (in 1980).
In many ways, she's responsible for me remembering all these Maple Leafs stories, like their young defensemen (she used to gauge them based on the Tim Horton-Allan Stanley-Bob Baun blue and they all got stern lectures) and the two brave young Swedes (Borje Salming, Inge Hammarstrom) who overcame bias, bigotry and in the case of Hammarstrom his own team owner.
THE 2014 DRAFT
I always wait five years for a draft to call it, although it is often decided long before. The 2012 draft was basically a fail the second time Dallas Eakins healthy scratched Nail Yakupov. The 2015 draft is in its final year but is already a smashing success. There are exceptions, though. If William Lagesson emerges as a legit NHL player, he should help the 2014 draft over the finish line. Leon Draisaitl alone might cover the bet (his next goal will be No. 150) but a 500-game career from Lagesson would put it to rest. The young Swede made his NHL debut in draft +6, so the five-year rule does have exceptions. I'm starting work on my 2020 draft coverage today, you should see a top 30 later this week.
That's a long time, to be honest, luck is such a big damned factor one would think there's a win on the other end this streak. Maybe Taylor Hall will watch tonight's game, see the Oilers win, and decide in his mind to join the band on July 1. Then again, maybe Nik Khabibulin is thinking the same thing.