Even though I know he's fast as lighting, even though I know he can do the impossible, that play Connor McDavid made against the ghost of Morgan Rielly last night was beyond the rings of Saturn. In your life have you see a play that good? The man is beyond real. I don't recall a more beautiful goal in my lifetime.
THE ATHLETIC!
The Athletic Edmonton features a fabulous cluster of stories (some linked below, some on the site). Great perspective from a ridiculous group of writers and analysts. Proud to be part of The Athletic, less than two coffees a month offer here.
OILERS AFTER 45 GAMES
Oilers in 2015-16: 17-23-5, 39 points; goal differential -24
Oilers in 2016-17: 23-15-7, 53 points; goal differential +4
Oilers in 2017-18: 19-23-3, 41 points; goal differential -26
Oilers in 2018-19: 21-21-3, 45 points; goal differential -12
Oilers in 2019-20: 23-17-5, 51 points; goal differential -3
The 51 points in 45 games projects to 93 points and that my friends is probably enough to make the playoffs. As well, the goal differential has clearance from 2015-16, 2017-18 and even 2018-19. Good news.
OILERS IN JANUARY
Oilers in January 2016: 2-1-0, four points; goal differential 0
Oilers in January 2017: 2-1-0, four points; goal differential 0
Oilers in January 2018: 1-2-0, two points; goal differential -8
Oilers in January 2019: 2-1-0, two points; goal differential +1
Oilers in January 2020: 2-0-1, five points; goal differential +3
This is a strong start to a month that had land mines planted all over hell's half acre. Wow. Wins in Boston and Toronto. I'm beyond impressed with coach Tippett, his team and how well they've played in January. James Mirtle mentioned on twitter that the Leafs missed Nazem Kadri and that's absolutely true.
It's also certain that Ken Holland's plan to employ "professionals" instead of unready high draft picks has closed the gap a little in terms of competitiveness in the depth roles. Edmonton can compete because of hard work on the PK and forecheck from some of the sixes and sevens on this team. That was evident last night. Still, there's room for improvement: At five on five last night, McDavid on ice (17-6 shots) and McDavid off ice (12-20) remains a very large gap.
WHAT TO EXPECT IN JANUARY
On the road to: BUF, BOS, TOR, MTL, CAL (Expected 2-2-1) (Actual 2-0-1)
At home to: NAS, ARI, CAL, STL (Expected 1-2-1)
Overall expected result: 3-4-2, eight points in nine games
Current results: 2-0-1, five points in three games
I projected eight points for the month! There are five games left. Edmonton has let slide a singleton all month, that to Buffalo. Amazing.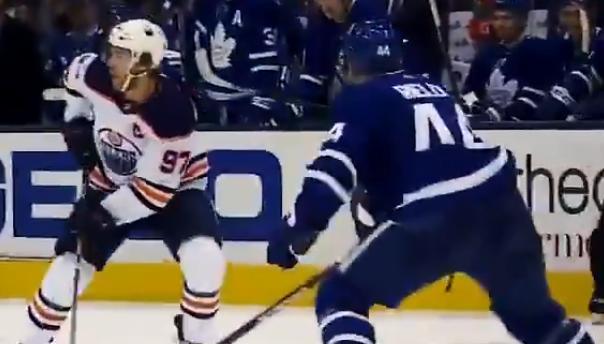 OILERS 2019-20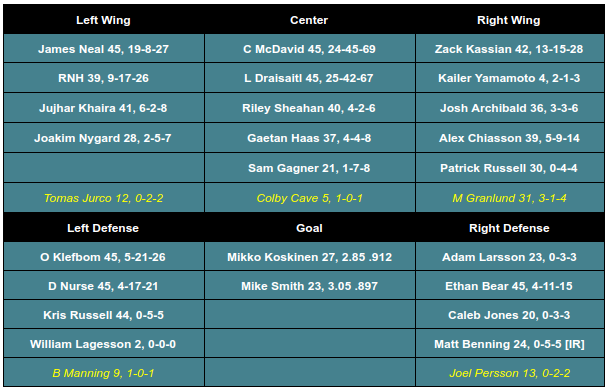 McDavid had five HDSC's of his own across all disciplines and fed Neal several times for brilliant chances. All numbers five on five unless noted and via NST.
LINE 1 James Neal-Connor McDavid-Zack Kassian played 13:43, going 14-9 Corsi, 10-4 shots, 1-0 goals, 3-1 HDSC. Goal of the year? I think it was more than that, to be honest.
James Neal had multiple chances to score goal No. 20, four shots and two HDSC. Also had 10 hits and left TML parts everywhere. Connor McDavid had a night to remember, two assists, six shots, three HDSC at five on five. Overall, 1-3-4, eight shots, five HDSC, drew a penalty. Incredible. Zack Kassian was his usual rambunctious (early hit on Tavares) game but was not involved much offensively.
LINE 2 Ryan Nugent Hopkins-Leon Draisaitl-Kailer Yamamoto played 10:43, going 10-19 Corsi, 4-10 shots, 1-0 goals and 1-4 HDSC.
Nuge had a shot and a giveaway, plus an even strength assist. He skated miles, retrieved a lot of pucks and was effective in the neutral zone. Leon Draisaitl scored a hammer goal on the power play, had an assist and went 6 for 12 in the dot five on five. Kailer Yamamoto scored a fine goal, drew a penalty and took another. He's a pain in the ass on the forecheck, love that kind of hockey. Tsetse fly. That's a compliment.
LINE 3 Jujhar Khaira-Riley Sheahan-Josh Archibald played 6:51, going 5-6 Corsi, 4-3 shots, 0-2 goals and 2-1 HDSC. That's a weird linescore.
Jujhar Khaira had a shot (HDSC), took a penalty, played a physical game and was not strong at evens. Slow to react on the first goal, he's flagging badly. Riley Sheahan had a takeaway, won five of nine faceoffs and forechecked hard. He was involved in all kinds of board battles. Josh Archibald had a marvelous chance but struck iron point blank.
LINE 4 Joakim Nygard-Gaetan Haas-Alex Chiasson played 3:55, going 4-5 Corsi, 3-4 shots, 1-1 goals, 2-2 HDSC.
Joakim Nygard had an assist and skated miles. Very good at interrupting sorties in the offensive end. Nice little pass to Chiasson just before the goal. His point totals have him at about 21 over a full 82 games. Is that enough? Don't know. Gaetan Haas had three shots and three HDSC, plus a takeaway. Swiss army knife in human form. He had a point blank chance in the first after (I think) Travis Dermott took a puck to the face. Alex Chiasson scored a helluva goal turned out to be a big one, too. Also had a PP assist. His digging on the PP is noticeable.
PAIRING ONE Darnell Nurse and Ethan Bear played 16:38, going 19-8 Corsi, 12-6 shots, 1-1 goals, 4-1 HDSC, 14-3 offensive-defensive faceoffs. Spent 8:57 with McDavid, 8:15 against Tavares (7-2 shots, 1-0 goals).
Darnell Nurse scored a pretty goal from a 97 feed, had two shots, a giveaway and a blocked shot. He is playing his best hockey of the season right now. Ethan Bear had an assist, three shots and a HDSC. Drew a penalty. Unlucky on the Engvall goal, he took care of the stick and the damn thing went in off Engvall's gigantic feet.
PAIRING TWO Oscar Klefbom and Adam Larsson played 13:13, going 15-20 Corsi, 9-14 shots, 1-1 goals, 3-6 HDSC and 4-5 offensive-defensive faceoffs.
Oscar Klefbom scored the first goal of the game, three shots and had a solid game with the puck. Pinched on the Gauthier goal and was caught chasing. Adam Larsson had an assist, giveaway, hit a few TML. He is a quality shutdown blue.
PAIRING THREE Kris Russell and Caleb Jones played 7:42, going 8-10 Corsi, 5-4 shots, 2-1 goals, 3-4 HDSC.
Kris Russell had an assist, covered well and defends too much because his outlet passes are rushed. It didn't used to be that way, but it is today. Caleb Jones set up Kailer Yamamoto on a fine play. He also took a penalty for puck over glass, unlucky because he was being hooked at the time. A veteran gets that call.
GOALIE Mike Smith was splendid in the first and early second, helped backstop Edmonton to a 3-0 lead early in the second. His work during the five-on-three was also vital to victory. Stopped 32 of 36, .889.
A SPECIAL NIGHT FOR MCDAVID
I always lose count, but my memory says a hat trick for McDavid wouldn't have been a surprise, Neal could have easily cashed a couple, Nuge was dished a gorgeous McDavid pass that didn't cash. So, he had four points but if his mates had a little better luck, maybe six or seven? One day 97 will post a big number in Toronto. I'll bet he never scores a more memorable goal in his hometown. Magic. No idea why the hockey Gods decided to gift our town with this player, only grateful they made that call.