Ethan Bear. Patrick Russell. Sam Gagner. Caleb Jones. Kailer Yamamoto. William Lagesson. In the 40 years of the Edmonton Oilers as an NHL franchise, finding solutions to real problems inside the high skill positions from the farm is a fairly rare item. Condors recalls have played in 169 games this season (Bear and Russell made the big club out of camp so I'm cheating a little). The kicker? There's more to come.
THE ATHLETIC!
The Athletic Edmonton features a fabulous cluster of stories (some linked below, some on the site). Great perspective from a ridiculous group of writers and analysts. Proud to be part of The Athletic, less than two coffees a month offer here.
CONDORS 2019-20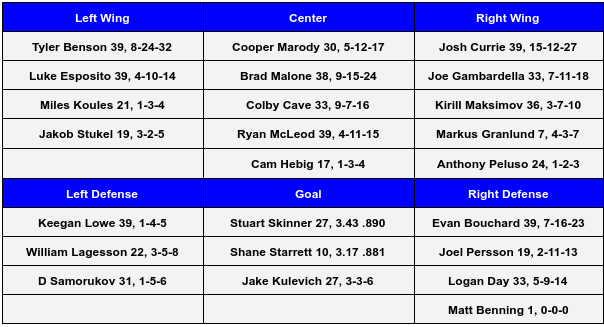 Brandon Manning has been suspended and the club ran multiple lines in the last game because they dressed eight blue, so it's anyone's guess what we'll see tonight.
Manning broke AHL rule 23.9, for use of a racial slur against an opponent. On MLK day.
Stuart Skinner is having an interesting January. In seven games, he's 3-3-0 (the team is 0-2-1 without him) with a goals against average of 2.81 and a save percentage of .918. I don't know that he's winning an NHL job, but he sure looks like the best option.
Evan Bouchard is running strong now, in 12 games since Christmas he is 7-6 in even strength goal differential, 28 shots, four goals and four assists. Edmonton may not make room for him until the summer, so we may not see him this season in Edmonton.
Tyler Benson might be playing his final AHL games this week. I don't think that's likely, but it's possible. One thing the organization may be looking for this year is a spike in goals. Benson's shot rate in his final junior season (27 goals on 232 shots in 58 games) was four per game, with a shooting percentage of 11.6. In the AHL as a rookie in 2018-19, he had 173 shots in 68 games as a rookie (2.54 per game) with an 8.7 shooting percentage. This season, he has 90 shots in 39 games (2.31 per game) and a 8.9 shooting percentage.
If Benson is recalled, and has enough success to stay (my reasonable expectations had him playing 34 NHL games this season, scoring five goals and seven assists), that might change the deadline shopping list.
The discerning Condors/Oilers fan will now be wondering about next season. With Bear, Jones, Yamamoto, Lagesson and Benson gone, who is going to step up? Among the blue, I think Bouchard will probably be in the NHL next season. So the prospect defensemen in Bakersfield will be Dmitri Samorukov, Logan Day, Filip Berglund and possibly Philip Broberg. Maybe you'll see Markus Niemelainen or Philip Kemp as well.
Forwards? Raphael Lavoie will turn pro and is likely to earn a feature role ala Benson as a rookie. Expect increased role in the AHL for both Kirill Maksimov and Ostap Safin, with Ryan McLeod becoming a more prominent player as well. I'd also bet on some college and CHL free-agent signings this spring.
I'm honestly not sure where to start with this story. There are so many angles to it. First, no one in the local or national media got the story, over 290 days and nights. That meant a large number of people who are close to Connor McDavid didn't say a word about it to anyone outside the internal group. That is rare.
People will jump on the media for not getting this story early, and I get that, but let's remember we're dealing with some kind of Superman here. Based on Ryan Rishaug's words above, and what we already know, McDavid had to make a quick decision about the rest of his life, bet on healing, worked like dammit to get it done and arrived in time to make opening night and oh by the way lead the league in scoring! Holy hell! For me, that's the story. McDavid recovered quickly enough to camouflage the extent of the injury. I have 1/100 of the contacts that someone like Rishaug would have and I asked, believe me. Not a word. At some level, I'm impressed by the loyalty. In today's world, it's unique. On another level, what are they going to call the Super Hero movie they make about McDavid?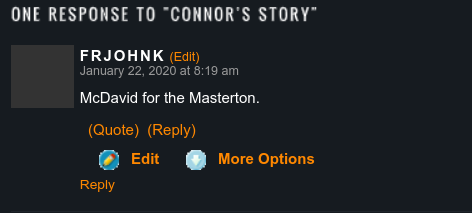 LARRY WALKER
The baseball hall of fame means a lot, mostly because it's so damned difficult to get in. Larry Walker's induction into the Hall will represent 'some sweet day' for a lot of people.
The one guy I had hoped would live to see the day, aside from Walker, is Jim Fanning. I've been damned hard on Fanning over many years, his taking over the Expos in 1981 (from Dick Williams) was ill-advised in my opinion.
However, it was Fanning who said that if he could ever find a Canadian boy who could flourish for the Expos, he'd had accomplished a goal that began with Montreal's expansion. He was saying that around the time color commentator Duke Snider was saying the Expos needed a lefty bat with "hair on his ass" who could hit in the heart of the order.
Larry Walker was all of those things and he made it to the hall despite losing a year to injury in winter ball. The first MLB game I saw from him, he walked three times and hit a double. Buck Rodgers had him sixth in the order.
I'm pleased as punch Larry Walker made it. Music!
LOWDOWN WITH LOWETIDE
On the show today, at 10 this morning, TSN1260: We'll talk McDavid, Walker and Manning with Bruce McCurdy from the Cult of Hockey at the Edmonton Journal. We'll also chat with Jeff Krushell about Walker and MLB's winter, plus Joe Osborne from OddsShark pops in with NFL news and Super Bowl prop bets to make your mind buzz. 10-1260 text, @Lowetide on twitter. Talk soon!