Math and 'saw him good' are both screaming like Janis Joplin onstage in Monterrey: Evan Bouchard is ready, almost ready, or damned near almost ready. So put the veggies in the mirco and set the table, because it's close.
THE ATHLETIC!
The Athletic Edmonton features a fabulous cluster of stories (some linked below, some on the site). Great perspective from a ridiculous group of writers and analysts. Proud to be part of The Athletic, less than two coffees a month offer here.
OILERS 2019-20 BLUE
These are five on five numbers via NST. I've written two articles at The Athletic recently that pertain to our conversation today, here and here. The first informs us that Evan Bouchard is even strength goal differential 11-8 since Christmas, after going 21-31 leading up to the holidays. The second one discusses the idea of dealing one of Larsson or Russell.
NHLE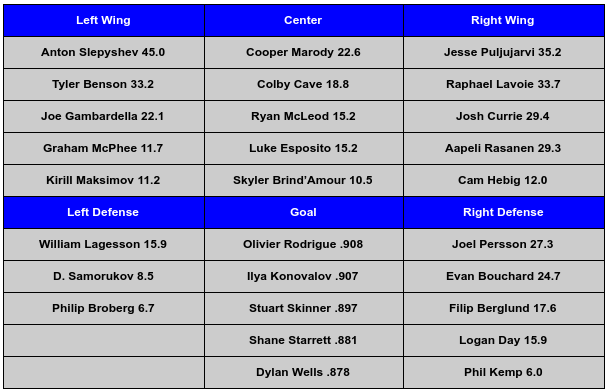 This could become pertinent if the Oilers recall Tyler Benson in the next few days. Players like Slepyshev, Gambardella and Currie have played several minor league seasons, so they're not really comparable (imo) to someone like Benson or Puljujarvi. If you're a forward, in entry deal and posting 30+ NHLE, that's a nice neighbourhood.
On defense, there are two true offensive drivers in Joel Persson and Evan Bouchard. Persson, like Slepyshev, is an older player so his totals have to be viewed through a different lens than someone like Bouchard.
PROJECTED 50-MAN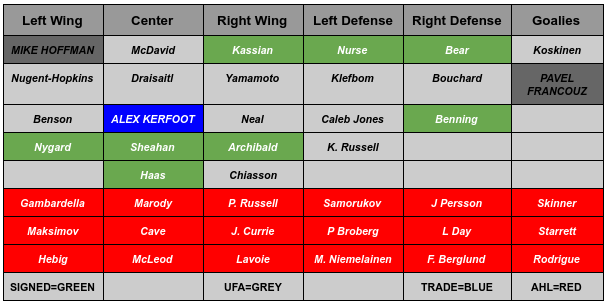 I do think Ken Holland will make more than one big move this summer, my model above sees him sign two free agents and trade for a third-line center. I'm not certain on the money, maybe the team buys someone out, but the trade saves Edmonton a little more than $500,000. I used Hoffman instead of Hall because I don't want you to use that as the conversation piece. I would prefer Hall, but they're both excellent options. It's like choosing stereo speakers at International Stereo in 1975: You're walking out with something really good.
LOWDOWN WITH LOWETIDE
A busy show starts at 10, TSN1260. Jonathan Willis from The Athletic talks All-Star weekend and Connor McDavid's awards collection increasing this summer. Andrew Peard will pop in at 11 to talk Oil Kings and the growing draft buzz around Jake Neighbours. I also have an 11:25 guest who didn't confirm but may show up anyway, I hope he does because his is a fascinating story. 10-1260 text, @Lowetide on twitter. See you on the radio!