And we're back. When we last left this year's story, the entire Pacific Division was in a tie with 33 games to go. As soon as three teams gain clearance, they fall back and three more emerge. It's a pennant race filled with conflict, like a gorgeous melody married to cynical and angry lyrics. The Oilers are in a good spot, have a good coach, are saying the right things and boast the best player in the game, plus a guy who is among the best players in the game. Wins. Strong performances McDavid OFF. Tonight's the night.
THE ATHLETIC!
The Athletic Edmonton features a fabulous cluster of stories (some linked below, some on the site). Great perspective from a ridiculous group of writers and analysts. Proud to be part of The Athletic, less than two coffees a month offer here.
OILERS AFTER 50 GAMES
Oilers in 2015-16: 19-26-5, 43 points; goal differential -26
Oilers in 2016-17: 27-15-8, 62 points; goal differential +15
Oilers in 2017-18: 22-24-4, 48 points; goal differential -30
Oilers in 2018-19: 23-24-3, 49 points; goal differential -13
Oilers in 2019-20: 26-18-5, 57 points; goal differential +1
As we glance again at these numbers it's clear the current edition is neither a lock for the 103-point season of 2016-17, nor the 70, 78 and 79-point seasons of the three non-playoff teams. Currently on pace for 95 points, this group has a real chance.
ON THE TENS
First 10 games: 7-2-1
Second 10 games: 5-4-1
Third 10 games: 5-4-1
Fourth 10 games: 3-6-1
Current 10 games: 6-2-1
Edmonton has had only one poor 10-game stanza this season, with an equally (actually better) brilliant run to begin the season. Tonight we see if the current group can match that impressive start to the year.
OILERS IN JANUARY
Oilers in January 2016: 4-2-2, 10 points; goal differential 0
Oilers in January 2017: 5-3-0, 10 points; goal differential 0
Oilers in January 2018: 4-4-0, eight points; goal differential -8
Oilers in January 2019: 5-3-0, 10 points; goal differential 0
Oilers in January 2020: 5-1-1, 11 points; goal differential +7
No matter what happens tonight, the 2020 group has posted the best record in January. There's a tightness and urgency to this group. The 2019-20 Oilers don't win every game and don't pass every test, but it's clear coach Dave Tippett and general manager Ken Holland are building something here.
WHAT TO EXPECT IN JANUARY
On the road to: BUF, BOS, TOR, MTL, CAL (Expected 2-2-1) (Actual 3-1-1)
At home to: NAS, ARI, CAL, STL (Expected 1-2-1) (2-0-0)
Overall expected result: 3-4-2, eight points in nine games
Current results: 5-1-1, 11 points in seven games
Two games left in this month and the team has already put the boots to my projections. I counted the two games this week as the toughest in the home stand. A win tonight would be massive.
OILERS 2019-20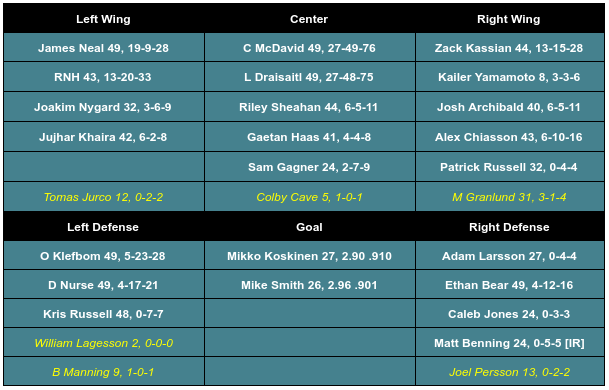 There was some thought (me, others) that Tyler Benson might be here by now, it looks like we'll see the group who delivered all those January wins stay together. William Lagesson to Bakersfield, Matt Benning back up to the Oilers was the big transaction over the All-Star break.
This is (I believe) the fourth edition for me, always a blast and a great interaction. I make sure to get around to everyone and we'll answer ALL questions. If I don't have the answer, I'll get it for you. We also look for feedback, so don't be shy and The Rec Room is an excellent spot for these events. It's free but you have to click on the link to register so they can get a head count. I hope you can join us!
TERRY HARPER
I was thrilled to interview Terry Harper on the Lowdown yesterday, made my day and probably this one, too. Although he played for the Montreal Canadiens, I loved his shutdown style and all-out effort. Harper was a fine backwards skater, and his long reach allowed him to knock the puck off the stick of oncoming rushers. Always enjoyed that type of player, Harper was a fine one. I've been blessed with many great interviews over these years, from Fernando Pisani to Grant Fuhr, from Reggie Leach to Darryl Sittler to Damon Allen. Harper ranks right up there. Enjoyed it thoroughly.
CALGARY FLAMES 2019-20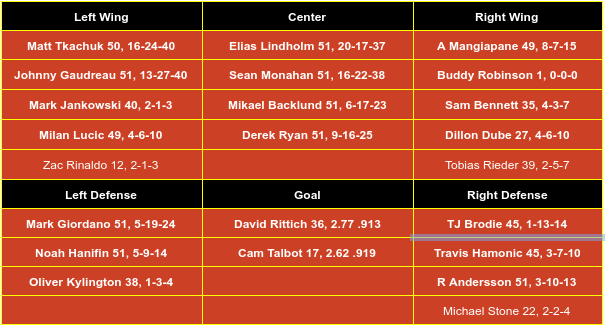 I think the Flames are trying to spread out the scoring, and applaud the movement of Mangiapane while being confused about the usage of Ryan and Dube. There was much line juggling last night by the Flames, my guess is we see the same tonight. Flames came out flying last night and played a hard, physical game. Oilers can win this game, but must start on time.
LOWDOWN WITH LOWETIDE
Oilers are back in action and that will be the main topic today, along with #BellLetsTalk. We start at 10 and fill the airwaves with many words, most intentional. Bruce McCurdy from the Cult of Hockey at the Edmonton Journal is first up, we'll chat about tonight's game at 10:20. Keegan Matheson from MLB.com gives us a Jays update as well as an inspiring story about the week he spent in Blackfalds and why it's pertinent today. Joe Osborne from OddsShark will answer myriad questions about Super Bowl prop bets, it's absolutely insane. 10-1260 text @Lowetide on twitter. Talk soon!