Luck. It's a thing. The Edmonton Oilers had murderous luck in the shootout last night and lost to the Calgary Flames. It was a far better effort than the previous game between the two clubs at Rogers this season, and that Bettman is a counter for sure. It was, in actual fact, a fantastic hockey game. I'd love to see a best-of-7 series between these two teams in the spring, as long as an ambulance is parked just outside.
THE ATHLETIC!
The Athletic Edmonton features a fabulous cluster of stories (some linked below, some on the site). Great perspective from a ridiculous group of writers and analysts. Proud to be part of The Athletic, less than two coffees a month offer here.
OILERS AFTER 50 GAMES
Oilers in 2015-16: 19-26-5, 43 points; goal differential -26
Oilers in 2016-17: 27-15-8, 62 points; goal differential +15
Oilers in 2017-18: 22-24-4, 48 points; goal differential -30
Oilers in 2018-19: 23-24-3, 49 points; goal differential -13
Oilers in 2019-20: 26-18-6, 58 points; goal differential +1
Edmonton's point, combined with Arizona's loss, gives the Oilers third place in the Pacific Division. Despite the disappointment of losing to Calgary, it's a two-point deficit and the two games in hand are a big advantage. Have to make use of them.
ON THE TENS
First 10 games: 7-2-1
Second 10 games: 5-4-1
Third 10 games: 5-4-1
Fourth 10 games: 3-6-1
Current 10 games: 6-2-2
This is the second best 10-game segment of the season for Edmonton, and we should at least contemplate the idea that this might be the highest peak reached by this year's Oilers. Edmonton is 21 points behind last year's total at the completion of the season, with this year's Oilers having 32 games to play.
OILERS IN JANUARY
Oilers in January 2016: 4-2-2, 10 points; goal differential 0
Oilers in January 2017: 5-3-0, 10 points; goal differential 0
Oilers in January 2018: 4-4-0, eight points; goal differential -8
Oilers in January 2019: 5-3-0, 10 points; goal differential 0
Oilers in January 2020: 5-1-2, 12 points; goal differential +7
Whatever may come the 2020 January Oilers were the best of McDavid's career to date. It's quite an accomplishment based on what some of us (me) thought reality to would look like.
WHAT TO EXPECT IN JANUARY
On the road to: BUF, BOS, TOR, MTL, CAL (Expected 2-2-1) (Actual 3-1-1)
At home to: NAS, ARI, CAL, STL (Expected 1-2-1) (2-0-1)
Overall expected result: 3-4-2, eight points in nine games
Current results: 5-1-2, 12 points in eight games
One of my favourite months since 2005-06, have to say. As I've said a couple of times, there are things about this team's roster construction that irritate me. However, look at those results! How can anyone be mad this morning? Luck bit the Oilers. It happens. We're on to an easier opponent, and that arrives in….,well, we'll see.
OILERS 2019-20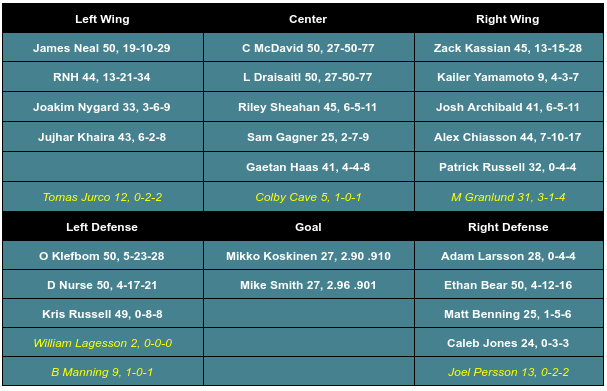 I thought the forward lines had good chem, although Nygard's injury meant a lot of juggling. Wouldn't mind seeing the same group on Friday. Next big question surrounds getting Caleb Jones back in the lineup, he can't just sit in the pressbox for two weeks. All numbers five on five unless noted and via NST.
LINE 1 James Neal-Connor McDavid-Zack Kassian played 10:34, going 12-6 Corsi, 8-2 shots, 0-1 goals, 1-1 HDSC.
James Neal had an assist, a shot on goal (good look) and a giveaway. I thought he was more involved compared to last week. Connor McDavid had great wheels and three shots, two HDSC and a giveaway. His only point came setting up a beautiful goal by Alex Chiasson (along with Leon). Related: Gio has lost a step, but he's going to have to find another way to adjust. The list of injuries inflicting on "reaction" plays is piling up. Paul Almeida had an excellent tweet on the subject. McDavid split the blue ala Peter Mahovlich (except he isn't 6.05 and big Pete didn't skate like 97) and that was a pleasure to see. Zack Kassian got into a fight with Matt Tkachuk, had a takeaway and two giveaways and signed a four-year contract earlier in the day. He did not seal the wall and was outsmarted for the puck in the early seconds of the first Mangiapane goal.
LINE 2 Nuge-Leon Draisaitl-Kailer Yamamoto played 11:39, going 12-13 Corsi, 6-5 shots, 1-1 goals, 3-2 HDSC.
Nuge had an assist, shot, drew two penalties, made some great plays. Also made THE play of the night defensively by having the presence of mind to follow the puck as it dribbled toward the goal line. Fanbloodyfabulous. Oh, he also got into a fight. Draisaitl skated absolute miles, getting two assists (one on the PP), three shots, two HDSC, two HDSC. He also had four giveaways (plus two more on the PP), that's going to need some improvement before playoff time. Kailer Yamamoto scored, now has four in nine games. Fabulous rookie.
LINE 3 Jujhar Khaira-Sam Gagner-Alex Chiasson played 4:22, going 7-1 Corsi, 4-0 shots, no goals and 2-0 HDSC.
Jujhar Khaira had three shots, one HDSC, one takeaway. His best game in some time. Sam Gagner had a great night, he was physical, did a backwards move that damn near cashed, two HDSC, two giveaways and won three of five in the dot.
LINE 4 Joakim Nygard-Riley Sheahan-Alex Chiasson played 4:49, going 4-2 Corsi, 2-2 shots, 0-1 goals, 0-1 HDSC.
Joakim Nygard played less than four minutes before getting hurt, it looked like it might be more than missing today's practice. Riley Sheahan had two shots, won seven of 14 in the dot, lost both on the PK. He is a different player than the one we saw earlier in the season, more involved and touches the puck far more often. Alex Chiasson didn't do a lot on the five on five, but scored a nice goal from the slot on the power play.
PAIRING ONE Darnell Nurse and Ethan Bear played 20:37, going 16-19 Corsi, 9-9 shots, 0-1 goals and 1-3 HDSC. Played 10:55 with 97.
Darnell Nurse had a giveaway, a takeaway and was credited with 12 hits. One of them was a crosscheck to Matt Tkachuk and looked like it did some damage. Ethan Bear had three shots, drew a penalty, one giveaway and two takeaways. He battled on every shift. Made a blind pass to Kassian, who was looping back out to the point and allowed it to be intercepted. I'm of a mind Kassian needed to be more aware, your mileage may vary.
PAIRING TWO Oscar Klefbom and Adam Larsson played 16:19, going 14-11 Corsi, 7-7 shots, 1-1 goals and 4-0 HDSC.
Oscar Klefbom played a sound game, good coverage and outlets. Adam Larsson was in the right place (he was intercepting a pass meant for Tkachuk) but it bounced off of him and into the net. I call that bad luck on good positioning.
PAIRING THREE Kris Russell and Matt Benning played 9:49, going 14-10 Corsi, 10-4 shots, 0-1 goals and 3-3 HDSC.
Kris Russell had the front of the net covered on the second Mangiapane goal, but chased Tkachuk when he gained possession and no one checked down (Sheahan and Benning were in photo). Russell had an assist, shot and drew a penalty. Matt Benning scored a lovely goal, and a massive one too. He played well in his first game in forever, slow to recognize the Mangiapane danger on the third Calgary goal.
GOALIE Mike Smith saved 25 of 28, .893 and didn't look sharp on the second and third goals. In fairness, the second one was by him in a heartbeat. Dave Tippett has worked himself into a situation where Smith is the starter and Koskinen is going to be a rusty cage. I don't think Smith is going to cover the bet (No. 1 goalie) at this point in his career, although no one can blame the coach for running Smith out there last night. His January has been absolute fire.
LOWDOWN WITH LOWETIDE
At 10 this morning, we finally have a hockey game to talk about, TSN1260. At 10:20, Scott Wheeler from The Athletic joins me to talk about his Oilers prospect ranking (link above). Wheeler's gift is that he doesn't pull any punches and backs up his views with video evidence. His takes on Oilers prospects are unique and compelling. Tune in. At 11, we'll chat with Frank Seravalli from TSN about Gio's defending, the trade deadline and Pacific Divison craziness. 10-1260 text, @Lowetide on twitter. Talk soon!